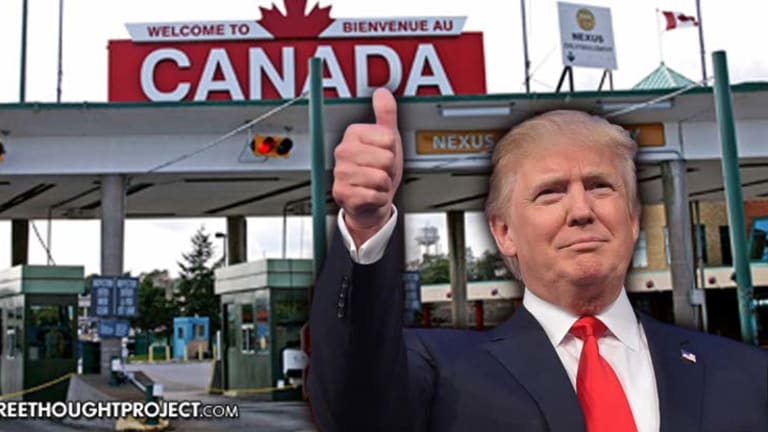 Canadian Immigration Website Crashes As Americans Desperately Try to Flee After Trump Victory
So many people wanted to move to Canada after Trump tentatively won the election, Canada's official immigration website crashed.
As soon as it became clear Donald Trump would win the election, Canada's immigration website crashed from the sheer volume of Americans looking to get the hell out of the United States.
Countless searches on the official website, Citizen and Immigration Canada, caused the crash, as a panicked populace suddenly decided emigration might be the best course of action when confronted by a Trump presidency.
Terrified liberals took to social media in a cascade of tweets and posts that handily blurred lines between comedy, satire, and abject horror upon the announcement of the presumptive electoral victor and Hillary Clinton's subsequent concession.

These tearful rants of moribund shock over Trump's win apparently coincided with the crashing of the Canadian site — foretelling a possible mass exodus similar to what occurred in Britain with its controversial Brexit vote in favor of breaking free from the European Union.
Those unable to access the downed website, which displayed a "500 internal server error" and was unable to load properly, performed frenzied searches on Google about Canadian immigration. Beginning around 9 pm, amid corporate media projections Trump would likely win key swing states, Google Trends displayed a marked uptick in "Canada immigration" — eventually landing at the 26th most searched query.
Several times throughout this election cycle, Americans' fears about a possible reality TV host as president have flooded Google and other sites with searches for emigration information — on Super Tuesday, for instance, searches for 'How can I move to Canada' spiked 1,150 percent.
In fact, Canada's Cape Breton Island started a website specifically targeting dissatisfied — or more likely, paranoid — American voters seeing to leave if chaos indeed ensues. What began as a tongue-in-cheek counter to Trump's racist rants and misogynist fumblings quickly became a phenomenon — garnering over 10,000 hits in a few days.
Local radio DJ Rob Calabrese created Cape Breton If Donald Trump Wins to showcase the island's many benefits in hopes of countering recent declines in its population. Visitors to the site are unabashedly greeted with typical Canadian cordiality:
"Hi Americans! Donald Trump may become the President of your country! If that happens, and you decide to get the hell out of there, might I suggest moving to Cape Breton Island!"
Calabrese told CTV Atlantic, "There are millions of people on this continent who, if they knew about the lifestyle here on Cape Breton, they would think, 'This is for me.'"
Whether or not Calabrese ultimately regrets the whimsical website due to Trump's hard-to-believe win has yet to be seen.
Canada has actively welcomed refugees from a number of countries for months — earning particular praise for its acceptance of new immigrants fleeing war-torn Syria. Prime Minister Justin Trudeau even referenced Americans' new-found love of his country earlier this year, after the Cape Breton site went viral.
"Cape Breton is lovely this time of year," he quipped. "I'm not going to pick a fight with Donald Trump right now. But I'm not going to support him either, obviously.
"I prefer to trust that my American friends will exercise their democratic rights with a level of the wisdom of crowds that always ends up coming through in a democracy. The reality is that we will work alongside our neighbors and allies regardless of the political choices they make."
There are, of course, stipulations for actually emigrating from the U.S. to Canada, including an application for permanent residency. To qualify for Canadian citizenship, applicants must be coming to work or live with family already located there — fleeing a Trump presidency, however, is not listed as a legitimate qualifier. Yet.
"My job as prime minister is going to be to work with whoever gets elected," Trudeau toldHuffPost Canada in March. "And the relationship between Canada and the United States on an economic, on a cultural, on a social level, is too important for me to start picking fights with anyone right now."
Canada's official Twitter account seemed to predict the onslaught of desperate Americans fleeing a xenophobic president-elect,
In Canada, immigrants are encouraged to bring their cultural traditions with them and share them with their fellow citizens. pic.twitter.com/MOuStZbSX7
— Canada (@Canada) November 9, 2016
">tweeting:"In Canada, immigrants are encouraged to bring their cultural traditions with them and share them with their fellow citizens."

But Canadian congeniality might be tested in the coming days, as anti-Trump hysteria and a wholly unpredictable future leave many fumbling with how exactly to cope.
Twitter user @ErinSchrode encapsulated the overriding sentiment in the United States with one
The Canadian Immigration site just crashed. No joke. This is America in total panic breakdown freakout mode. #NeverTrump#ElectionNight
— Erin Schrode (@ErinSchrode) November 9, 2016
">tweet, stating:"The Canadian Immigration site just crashed. No joke. This is America in total panic breakdown freakout mode."