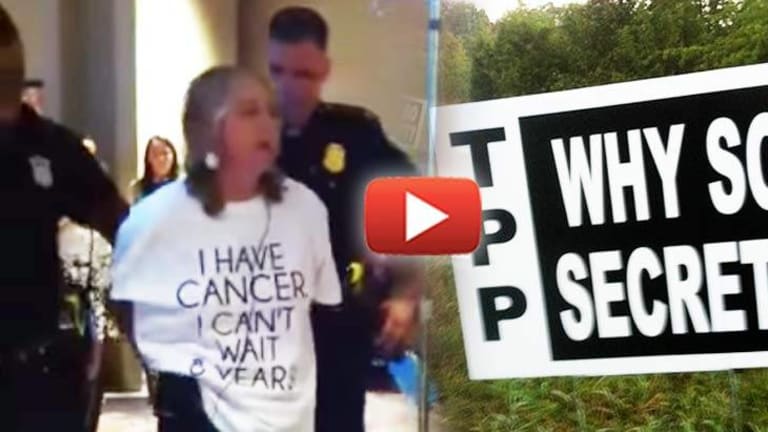 Cancer Patient Arrested for Protesting Big Pharma and Calling the TPP a "Death Sentence"
TPP grants monopoly control over life-saving medicines for cancer patients, allowing big pharma to artificially inflate drug prices; this woman is trying to stop it.
A cancer patient was arrested outside of the Trans-Pacific Partnership meeting in Atlanta this week and was accused of disrupting the negotiations. Zahara Heckscher, a woman living with cancer, was protesting how the controversial trade agreement would affect her access to affordable cancer medications.
The meetings included bureaucrats from dozens of different countries and took place at the Westin Hotel.
Heckscher arrived at the meeting wearing a shirt that said "I Have Cancer. I Can't Wait Years" and was holding a hospital medication drip that read "TPP: Don't Cut My IV."
In a video posted to YouTube, Heckscher can be seen being carried away by police in handcuffs because she refused to leave the area where the conference was being held.
According Heckscher and a growing number of people who need long-term medications, the highly secretive TPP deal would further monopolize the already tightly controlled pharmaceutical industry.
In a later statement, Heckscher explained that:
"For thousands of women to die unnecessary of breast cancer because of the TPP is a horrible, cruel, premeditated, and avoidable catastrophe. The provisions being decided by TPP ministers today could allow drug monopolies on biologics for 8 years. Some of these medicines cost up to tens of thousands, even hundreds of thousands of dollars a year. When you have breast cancer today, you can't wait 8 years or 7 years or 6 years for a treatment to become available or affordable. When you have cancer, even a one-year delay in affordable medicine can be a death sentence. That is why we call this proposed provision of the TPP a 'death sentence clause.' If it passes, thousands of women like me will die waiting."
Public Citizen, a Washington activist group that has protested the TPP, explained how TPP would affect the pharmaceutical industry in a recent statement, saying that:
The USTR has long pushed for increased marketing exclusivity periods for biologics – medical products derived from living organisms, including many new and forthcoming cancer treatments. Exclusivity means product monopolies, with no competition from generics or biosimilars; medicine prices in the tens and hundreds of thousands of dollars per person; and the rationing of treatment access. Marketing exclusivity is separate from and independent of patent protection, though the protections may overlap. The USTR has supported an eight-year minimum monopoly period, while a majority bloc of negotiating countries will not consider more than five years' exclusivity.
The video below shows Heckscher's arrest:
" frameborder="0" allowfullscreen>
John Vibes is an author, researcher and investigative journalist who takes a special interest in the counter-culture and the drug war. In addition to his writing and activist work, he organizes a number of large events including the Free Your Mind Conference, which features top caliber speakers and whistle-blowers from all over the world. You can contact him and stay connected to his work at his Facebook page. You can find his 65 chapter Book entitled "Alchemy of the Timeless Renaissance" at bookpatch.com.