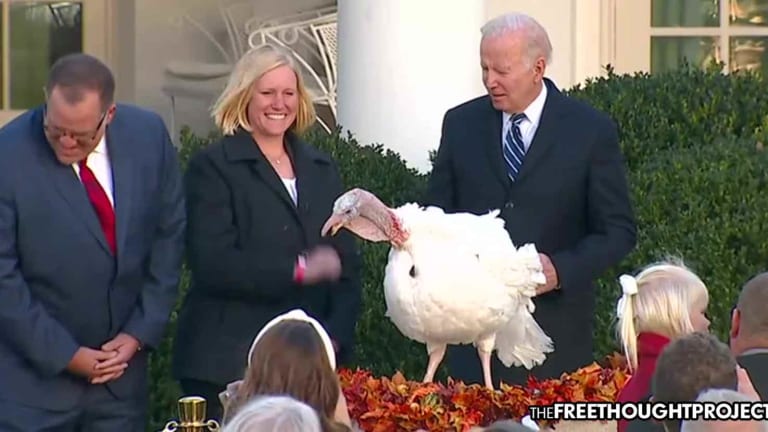 As Thousands Rot in a Cage for Weed on Thanksgiving, Biden Breaks Promise to Pardon Them, Pardons Turkeys Instead
As tens of thousands of human beings rot in a cage for cannabis, President Biden refuses to fulfill his campaign promise of freeing them, pardoning turkeys instead.
Cannabis, in the land of the free, won the drug war. Those who continue to push for prohibition of this plant are exposing themselves as the dinosaur backward thinking tyrants they are as state after state continue to legalize. Unfortunately, however, like all addicts, the drug warriors are still holding on and refuse to admit their mistakes, continuing to kidnap and cage folks for this plant despite no logic or reason in their actions.
An estimated 40,000 Americans are currently rotting in a cage on this Thanksgiving day thanks to this country's archaic and brutal war on cannabis. Despite this amazing plant being legal in over half the country, drug war addicted tyrants still aggressively pursue people for possessing and selling it.
Even in states in which cannabis is now legal, people are rotting in cages for crimes which are not considered crimes any longer. An estimated 18,000 people have applied for clemency in these now-legal states and are being ignored.
Many folks who are behind bars for cannabis or have family members locked in cages took hope in the promises of then-Presidential candidate Joe Biden, who ran on a campaign promising to use his pardoning powers to free those in jail over a plant. But, like all politicians, once he was elected, these promises were not fulfilled. Instead of freeing thousands in cages for a plant, the president took to pardoning two turkeys -- in a symbolic kick in the teeth to all those suffering from this failed war on weed.
While most of the mainstream media lauded the ridiculous display in the Rose Garden last week as some fun and loving presidential ceremony, some reporters showed up to ask the hard questions.
When Steven Nelson of the New York Post directly pressed Biden on whether he would be pardoning "any people in addition to turkeys," the president treated the question as a joke.
"Are you — you need a pardon?" the president said as he laughed it off. In response to a follow-up question about whether he would free pot inmates, like he promised during the Democratic presidential primary, Biden said, "just turkeys."
During a separate briefing on Friday, White House Press Secretary Jen Psaki was also pressed on the issue by Nelson.
"Are any humans going to be pardoned by President Biden? There are people who are serving life in prison for marijuana and want him to honor his commitment to release everyone in prison for pot," the New York Post reporter said. "Are people going to get pardoned as well by President Biden?"
Psaki replied that she has "nothing new to update you on."
"But the president is, of course—will look into the use of his clemency powers," she added. "He's talked about his approach, or his view, on non-violent drug offenders, but I don't have anything to update you on on that today."
The Post interviewed some of the folks who protested in front of the White House that day whose families are affected by this cruel war on weed.
"I haven't seen my family in years. And it's discouraging to know that the president is going to pardon two turkeys while I struggle through this pandemic in an overcrowded prison," said Luke Scarmazzo, 41, who has served 14 years of a 22-year sentence for running a medical marijuana operation in California.
"There are many cannabis prisoners that deserve to go home for the holidays, but instead we're going to watch a couple turkeys go free."
Weldon Angelos, a co-founder of the group Mission Green and an organizer of the weekend rally at the White House, told The Post that "we are urging the president to eat the turkeys this year and pardon people, especially those who are serving prison time for cannabis or living a second-class life because of a felony conviction while state after state continues to legalize and fattens the pockets of entrepreneurs."
"Maybe it's time to end the tradition of pardoning two birds every Thanksgiving holiday considering there are almost 18,000 pending clemency petitions consisting of many wonderful candidates who have served decades in prison, during a historic pandemic no less," Amy Povah, founder of the CAN-DO Foundation said.
"People like Pedro Moreno and Ismael Lira, both first-time offenders serving a life sentence without parole for marijuana," Povah added. "We want the Biden administration to honor their promise on the campaign trail to free all cannabis prisoners."
Unfortunately, however, it seems that this promise, like so many others, were just hot air and lip service designed to dupe people into voting for him. Rest assured that in the coming cycle, these blowhard politicians will regurgitate the same empty promises and the people will be fooled again as senseless suffering continues.