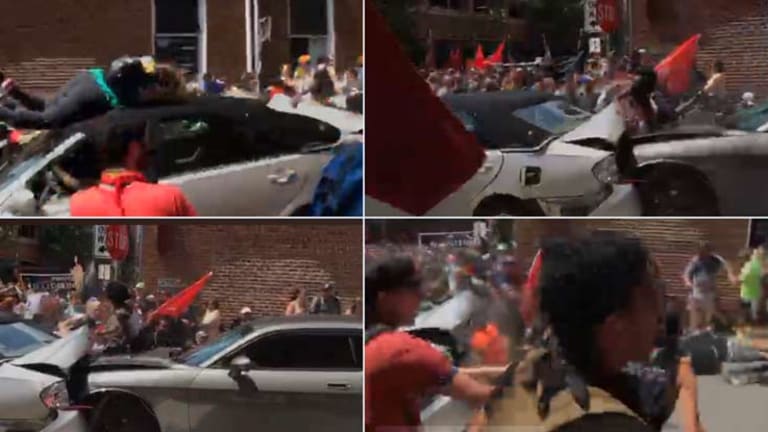 WATCH: Blacked Out Car Plows into Protesters in Charlottesville Then Flees the Scene
Multiple videos captured the moment a blacked out car came plowing through protesters and then fleeing the scene.
Charlottesville, VA — (RT) A car has plowed into a group of counter-protesters at a 'Unite the Right' rally in Charlottesville, Virginia, RT journalist on the scene said, adding that there are "extremely heavy injuries."
Video footage taken at the scene shows a damaged light-colored Toyota vehicle and a larger dark-colored SUV at the scene.
Police have cordoned off the scene. "Please avoid area of 4th and water streets -- multiple injuries after crash --- cpd and va. state police responding," Charlottesville police said on Facebook. Video footage posted on Facebook shows the moment the dark gray car rams into the light gray car before violently reversing. A number of people appear to be thrown into the air with the force of the crash. The street was crowded with demonstrators at the time.

A witness told Ruptly he saw several people lying on the ground, being treated by medics.
Charlottesville City Hall tweeted authorities were responding to a "three vehicle crash" at Water and 4th Street, and that "several pedestrians" were struck and multiple injuries have been reported.

As the story develops, more content is being shared online of the incident. Footage taken by Brennan Gilmore, former chief of staff to gubernatorial candidate Tom Perriello, shows the vehicle speeding towards the demonstrators as people can be heard screaming.
Moments later, the same car is seen reversing rapidly away from the scene of the crash.
DETAILS TO FOLLOW