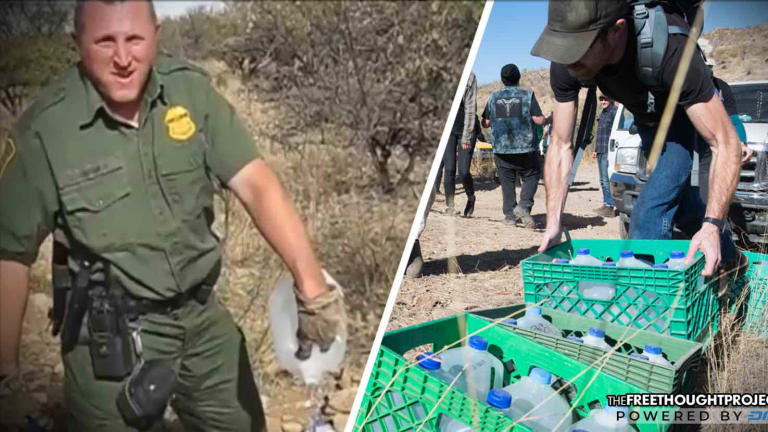 Charity Worker Arrested, Facing 5 Years in Prison For Giving Starving Immigrants Food And Water
A humanitarian activist was arrested for giving immigrants food and water hours after his group exposed how border patrol agents have destroyed thousands of gallons of drinking water.
Humanitarian volunteer and college professor, Scott Warren, was recently arrested by border patrol for giving immigrants food and water. Warren was charged with two counts of harboring illegal aliens and one count of conspiracy to transport and harbor illegal aliens. If convicted, he could face five years in prison.
Suspiciously, this arrest happened just hours after border patrol was criticized by the organization that Warren works with, "No More Deaths." Among various outreach efforts that the group is involved in, they are also known for leaving behind food and water for immigrants crossing the border.
Earlier this year, No More Deaths released a report showing that 3,856 gallons of water were destroyed by border agents over a four-year period. The report included video footage of border agents kicking over gallons of water and pouring them out.
"We document how Border Patrol agents engage in the widespread vandalism of gallons of water left for border crossers and routinely interfere with other humanitarian-aid efforts in rugged and remote areas of the borderlands," No More Deaths said in a press release.
Just after the press conference when these videos were released, Warren was arrested while providing two immigrants with food and water at a safe house in the middle of the desert known as "The Barn." Border patrol apparently had the safe house under surveillance and decided to raid the location just hours after the press conference that exposed their cruelty.
"After finding their way to 'the Barn,' Warren met them outside and gave them food and water for approximately three days. (One of the migrants) said that Warren took care of them in 'the Barn' by giving them food, water, beds and clean clothes," the charges against Warren stated.
Warren's attorney, Bill Walker, pointed out that Warren's only crime was helping people survive.
"We don't smuggle them, we don't do anything to help them enter the United States, we do nothing illegal. This place that they raided is not in the middle of the desert, it's not hidden anywhere. It's in the city of Ajo, and it's been used for a long time, not to help smuggle migrants, but to give medical care and food and water," Walker told AZCentral.
Volunteer Caitlin Deighan said that the organization believes that this arrest was in retaliation for speaking out against the harsh practices of the border patrol.
"It felt retaliatory in that it occurred less than eight hours after our press conference releasing these findings that implicated Border Patrol. But we can't confirm that with certainty. We see an escalation in the criminalization of humanitarian-aid workers, and especially in the west desert part of Arizona, which sees almost half of the recovered human remains that are found in Arizona. There's a true danger there, and it's an extremely important place for us to do work," Deighan said.
A report last week from The Intercept detailed how federal agencies have been building a case against the organization for years, and revealed text messages that were sent between agents during the raid
Warren is not the first activist to get arrested for helping people survive the arduous journey across the border. In fact, eight other humanitarian workers, all from No More Deaths, are also facing similar charges from previous encounters with border patrol agents.
There is a very legitimate need for organizations like No More Deaths because, as their name implies, many people have lost their lives while crossing the border. Attacking a group like this is the equivalent of attacking a medic on a battlefield.
While the true extent of the death toll is unknown, a report from USA Today found that well over 7,209 lives have been lost in the past 20 years. The report indicated that the actual number is likely far higher because "federal authorities largely fail to count border crossers when their remains are recovered by local authorities, and even local counts are often incomplete."
An untold number of people lose their lives attempting to cross borders in search of better lives or to reunite with family members and loved ones who live on the other side. Those who manage to survive the trip must live in constant fear of being kidnapped and caged in facilities that are even worse than prisons, before being dumped off in the place they tried to escape—and this is if they are lucky.
The arguments against an open immigration policy ignore this very real human cost while instead focusing on imaginary scenarios, many of which have been proven to be false. For example, a series of studies have indicated that immigration does not increase crime and that immigrants are actually far less likely to commit violent crimes than native-born citizens. Another study revealed that increased levels of immigration do not increase terrorism. Meanwhile, it has been found that you are at least eight times more likely to be killed by a police officer than a terrorist.
There are also plenty of faulty economic arguments leveled against an open immigration policy, for those who are willing to trade another person's life for a few extra dollars on their balance sheet. However, these claims have been shown to be baseless as well, since various studies have indicated that immigration actually drives economic growth and that that undocumented residents pay billions in taxes.