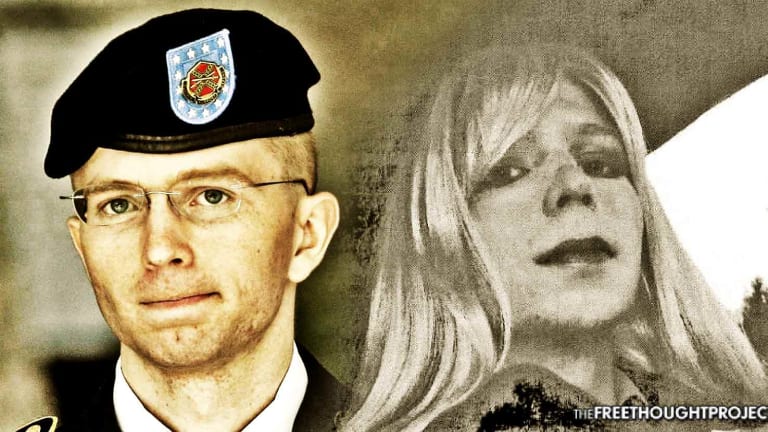 Chelsea Manning Out of Prison But Not Totally Free, Army Holding Her on Active Duty Indefinitely
Whistleblower Chelsea Manning is now free from prison — but the active duty soldier's freedom won't be as liberating as it should.
Army Private First Class Chelsea Manning now walks relatively free from her cage after serving seven harrowing years at a military prison in Fort Leavenworth, Kansas, for leaking some 700,000 documents and files to Wikileaks — among them, video footage of U.S. Military service members ">annihilating twelve civilians, including two members of a Reuters news crew, with machine guns fired from an Apache helicopter in Baghdad in 2007.
"I can confirm Manning has been released from The United States Disciplinary Barracks, Ft. Leavenworth," Army spokesperson Cynthia Smith affirmed in a statement this morning. "Based on privacy act restrictions there is nothing further I can provide at this time."
Army officials confirmed to Buzzfeed Manning was released at 2 a.m., Central Time.
"I appreciate the wonderful support that I have received from so many people across the world over these past years," the now-free whistleblower toldABC News in an exclusive statement after being released. "As I rebuild my life, I remind myself not to relive the past. The past will always affect me and I will keep that in mind while remembering that how it played out is only my starting point, not my final destination."
Hours later, Manning added, in a second statement, "After another anxious four months of waiting, the day has finally arrived. I am looking forward to so much! Whatever is ahead of me, is far more important than the past. I'm figuring things out right now — which is exciting, awkward, fun, and all new for me."
Manning — who was just 22 years old when she began copying and funneling diplomatic cables and military intelligence information on operations in Iraq and Afghanistan — would have served 35 full years in prison, had former President Obama not commuted her sentence just three days before leaving office.
"Chelsea has already served the longest sentence of any whistleblower in the history of this country," asserted Manning's attorneys, Nancy Hollander and Vincent Ward, in a previous statement. "It has been far too long, too severe, too draconian.
"President Obama's act of commutation was the first time the military took care of this soldier who risked so much to disclose information that served the public interest."
Now, Manning will be able to step away from confining prison walls and fully focus on "building her life," as her ACLU attorney and transgender advocate, Chase Strangio, told NBC News previously. Speaking officially for the first time on plans after leaving Leavenworth, Manning proclaimed last week,
"For the first time, I can see a future for myself as Chelsea. I can imagine surviving and living as the person who I am and can finally be in the outside world."
Strangio, a close confidante of Manning's, spoke optimistically of the whistleblower's release to NBC News:
"She is looking forward to eating pizza, swimming, playing PlayStation and meeting the many friends who have supported her over the years but who were never allowed to visit in person.
"Beyond that, she is waiting to experience life outside of prison before declaring any future plans. After so many years of government control over her body and gender, I know she is eager to grow her hair, express her gender and negotiate decisions on her own terms."
As an intelligence analyst assigned to a unit in Iraq in 2009, Manning had access to classified information and databases. After leaking information she had compiled to Wikileaks, Manning confided in an online acquaintance, who then betrayed the trust to military counterintelligence.
She later acknowledged leaking the information to blow the whistle on the military's questionable actions in the Middle East.
Manning had been convicted by court-martial in July 2013, for a smattering of offenses, including aiding the enemy — which could have garnered the death penalty — as well as violations of the nefarious Espionage Act, for disclosing the gargantuan cache of information, including diplomatic cables, as well as documents, files, and other U.S. military data, variously deemed classified or sensitive in nature.
Under conditions the whistleblower's attorneys suggest were inhumane and even hostile, Manning twice attempted suicide while behind bars, in July and again in August last year, and then undertook a hunger strike in September, due to lack of treatment for gender dysphoria.
Those incidents spoke of her treatment as a whistleblower and likely contributed to Obama's eleventh-hour decision to commute the soldier's remaining 28 years.
If victory can be declared for the commutation, its consequent freedom must, unfortunately, be tempered by several conditions — both official and unofficial — as Manning will undoubtedly be subjected to intensive surveillance and scrutinized for the most minute misbehavior.
Manning is still an active duty soldier in the U.S. Army — having been placed on voluntary excess leave, rather than discharged — and, as such, could be swiftly and relentlessly punished for the slightest violation, despite technically being considered free.
"Chelsea is still subject to the Uniform Code of Military Justice (UCMJ)," David Coombs, Manning's military defense attorney, who last had contact with her in February, toldNBC News. "She wouldn't be charged again for the same offenses, but if she committed a new crime, the military would still have jurisdiction over her."
As NBC points out, the release of previously unreleased classified information or even a simple fistfight could land Manning in fresh and stale hot water — but, worse, the military could pursue re-imprisonment should the whistleblower say or write the wrong thing.
"You would want to be careful in terms of what you want to write or say if you're still under military control," Coombs explained. "Let's say you write something critical, now you run the real chance of being called on the carpet for that."
According to reports, Manning will be on Active duty indefinitely, until all her court ties are resolved. As the Kansas City Starreports:
"The Army has no choice" until still-unresolved appeals of her 2013 conviction run their course, said Eric L. Mayer, who practices military law in Overland Park but is not connected to the Manning case.

Only when appeals are exhausted — and that might include petitioning the U.S. Supreme Court — can military command "approve what I suspect will be a dishonorable discharge," Mayer said. Such action would end Army privileges and prevent Manning from drawing on future veterans' benefits.
Because the content of documents she leaked was classified and sensitive in nature — or because it painted the U.S. military such a heinous light — Manning garnered furious criticism from a number of politicians, including President Trump, who tweeted of her mere days before being inaugurated,
"TRAITOR ... who should never have been released from prison."
"Chelsea Manning's treachery put American lives at risk and exposed some of our nation's most sensitive secrets," House Speaker Paul Ryan bloviated on, what he termed, the "outrageous" news Obama would commute her remaining sentence.
Eagerness to see the young soldier imprisoned for the full 35 years, in other words, abounds — but is far from a unanimous sentiment in the United States.
It should be noted no unassailable proof exists that anything Wikileaks has published has ever placed a military or Intelligence Community member in grave or fatal danger — a fact the organization repeatedly declares as a condition when evaluating information in deciding whether certain documents must be withheld.
Heralded as a beacon of integrity in a military repeatedly embroiled in shameful scandals by some and harpooned as an outright traitor by others, what Manning will face outside prison walls remains to be seen. Her cruel and difficult time served, however, has made Chelsea an icon of the transparency and human rights movements.
It has become standard practice — thanks to efficacious nationalist propaganda — for the American public to excoriate those who call out governmental corruption, be they journalists, insiders, or others sounding the alarm.
However, considering the astounding scope of wrongdoing evinced in leak after leak — and how frequently that misbehavior ignores the U.S. Constitution, makes a mockery of ethics, and outright tramples human rights — whistleblowers could arguably be the last bastion of albeit forced transparency into the system's gory inner workings.
Without Manning and a host of other whistleblowing heroes — a term this writer employs unabashedly — the pompous lawlessness running rampant in every arm of the U.S. government might still be unknown, at all our peril.
Chelsea Manning — who, upon sentencing, apologized for "hurting the U.S.," and lamented she had only wanted to "change the world for the better" — should never have been locked in a cage.
Rather, she should be lionized for pulling the gloves off the Pentagon's embarrassingly blood-stained hands.
">