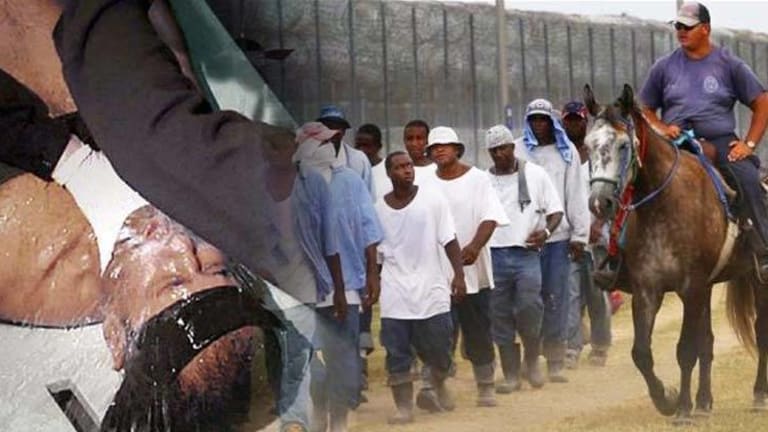 CIA Agent Jailed for Exposing Torture Says The System is Racist and "Must be Torn Down"
After revealing the CIA's torture program, John Kiriakou was sentenced to prison. Recently released, he is calling for its destruction.
After revealing the CIA's torture program during an interview with ABC News, John Kiriakou is the only CIA officer sentenced to prison in connection with the use of enhanced interrogations. Released from prison earlier this month, the former CIA case officer has recently accused the American prison system of operating with inherent racism and "must be torn down."
During an interview with ABC News on December 10, 2007, former CIA case officer John Kiriakou publicly exposed the fact that the CIA had employed waterboarding on terrorist suspect Abu Zubaydah. Unbeknownst to the American public, on November 9, 2005, CIA Director of National Clandestine Service Jose Rodriguez Jr. authorized the burning of 92 videotapes depicting the harsh interrogations of Abu Zubaydah and 'Abd al-Rahim al-Nashiri. Although a CIA official destroyed evidence of government employees committing torture, the Justice Department decided not to prosecute Rodriguez.
Even though Kiriakou never participated in torture nor destroyed evidence, he was charged with disclosing classified information to journalists on January 23, 2012. Following a lead concerning the harsh interrogation of Khalid Shaikh Mohammed, New York Times reporter Scott Shane asked Kiriakou about a CIA interrogator named Deuce Martinez. Possessing a business card with Martinez's contact information at Mitchell Jessen and Associates, the CIA contractor responsible for devising the torture program, Kiriakou gave the business card to Shane. Charged with violating the Intelligence Identities Protection Act of 1982, Kiriakou was sentenced to 30 months in prison on January 25, 2013.
Released earlier this month but remaining under house arrest, Kiriakou recently wrote an op-ed accusing the American prison system of being "racist and outdated." After experiencing the judicial system first-hand, the former CIA case officer immediately pointed out that although America possesses five percent of the world's population, the U.S. also boasts 25% of the world's prison population.
"In both raw numbers and on a per capita basis, that's more than any other country in the world, including Russia, China, and even Iran," Kiriakou wrote. "That's not something to be proud of; it's something to be ashamed of. And Americans should demand that Congress change our draconian sentencing laws immediately."
Referencing the mandatory minimum sentencing laws from the 1980s, Kiriakou mentioned that Congress panicked during the crack cocaine epidemic and enacted exceptionally harsh legislation. Despite the fact that a kilo of cocaine could get you three years in prison, a kilo of crack cocaine would get you 30 years.
"Urban neighborhoods are grappling with legions of homeless crack addicts," wrote San Jose Mercury News reporter Gary Webb. "Thousands of young black men are serving long prison sentences for selling cocaine – a drug that was virtually unobtainable in black neighborhoods before members of the CIA's army started bringing it into South-Central in the 1980s at bargain-basement prices."
"Like I said, the system is racist; powdered cocaine is a white man's drug," Kiriakou continued. "In contrast, 79% of 5,669 sentenced crack offenders in 2009 were black, versus 10 percent who were white. The result is African-Americans are incarcerated at nearly six times the rate of whites."
The former CIA officer went on, "To make matters worse, the Bureau of Prisons, which at $7 billion controls one-fourth of the Justice Department's entire budget, spends not one red cent on rehabilitation or training, and almost nothing on education. If you enter prison with no education at all, you can get a General Equivalency Degree (GED). If you already have a GED or a high school diploma, you get nothing. You can't learn a skill or a trade in prison, you get no counseling or therapy, and, if you have a drug addiction, your only help comes with a weekly showing of a DVD of the A&E Network's program 'Intervention.' I'm serious. That's it."
With no incentive to rehabilitate inmates or reduce recidivism, the Department of Corrections has merely become a regurgitating institution with a cannibalizing revolving door. As a former CIA case officer who refuses to accept the use of torture, Kiriakou offers a unique perspective from within the belly of the beast. Unfortunately, the remaining CIA case officers are too cowardly to abandon their sins for absolution.
"Instead of spending $7 billion of the taxpayer's money every year to warehouse people who will do society no good when released, Congress should shorten sentences and spend the remaining money on training, education, and treatment," Kiriakou concluded. "Not only would that bring us in line with other industrialized countries, it would create more productive members of society and reduce recidivism."
Andrew Emett is a Los Angeles-based reporter exposing political and corporate corruption. His interests include national security, corporate abuse, and holding government officials accountable. Andrew's work has appeared on Raw Story, Alternet, Activist Post, and many other sites. You can follow him on Twitter @AndrewEmett and on Facebook at Andrew Emett.