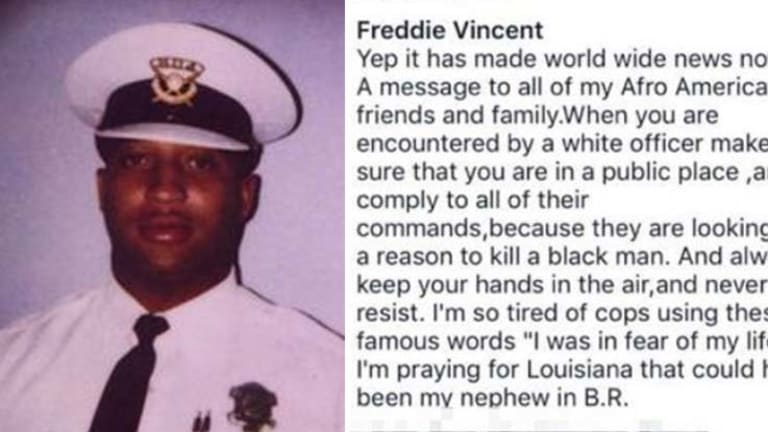 Officer Faces Discipline for Calling for Peace and Urging Black Men to be Cautious Around Cops
A Cincinnati Police Officer faces possible disciplinary action after calling for an end to violence on both sides of the Thin Blue Line.
Amid highly strained relations between police and civilians around the country, a Cincinnati Police officer has come under fire — and may face disciplinary action — for posts online attempting honest conversation about racism inside the nation's law enforcement departments.
Officer Freddie Vincent wrote on social media, among other things, that white police officers are "looking for a reason to kill a black man."
But the context of why Vincent said this — cautioning African American men to always follow the instructions of police lest they become unwitting victims — and the good intentions with which he did so, have been downplayed substantially by both the Cincinnati Police Department and mainstream media.
"Yep it has made world wide news now … A message to all my Afro America friends and family," Vincent wrote, according to local WXIX Fox 19, and though the date of the since-removed post isn't certain, it appears to have come following the recent spate of violence by police in Minnesota, Louisiana, and elsewhere. "When you are encountered by a white officer make sure that you are in a public place, and comply to all of their commands, because they are looking for a reason to kill a black man. And always keep your hands in the air, and never resist. I'm so tired of cops using the famous words 'I was in fear of my life.' I'm praying for Louisiana, that could have been my nephew in B.R."
In a statement Thursday, cited by Cincinnati.com, over the needlessly controversial post, Cincinnati Police Chief Eliot Isaac said a review is now being conducted under the department's "social media procedure and our rules and regulations."
Isaac further noted he remains "proud" of the officers on his force and wishes to maintain a "culture of professionalism" with "transparency" and "accountability" as guiding principles.
Further posts by Vincent, as discovered on review, included a July 7 link to an article originally written by Justin Gardner for The Free Thought Project, featuring the image of members of the Ku Klux Klan surrounding a burning cross, titled "The KKK has Infiltrated U.S. Police Departments for Decades." Vincent shared the link, writing "Knowledge !!!!!" at the top.
On July 12, the officer shared an illustration with "10 rules of survival if stopped by the police," to which he added, "I can't promise you that this is 100% true, but it's about 85% to 95% and you just might make it home safely."
Later that day, Vincent again posted to social media — and again without any hint of anger or hostility — this time, summoning one of the most acclaimed and peaceful civil rights leaders of the 1960s.
"Violence on violence equals destruction, so fight the system with knowledge," Vincent wisely asserted. "This is what Dr. Martin Luther King Jr. was promoting until they silenced him. So now let us promote hundreds [of] thousands of Dr. Martin L. King Jr.'s and see how the system reacts to that."
Vincent's perspicacious call to react with peace, coupled with sensible advisements for black men and women on interacting with police around the country — which, given the disproportionate number of brutal and lethal incidents by police against African-Americans appears prudent — have been altogether lost on the CPD in its review of the officer's potential 'misconduct.'
"I was very disappointed," said Cincinnati City Manager Harry Black in a statement Thursday, cited by Cincinnati.com. "When we're in certain positions of responsibility, particularly public safety, we have to adhere to a higher standard of personal conduct. I know the comments depicted on Facebook are not indicative of the men and women who make up [the] police department, nor city government."
Black further stated CPD officials will pursue "whatever disciplinary action is warranted" following completion of their investigation. Although the city manager said portraying one's team in the most favorable light is important to both CPD and the community, it seems the altogether noble intentions of Vincent's posts became obfuscated under the blanket of 'professionalism.'
Indeed, Black subtly derided Vincent, saying posts to social media need to maintain a high level of responsibility and "require a high level of maturity. It's why we have a social media policy."
Both the city's and the department's denial of racism infiltrating American policing — including in Cincinnati and its countless suburbs — by focusing instead on Vincent, the officer, is an irony of the highest order.
To wit, though Vincent shared the AlterNet republishing of Gardner's article, its original title on The Free Thought Project stated as much: "Police Depts in the US have a KKK Problem — They've Long Been Infiltrated — Denying It Won't Help."
It's imperative to note that though (mostly white) police and their devoted subservients across the U.S. have taken to social media to sound bigotry-infused, ever-worsening calls for violence against anti-police brutality activists and the altogether peaceful Black Lives Matter movement, Vincent's posts made no such similar overtones.
As a law enforcement insider, this officer has the unique position to provide advice and insight into the ginormous elephant-in-the-room issue of racism-fueled violence by police — and, rather than declaring war against the civilians he's tasked with protecting, as a number of his colleagues around the country have done — Vincent summoned famously-pacifist Dr. Martin Luther King Jr. in his posts.
If disciplinary action should be taken against Vincent, he would join to some degree at least four civilians arrested for social media posts critical of police in recent weeks — while none of those, officers or otherwise, who called for acts as violent as lynching against black activists have yet faced similar discipline.
The fact Vincent is under review at all evidences why violence from both sides of the Thin Blue Line will inevitably continue until an honest conversation about police violence and latent or apparent racism can be put forth in the interest of reform.