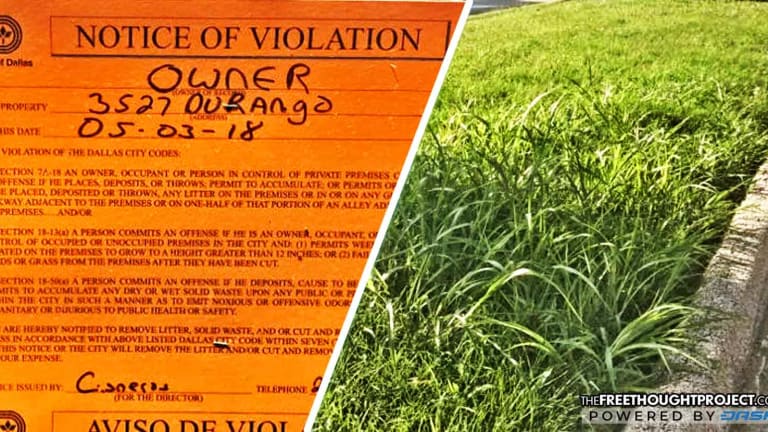 City Slaps Burn Victim with Violation for Not Mowing Lawn While He Was in the Hospital
After a homeowner was sent to the hospital with severe burns when a natural gas explosion damaged his home, the city threatened him with fines for not mowing his lawn.
Dallas, Texas – A homeowner who was severely injured after a natural gas explosion destroyed the heating unit in his home and left him with second-degree burns, was threatened by the city that he could face fines because he was not able to mow his lawn while he was in the hospital.
The notice from the city stated that the homeowner had just 7 days "to remove litter, solid waste, and/or cut and remove weeds and grass." If he did comply before the deadline, the city threatened to forcefully "remove the litter and/or cut and remove weeds and grass" at the homeowner's expense.
However, the man and his family have not been allowed on their property for nearly 3 months, and the violation was posted on the same fence that already had a "WARNING: Keep Out!" sign barring residents from the premises.
The homeowner was injured after the heating and AC unit in his home exploded in February, causing second-degree burns that left him recovering in the hospital, according to a report from NBC 5. Not only was he physically unable to mow his lawn, but he could not send anyone else to do it because he was not allowed to access his property and any "litter" that accumulated on it was left there by workers who were working on the gas lines.
The man's house was one of several that were damaged by natural gas explosions, and homeowners complained that the company responsible, Atmos Energy, did nothing to alert residents about an ongoing gas leak. An entire neighborhood was evacuated and nearly 3,000 residents lost their gas service while Atmos has worked to repair gas lines.
One of the explosions killed a 12-year-old girl in her home. Her family has filed a wrongful death lawsuit alleging that Atmos Energy's "failure to maintain its gas lines as required by federal and state law led to the girl's death and injuries to her family and neighbors."
Now that the City of Dallas has slapped an injured homeowner with a violation notification for failing to maintain his lawn when he was unable to do so, it is only increasing the frustration felt by residents who have been displaced from their homes for months because of the faulty gas lines, and who are now accusing the city of only caring about making money off its citizens through ridiculous fines and fees.
Another case of a city attempting to extract money from homeowners, without taking their health into consideration, happened recently in St. Peters, Missouri, where an elderly couple is being forced by the city to plant turf grass in their yard or face significant fees, even though the wife is allergic to it.
Carl and Janice Duffner found themselves embroiled in a legal battle when they were reported to the city for failing to plant at least 50 percent turf grass on their property after the city passed a new ordinance. A U.S. District Judge ruled against them and stated that the Duffners can be forced to plant turf grass in their own yard.
In response, the Duffners' attorney said he believes the case could set a dangerous precedent because it proves that the local government has the power to threaten a family with thousands of dollars in fines and decades in prison because they refuse to add something to their property that will cause them physical harm.
In response to the outrage over the news that a hospitalized homeowner was being cited for failing to mow his lawn while he was in the hospital, a spokesperson for the City of Dallas told NBC 5 that while a code compliance inspector did leave a notice on the fence of the property "to notify the homeowner that they were in violation," the city is now taking into account "the sensitive nature of the case" and they have decided not to issue the homeowner a citation.