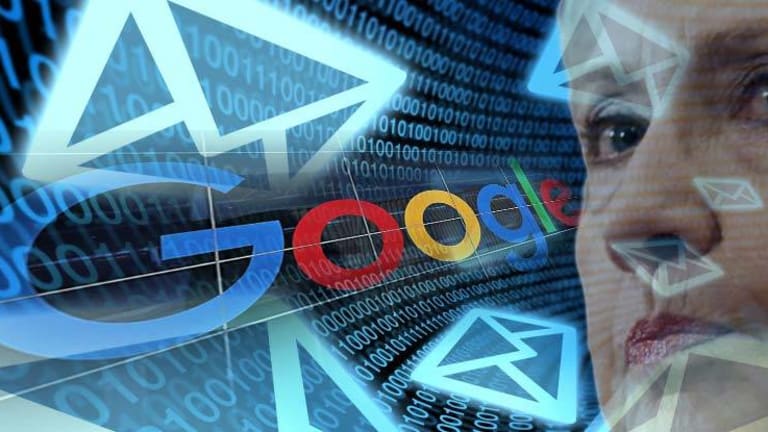 Clinton Emails Reveal the US Govt Used Google as a Geopolitical Weapon to Overthrow Assad
Washington, D.C. - The idea that corporate media, government, and large technology companies collaborate to create a false sense of reality in an effort to drive a specific elite chosen narrative has been the stuff of conspiracy legend for years. However, thanks to the Hillary Clinton's use of a private email server, the Freedom of Information Act, and WikiLeaks, the inner workings of how empire operates have been clearly put on display for the world to see.
While the mainstream media has been largely silent regarding the wealth of information contained within the massive release of over 30,000 emails and attachments, including 7,570 written by Clinton herself, the information contained within is damning.
The explosive emails reveal how the U.S. State Department and Google worked in concert to topple the government of elected Syrian President Bashar al-Assad in an attempt at forwarding U.S. geopolitical strategy.
One of the most incriminating emails was sent on July 25, 2012, from Jared Cohen, President of Google Ideas (now called Jigsaw), informing the U.S. State Department about a new tool his company had developed and its applications in Syria.
"Please keep close hold, but my team is planning to launch a tool on Sunday that will publicly track and map the defections in Syria and which parts of the government they are coming from," Cohen wrote.

"Our logic behind this is that while many people are tracking the atrocities, nobody is visually representing and mapping the defections, which we believe are important in encouraging more to defect and giving confidence to the opposition," he continued.
The Google Ideas chief ended his communication by stressing the potential importance that this tools development could have on the Syrian conflict.
"Given how hard it is to get information into Syria right now, we are partnering with Al-Jazeera who will take primary ownership over the tool we have built, track the data, verify it, and broadcast it back into Syria. I've attached a few visuals that show what the tool will look like. Please keep this very close hold and let me know if there is anything [else] you think we need to account for or think about before we launch. We believe this can have an important impact.
If the idea of Google working directly with the U.S. State Department isn't unsettling enough, Cohen's statement regarding Al-Jazeera taking ownership of the tool after it is built should raise serious red flags.
Three senior U.S. officials were sent the email, Deputy Secretary of State Bill Burns (a former Ambassador to Russia), Alec Ross, a senior Clinton adviser on innovation; and Clinton's deputy chief of staff, Jake Sullivan.
The email was forwarded by Sullivan to Secretary of State Clinton with the message: "FYI-this is a pretty cool idea." Clinton then sent the information to aide Monica Handley on August 4, 2012, with the title heading: Syria Attachments: Defection Tracker.PDF.
In June 2010, prior to the start of the Syrian conflict, Cohen and Ross traveled to Syria. "This trip to #Syria will test Syria's willingness to engage more responsibly on issues of #netfreedom", Ross tweeted.
In a subsequent email dated September 24, 2010, titled "1st known case of a successful social media campaign in Syria," which was forwarded to then-Secretary of State Hillary Clinton, Ross wrote:
"When Jared and I went to Syria, it was because we knew that Syrian society was growing increasingly young (population will double in 17 years) and digital and that this was going to create disruptions in society that we could potential harness for our purposes."
So what are the "purposes" they hope to achieve through societal disruptions?
WikiLeaks has released a wealth of diplomatic cables exposing U.S. plans to destabilize Syria that pre-date the 'Arab Spring' uprising, revealing then U.S. Ambassador to Syria William Roebuck's highlighting "potential vulnerabilities" of the Assad government and "possible means to exploit them" in a 2006 cable.
Highlighting "possible means," in a section entitled 'PLAY ON SUNNI FEARS OF IRANIAN INFLUENCE', Roebuck wrote:
"There are fears in Syria that the Iranians are active in both Shia proselytizing and conversion of, mostly poor, Sunnis. Though often exaggerated, such fears reflect an element of the Sunni community in Syria that is increasingly upset by and focused on the spread of Iranian influence in their country through activities ranging from mosque construction to business."
Another section was titled 'ENCOURAGE RUMORS AND SIGNS OF EXTERNAL PLOTTING', which would be used to induce "the possibility of a self-defeating over-reaction" from the al-Assad government.
WikiLeaks previous releases regarding U.S. attempts to destabilize Syria directly relate to the information found in Clinton's emails.
"The fall of the House of Assad could well ignite a sectarian war between the Shiites and the majority Sunnis of the region drawing in Iran, which, in the view of Israeli commanders would not be a bad thing for Israel and its Western allies" unofficial advisor Sidney Blumental wrote in a 2012 email to Hillary Clinton.
The intentional destruction of Syrian civil society, as a means of gaining control over Syria, is readily apparent throughout the discourse. The Clinton emails, when combined with WikiLeaks releases, provide a much clearer picture of how the U.S. Empire operates and Hillary Clinton's distinct role in attempting to foment regime change in Syria.
Jay Syrmopoulos is a political analyst, free thinker, researcher, and ardent opponent of authoritarianism. He is currently a graduate student at University of Denver pursuing a masters in Global Affairs. Jay's work has been published on Ben Swann's Truth in Media, Truth-Out, Raw Story, MintPress News, as well as many other sites. You can follow him on Twitter @sirmetropolis, on Facebook at Sir Metropolis and now on tsu.