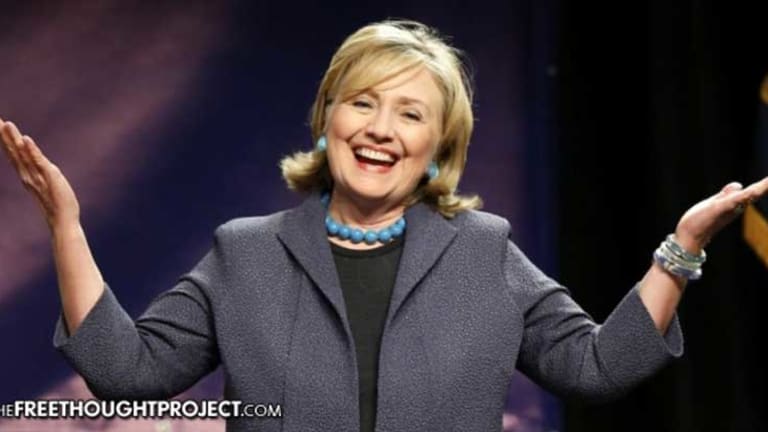 Leaked Email Reveals Possible Evidence State Dept Never Intended to Charge Clinton
A new leak shows further evidence of collusion between the State Department and Clinton staffers during the investigation of the personal, unsecure server.
One of Hillary Clinton's top aides, attorney Heather Samuelson — one of the lawyers who scanned the notorious emails to ostensibly separate the personal from those considered work-related — appears, a newly disclosed email shows, to have been acting in concert with the State Department during that investigation, showing further evidence of possible collusion.
Wikileaks' release of documents from Clinton campaign chair John Podesta thus continues to deliver damning evidence calling into question the former secretary of state's integrity — as well as her suitability for the White House.
Dated March 17, 2015, originating from Samuelson, with the subject marked "JW FOIA | WJC Speeches," referencing the Freedom of Information Act request by Judicial Watch and William (Bill) Jefferson Clinton, a newly revealed email shows near certain evidence the aide was in close contact with people inside the Department of State (DOS) — during the investigation of the private email server.
To Maura Pally, senior vice president of programs with the Clinton Foundation; Craig Minassian, Clinton Foundation Chief Communications Officer; Philippe Reines, one of Clinton's press secretaries who worked under her at the State Department; Nick Merrill, another Clinton press secretary who worked at State; and Jennifer Palmieri, White House communications director at the time, Samuelson wrote:
All -- DOS is soon releasing another round of documents and email traffic (not hers) in response to Judicial Watch's FOIA request on DOS's process for reviewing WJC's speaking engagements.
It's 116 pages with approx. 50 sponsor/subsponsor requests. No objections by DOS in this batch, but some lengthy internal discussions among DOS officials that I highlighted below.
There is one request where speaking fee would have been paid by Turkish govt -- WJC's office declined this. And one speaking engagement with fee from Canadian government, which he did do.
Let me know if you have any questions.
[Jen -- happy to give you more background on prior releases since it's your first go around]
As Zero Hedgenotes, this candid communique contains "details so nuanced it may only have come as a result of direct communication between the State Department" and Samuelson — "which in turn she promptly conveyed to her team, regarding the FOIA request, in what appears to be a material breach of confidentiality."
Samuelson, in other words, was conveying information from inside the State Department directly to Clinton's staff — while the FBI and others investigated the possible transmission of classified information over the unsecure server.
Clinton aides Cheryl Mills and Samuelson received immunity from prosecution for any evidence found on the laptops they used to look over the Clinton emails in return for handing those computers over to the FBI.
But even that arrangement in itself indicates possible collusion to destroy evidence, as The Free Thought Project previously reported, since the FBI then made 'side deals' with Mills and Samuelson and either acted to or agreed to allow the destruction of those laptops — preventing another agency or Congress from investigating further in the future.
This email, alone, backs the oft-ridiculed theory Clinton would never have been charged with any crimes or wrongdoing no matter what investigators found — likely because the FBI, State Department, and Clinton insiders worked to ensure that would never happen.
As Andrew C. McCarthy, former assistant U.S. attorney for the Southern District of New York, wrote for National Review on Saturday, Mills and Samuelson received "extraordinarily special treatment — concessions that would never be given to subjects in a normal investigation."
Further, the "guise under which Mills and Samuelson got the kid-glove treatment was their status as lawyers. Crucially, this status was the Justice Department's pretext for resolving that potentially incriminating evidence against them, and against their 'client,' Mrs. Clinton, had to be shielded from investigators pursuant to the attorney-client privilege.
"Except neither Mills nor Samuelson was eligible to represent Clinton in matters related to the e-mails, including the FBI's criminal investigation. Moreover, even if they had arguably been eligible, attorney-client communications in furtherance of criminal schemes are not privileged."
McCarthy also explained how the granting of immunity is itself suspicious, considering such a deal would not be the normal course of action during a criminal investigation involving a lawyer:
"When a lawyer is implicated in a criminal investigation, which is not all that unusual, searching the lawyer's computer tends to be complicated because there are likely to be privileged attorney-client communications on it. If the lawyer has a busy practice, many of those communications will have nothing to do with the investigation in which the lawyer is a suspect. That is not an immunity issue. It is a privilege issue. The problem is routinely addressed, without a grant of immunity, by a screening procedure that prevents the prosecutors and agents investigating the case from getting access to any communications that are legitimately protected by attorney-client privilege."
This is no small matter. Taken together, the evidence of a surreptitious plan to prevent anyone from being indicted — most particularly, Hillary Clinton — overwhelmingly intimates collusion by high-level officials who wanted to ensure minimal damage to the presidential candidate's reputation and campaign.
While Democrats dismissively brushed off Clinton's use of a personal server during her tenure as secretary of state when the news first broke, it now appears those attempts to downplay the significance of the matter were a last-ditch effort to deflect further scrutiny that might one day shine a light on what really took place.
Thankfully, we have Wikileaks to do just that.
Following are the points — telling in themselves — to which Heather Samuelson alerted the Clinton team:
1) UNIQFEST/Turkey: There are 20 pages of internal, heavily redacted email traffic among DOS officials on request for WJC to speak at UNIQFEST in 2009 -- a climate change conference sponsored by the Turkish government with Turkish officials as featured speakers. According to the traffic, WJC would receive compensation from "government and non-government sources."
-- WJC's office decided to decline the invitation. There is no final determination in the materials by the Department.
-- Some of email traffic has subject line "Clinton Foundation" and refers to this as request from "Clinton Foundation." I only flag as may be twisted to say DOS did not even understand what they were reviewing for, blurred lines between personal and BHCCF etc…
2) Canadian National Exhibition: Email traffic indicates WJC's compensation for this speaking engagement would come from the Canadian government via their program to promote tourism, "Industry Canada." There is heavily redacted email traffic between DOS officials, including our Embassy in Canada, with several emails from WJC's office asking for status update, at one point saying they only have "about more 30 minutes before we lose the offer."
--- Jim Thessin (Deputy Legal Advisor) responds: "I do not have a problem with this so long as President Clinton is not serving as a U.S. government at the time of his appearance and when he is paid an honorarium. If not an employee, he may accept reimbursements of expenses and an honorarium for his speech/talk, but he may not receive any gifts from the Canadian government."
3) CISCO: Request is submitted for WJC to speak at CISCO two months before HRC awards CISCO the State Department's Award for Corporate Excellence, holding a ceremony featuring the CISCO's CEO.According to HRC's financial disclosure form, WJC received $255,000 for this speech.
4) Other notable requests:
Local foreign govt: Terife Island Council (local government of largest island in Canary Islands)
Private Equity Firms/Banks: ICE Canyon LLC, VISTA Equity, Harris Private Bank, TD Bank Financial, Whitton Investment Groups (London)
Foreign Based Organizations: Etisalat (UAE based telecomm co); Egyptian Junior Business Association; Friends of Cystic Fibrosis (Irish non-profit); Essex Regional Conservation Authority (Essex, Ontario); Wilbros Entertainment (Philippines, event to raise funds for Philippines charity); Miaor Entertainment Ltd (division of Grupo ABC based in Brazil); London Business Forum; Aditya Birla Management (Indian multinational conglomerate)
Universities: Southern Methodist, Tufts, American Jewish University
5) GWB: Two requests are for events with Deloitte and Radio City Music Hall that are a joint appearance between WJC and George W. Bush. WJC did the event with Deloitte, but not Radio City.