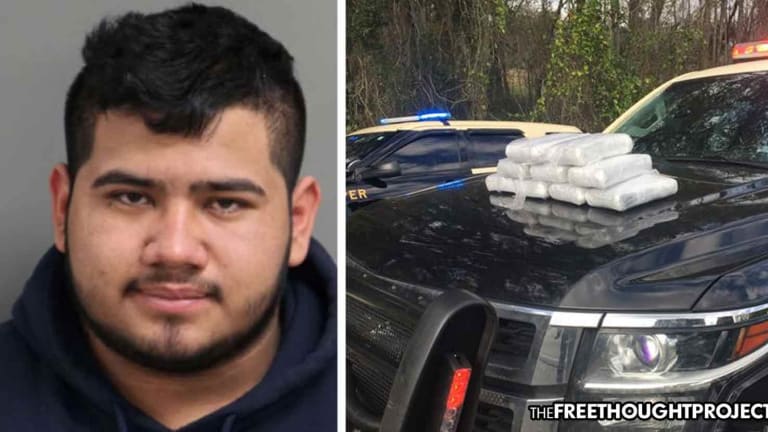 Cop Arrested for Selling Large Amounts of Cocaine From His Police Cruiser, While On Duty, In Uniform
A North Carolina cop was busted for selling large quantities of cocaine while he was being paid by taxpayer dollars.
Raleigh, NC — Thanks to the state's immoral and often deadly war on drugs, countless American citizens have had their lives ruined or ended over their personal choice to put a substance in their bodies. Highlighting the colossal failure of the war on drugs is the fact that drug overdoses are at an all-time high while the DEA and other law enforcement programs for drug enforcement are receiving record amounts of taxpayer dollars.
Despite years of suffering, oppression, and the expansion of the police state, most lawmakers cannot see the atrocities that their policies are creating. Their answer to the war on drugs, is more war on drugs.
Nothing epitomizes this madness better than when cops — who are tasked with arresting people for arbitrary substances deemed illegal by the state — are caught selling or using those very substances. When the enforcers of the drug war actually become participants in the drug trade, it is high time we admit defeat and try something different.
A cop in Raleigh, North Carolina made this point perfectly after he was arrested for trafficking drugs — from his patrol car, while on duty, and in uniform. According to court documents, Keven Rodriguez, 33, a Field Operations Division Officer with the Raleigh Police Department, distributed cocaine while on duty in his patrol car.
Rodriguez had become so brazen with his drug sales that his own officers apparently found out that he was selling the drugs from his patrol car. After suspicions were raised, a DEA investigation was launched and subsequently ensnared the cop.
According to the Department of Justice, a confidential source arranged to meet with Rodriguez on January 24, 2022. Rodriguez drove to the meeting location in his marked Raleigh Police Department patrol car and was carrying his duty firearm. The confidential source met with Rodriguez and gave Rodriguez $2,600 in cash.  Rodriguez then gave suspected cocaine to the confidential source. The drugs were later tested by a lab and confirmed to be approximately 56 grams of cocaine.
The wired informant spoke to Rodriguez through his right passenger window, and the transaction was recorded on audio and video and observed live by agents.
"When one who wears the badge breaks the law, it breaches the public trust,"  U.S. Attorney Michael Easley said. "This alleged crime is a serious breach of public trust."
"The arrest of Mr. Rodriguez is a disappointment to me, the Raleigh Police Department, and the citizens and residents of our community," Raleigh Police Chief Estella Patterson said. "Although disheartening, I want to ensure transparency to maintain public trust."
"While I am disturbed by today's events, I will not allow the alleged actions of one to define the Raleigh Police Department or discredit the outstanding work that our employees do on a daily basis," Patterson said. "I will continue to hold my officers and myself accountable to the highest standard of conduct, both on and off duty."
According to the U.S. attorney, however, there may be more than "one officer" within the department who is also using their position in law enforcement to profit from the war on drugs.
During a press conference, Easley would not confirm whether similar arrests were expected, but suggested there are more officers involved in the scheme than they originally anticipated.
Rodriguez now faces a mandatory minimum penalty of 5 years in prison if convicted, and a maximum of life in prison. Clearly the threat of this sentence was not enough to deter the cop from participating in the drug trade. It is time we end this immoral war.