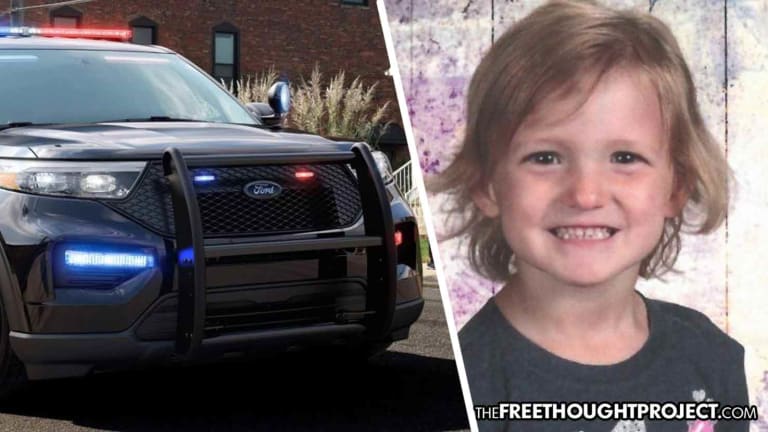 Cop Indicted for Recklessly Driving Patrol Car Onto Sidewalk, Killing a 4yo Little Girl
A cop has been charged with manslaughter after distractedly driving onto a school sidewalk and killing a 4-year-old girl.
Columbia, MO — A tragedy unfolded last year in front of a school in which a Columbia police officer, Andria L. Heese, 28, clearly distracted, drove her police SUV up onto a sidewalk and killed 4-year-old Gabriella Curry. Now, a year after the incident, Heese has finally been charged.
On Monday, Heese was charged with involuntary manslaughter after striking and killing a 4-year-old child with her cruiser on a school sidewalk acted recklessly by driving into a pedestrian area at a speed and angle that prevented her from seeing the child, prosecutors wrote in a complaint made public on Tuesday.
"We've been working with the Highway Patrol," Camden County prosecutor Heather Miller told Fox 22 Columbia. "We've been in contact with the family, working with them and making sure that all the ducks were in a row before we were comfortable filing the case."
Highlighting the blue privilege in this matter is the fact that according to the Columbia Tribune, after she ran over Gabriella, before investigators could speak with her, officer Heese was transported from the scene by her fellow officers, provided a police union attorney and taken to headquarters where she refused to answer questions about the child's death.
The tragedy unfolded on Jan 4th, 2019, as Heese arrived at Battle High School to observe students departing school in an apparent attempt to "protect them." As she arrived at the school, she drove her police SUV onto the sidewalk where little Gabriella was walking.
″...the defendant recklessly caused the death of G.C. by running over G.C. with a vehicle after entering an area typically used by pedestrians at a speed and coming from an angle which prevented her from seeing G.C.," Camden County Prosecuting Attorney Heather Miller wrote in the complaint filed Monday requesting a warrant.
The warrant with a $5,000 bond was issued Tuesday for her arrest, but there has been no word on whether or not she's been booked into jail.
In a tragic irony, the family of Gabriella said Heese once attended their church and gave Gabriella stickers telling her that if she ever needed help to call the police. Gabrielle's mother, Cheyenne Hayes says she now wants justice for her daughter.
"I think that's what hurts too, because she explained one day to all my kids that if they need help to call them and they will be there," Hayes said. "My kids don't see that now. How do you explain to children that have been through this that they (police) still aren't bad people, but make mistakes?"
Heese now faces the possibility of 7 years in prison if convicted. In response to the charges, Hayes said she doesn't know what sentence would ever be enough.
"To be honest, nothing in my mind is fair because of the situation, but paying for a crime that has been committed is what I want for my daughter."
As we reported at the time, Heese was driving in a roundabout near the parking lot at Battle High School in Columbia when her car "exited the left side of the roadway," the crash report states.
The SUV then struck Gabriella and she would not survive the trauma.
Columbia city spokesman Steve Sapp said that emergency workers responded and rushed Gabriella to the hospital but she was too badly injured and did not survive.
State Trooper Gentry Pemberton arrived on scene to find Heese administering chest compression to the child. Shortly after, Heese would vanish, being given her blue privilege.
Then lieutenant, now Police Chief, Geoff Jones was on the scene and told Pemberton the child had been struck by Heese and that the patrol would be asked to investigate. Pemberton called his supervisors to appraise them of the situation and then looked for Heese, who was nowhere to be found, he wrote.

After asking a Boone County deputy to find her, Pemberton began speaking with witnesses on the scene. One of those witnesses, a bus driver, told him she saw Heese come up the ramp and hit the child as she, the bus driver, honked her horn to alert Heese, according to Pemberton's affidavit.
Had a civilian driven their vehicle onto the sidewalk in a school zone and struck and killed a child, rest assured that they would've likely been arrested on the spot. Instead, Heese was placed on paid administrative leave for a year. What's more, after this tragedy, the local media took to praising this officer, reporting on a four-year-old video in which she "shows passion for her career."
No one here is claiming that Heese doesn't deserve due process. No one here is claiming that Heese is not innocent until proven guilty. And, no one here is claiming that she doesn't feel horrible for what she's done. But it is an undeniable fact that because of her actions and negligence, an innocent child is dead.
Heese may not deserve to be lambasted by the media, however, she most assuredly should not be receiving praise. But this is exactly what happened in the story mentioned above and it illustrates a serious problem.
All too often, when police officers shoot entirely innocent and unarmed people, the mainstream media will dig through that person's past and try to find any and all dirt as to paint the victim in a negative light.
We saw this reaction from media and politicians in the tragic case of Botham Jean who was shot and killed in his own home after officer Amber Guyger wrongfully entered his apartment.
Instead of digging up Guyger's past to review her use of force, the media and politicians shamelessly ran with the headline that Jean had a tiny bit of marijuana in his home as if this justifies being murdered in cold blood. The union and local media all praised Guyger for her dedication to the force and claimed she was an outstanding officer.
Senator Ted Cruz even went so far as to urge the public not to blame Guyger for the tragic shooting, even though she admitted to pulling the trigger.
This reaction from the political class and establishment media is a huge problem. Yes, there are a slew of great men and women who put on a uniform every day and risk their lives to protect people from abuse. But this does not grant all police officers some special privilege to commit horrid atrocities and get a pass. Sadly, this is what happens the majority of the time.
While we don't know the outcome of this specific case, if history is any indicator, we can predict that Heese will not face any jail time.
"(Gabriella) was a bubble of sunshine loved everyone and gave the greatest high fives or biggest hugs when u saw her at work," bus monitor Tammy Crabtree posted to Facebook. "Gabbie will be missed fly high angel girl and watch over your mom and dad and brother and sisters and rest of the family..."