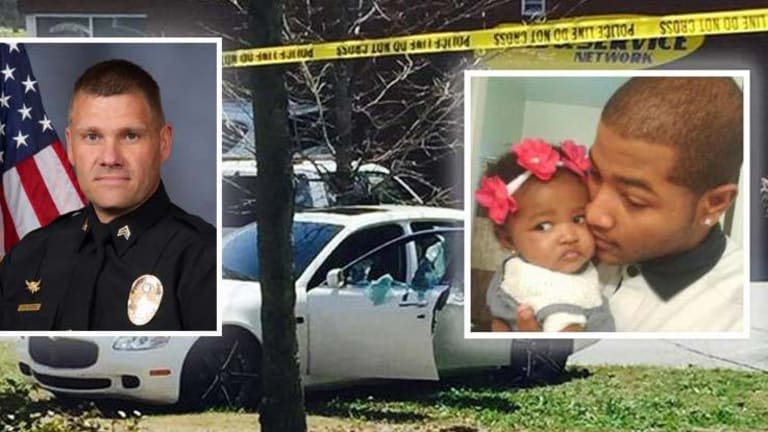 Cop Kills Unarmed Man at His Place of Work Over Unpaid Traffic Fines then Gets Huge Promotion
After shooting a young father in the back over unpaid traffic fines, Officer Kenneth Owens gets promoted to Lieutenant.
Smyrna, GA -- After killing Nicholas Thomas on March 24, 2015, under questionable circumstances at the Goodyear store where he was on the job, Smyrna Police Sgt. Kenneth Owens was cleared of any wrongdoing — and is now being promoted to Lieutenant.
"In a release sent to 11Alive News on Tuesday, the Smyrna Police Department confirmed that Owens is being promoted to the rank of Lieutenant effective Monday, February 15, 2016," the local NBC affiliate reported; and according to that statement, "Sgt. Owens is eligible and qualified for this position as prescribed by departmental policy."
Considering the questions still surrounding Thomas' death, his family — as well as many others in the community and elsewhere — would likely beg to differ.
Thomas was working at the Atlanta Goodyear Service Center, when Owens and several other officers came to serve a warrant for an alleged probation violation by the young father — reportedly over traffic violations. Startled by those officers appearance at his workplace, Thomas reportedly jumped into a customer's Maserati to flee.
"The suspect drove his car toward officers, putting officers in fear for their lives, at which time the officers fired into the vehicle, shooting the suspect," said Smyrna Police Sgt. Ed Cason the following day, as 11Alivereported at the time.
However, questions arose when the Cobb County Medical Examiner found the bullet had entered Thomas in his upper right back — hardly the location or entry point one would expect if an officer fired into a vehicle because he thought it would run him over.
"Of all the officers there, only one felt his life was threatened," said Thomas' family lawyer Mawuli Davis, as The Free Thought Projectpreviously reported. "Unless a car can travel sideways, I don't know how you can be in fear for your life."
The Georgia Bureau of Investigation and Cobb County Police Department both asserted the fatal shooting was "justified under the facts and the law."
That fear of an imminent threat to an officer's life — the justification for and cause of subsequent no-fault finding in this incident — appear to have been based on Owens' hypothetical assessment of what Thomas was planning to do.
As Thomas careened around the store's parking lot, looking for a way out since officers had blocked the only vehicle entry and exit point, Owens and other police jumped out of the way — but he claimed he feared an approaching officer might be struck by the vehicle if Thomas rounded the corner of the store quickly, so he decided to open fire.
Despite these lingering questions surrounding the killing of Thomas, as well as a seemingly loose interpretation of Georgia law, Sgt. Owens will soon be promoted to Lt. Owens — apparently indicating a continuing of the trend of impunity under any circumstances for police in the United States.
And why not? Cops 'fearing for their lives' and then killing fleeing motorists seems to be the norm in Police State USA.
Seneca Police Lt. Mark Tiller made the same assertion when he shot and killed 19-year-old Zachary Hammond over the possession of a small amount of marijuana. Officer Ray Tensing was caught on video killing Sam Dubose in a similar fashion. In September, cellphone footage was released showing police murdering 33-year-old John Barry, a mentally ill man who attempted to flee from police during a breakdown.
One of the most disgusting examples of cops claiming to fear for their lives as cars drive off is the case of Officers Derrick Stafford and Norris Greenhouse, Jr., who, in November, opened fire on a car occupied by 6-year-old Jeremy Mardis, killing him and severely injuring his father.