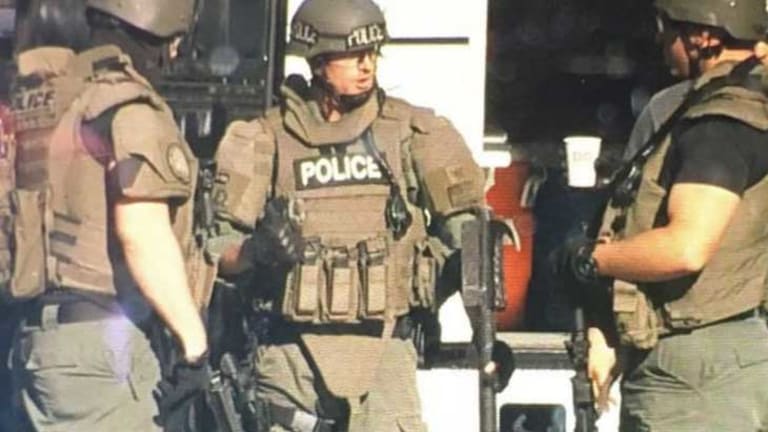 Cops Fire Tear Gas Canisters, Send in Robots, During 11-Hour Standoff -- with an Empty House
A bumbling SWAT team blocked off a neighborhood and performed a standoff for 11 hours -- with an empty house.
Redford Township, MI -- In a complete waste of taxpayer dollars, a police SWAT team shut down a neighborhood in an 11-hour standoff with … an empty house.
For 11 hours, a heavily-militarized SWAT team in Redford Township, Michigan, kept an entire neighborhood on lockdown as they negotiated with the unresponsive house, ClickOnDetroit.com reported.
After attempts to negotiate with the suspect who wasn't home proved to be an exercise in futility, the SWAT team deployed tear gas canisters. When this yielded no response, police sent a robot inside to locate a suspect they believed had barricaded himself inside.
Upon entering, SWAT realized no one had been in the house during the entire standoff.
A violent domestic dispute sparked this fruitless endeavor. After six weeks of marriage, the unidentified wife reportedly told her husband she wanted a divorce. Their argument escalated, and apparently the newly-married couple went crashing through the home's glass front door.
She told police her husband had stabbed her — so police apparently felt the situation involved a dangerous suspect worthy of involvement by both the Livonia Special Response Team and Redford Police.
But the husband vacated the premises prior to the authorities' arrival sometime around midnight.
Officers advised the public to avoid the neighborhood and cordoned off several streets to restrict traffic.
Their blunder wasn't discovered until police physically entered the empty home.
Though this mistake by a SWAT team might seem somewhat humorous — and certainly motivated by protection of a victim — innumerable stories around the nation have proven anything but funny.
Empty-home standoffs actually represent a smaller fraction of an egregious tendency by SWAT teams to show up at the wrong address and cause injury to innocent residents — and, more often, worse.
In 2010, Orange County SWAT raided a home to find a family member who didn't reside at the address. Breaching the door with guns at the ready, SWAT officers killed the terrified family's dog and shot a 17-year-old girl in the leg — all because the nonresident family member was believed to be dealing drugs.
"I said, 'Chris hasn't lived here in weeks so if you've been surveillancing my house, why are you here?'" the woman said, according toWFTV News.
Last August, utterly incompetent and heavily militarized police broke into an apartment, roused Marianne Diaz and her children from sleep, and terrorized them at gunpoint.
"Stop fucking crying and take care of your fucking kids!" the overly-armed officers barked at Diaz, whose children were understandably scared to tears.
In that case, police, apparently unable to read a simple address, stormed Diaz' apartment at 17 Hillside Street — even though court records showed the suspect they sought resided at 71 Sylvan Street.
On April 28th this year, a police SWAT team terrorized another innocent family — even pointing a shotgun in the disabled homeowner's chest — after their military-grade technology somehow wasn't able to prevent another case of mistaken address.
Just before Christmas, last December, Cherokee County Sheriff David Groves and his heroic team of militarized storm troopers descended on the home of a single mom and her five kids. Upon removing the mother and her five children from the house, police entered into a 20-hour-long standoff -- with the empty house.
According to Sheriff Groves, police were looking for Doug Alexius, a suspect wanted on a misdemeanor count of assaulting a law enforcement officer and another drug-related charge. Upon entering the home, the team used a 'hi-tech' and expensive infrared camera that showed them Alexius was hiding in the attic. Incorrectly believing Alexius was in the attic, they backed out and a 20-hour long standoff ensued.
Instead of admitting their mistake, the SWAT team proceeded to demolish this innocent family's house -- leaving them homeless on Christmas.
SWAT teams across the country boast of their elite, stellar skills in capturing dangerous criminals and preventing crime — when the actuality has proven these militarized cops more often little more than terrorists. Wasting tax dollars in standoffs with empty homes should, unfortunately at this point, be the least of our concerns.