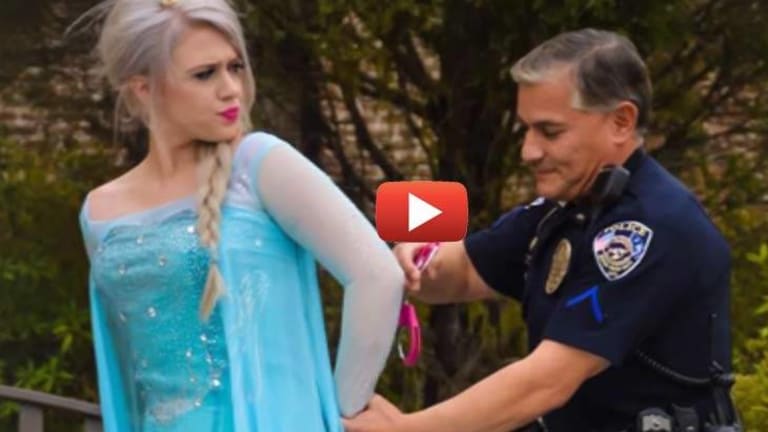 Cops Refusing to "Let It Go..." Queen Elsa Arrested Multiple Times This Week As Cities Are Frozen
Queen Elsa of Arandell from the movie Frozen has been having quite a few run-in's with the law this week. As we all know, police like to arrest people for victimless crimes just to throw their weight around.
Disney's ice queen was "charged" with creating the cold weather patterns that landed her an arrest warrant in Harlan, Ky.

"All points bulletin!!! HPD has issued an arrest warrant for Queen Elsa of Arendelle. Suspect is a blonde female last seen wearing a long blue dress and is known to burst into song "Let it Go!" As you can see by the weather she is very dangerous. Do not attempt to apprehend her alone." The department wrote on Facebook.
The post was met with mixed reviews, with many calling the post "stupid." Others noted how great it is that we are teaching kids to distrust the police at a young age. As I was writing this, in fact, my 4-year-old daughter caught a glimpse of Elsa in handcuffs and let me tell you, she is not happy.

"Good, we should be teaching kids to fear cops at a young age to protect themselves. I can see a bunch of kids revolting screaming "viva la revolution!" because they love Elsa so much." one Facebook user, Maddy Roberge, wrote.
As the playful publicity stunt went viral, she was eventually arrested on Monday by the Hanahan Police Dept. in South Carolina, who allege that the Queen was attempting to freeze the fountain at city, in a clear act of civil disobedience. Even Ice Queens are sick of these police and their frozen hearts.

"Because of who she is, the judge was courteous and gave her community service with the understanding that she wasn't going to do it again," Police Chief Mike Cochran told ABC, admitting to their special treatment of Royalty.
Not one to take order's from the thugs in blue, she is a queen after all, the town was hit with freezing rain shortly after she was released.
Elsa, however, denies any involvement and is suggesting that the culprit may have been Jack Frost.
Thank you police, for ensuring our children have a proper a role model who breaks bad rules and likes to have fun.
Free Elsa!