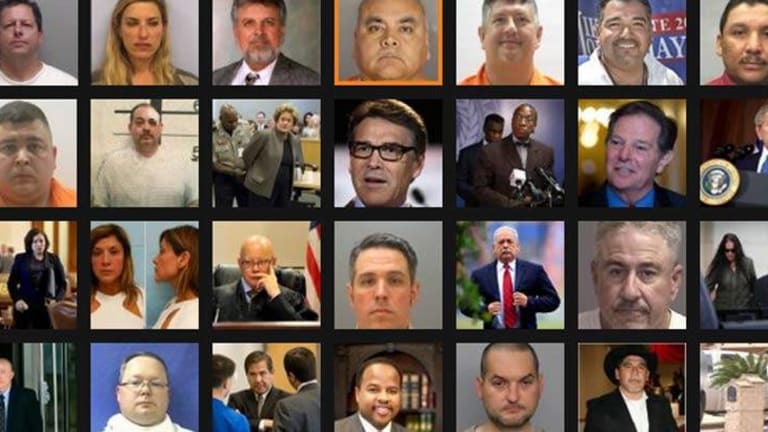 From Arms Smuggling to Murder: With Law Makers and Enforcers Like These, Who Needs Criminals?
Child porn, racketeering, solicitation of child prostitutes, are just the tip of the iceberg when it comes to the dozens of recent charges against these TX officials.
It's no secret that politicians are notoriously corrupt; they've been the butt of jokes and distrusted by the masses since biblical times. Texas, as it seems, appears to have more than the lion's share of crooked public servants. An astonishing 30 political officials have been charged with an array of criminal offenses ranging from DUI to murder in just over five years.
Dallas County Commissioner John Wiley Price faces thirty years if convicted on all 11 counts of accepting gifts from politicians in exchange for insider information. Former State Rep. Kino Flores was accused of selling legislative favors and found guilty of eleven counts of perjury and tampering with government records. In August 2013, Former State Rep. Jose Santiago Solis was convicted of aiding and abetting former state district judge Abel Corral Limas, who was also convicted in 2013 for extortion and racketeering.
Williamson County court-at-law judge Tim Wright was accused of "selling guns to convicted criminals and helping smuggle guns to Mexico." He pleaded guilty in federal court to two of the nine counts and admitted to firearms dealing, selling over 60 weapons without a license, and making false statements to law enforcement officials. He made a public apology outside the courthouse and resigned from his position. He faces sixty months in federal prison.
San Marcos police officer James Palermo was charged with assault after brutally beating a woman simply for walking by a traffic stop, giving her a concussion, broken teeth, and other injuries.
Steve Canava, a 51-year-old deputy constable for McLennan County, was arrested Friday for allegedly soliciting a prostitute under the age of 18, a second degree felony punishable by up to 20 years in prison.
Officer Ruben Castillo turned himself in last December and was charged with state jail felony theft and forgery, according to the Brownsville Police Department's blog.
The worst of these cases is Former Kaufman County Precinct 1 justice of the peace Eric Williams, who has been sentenced to death for the murders of District Attorney Mike McLelland, his wife Cynthia, and Kaufman County Assistant District Attorney Mark Hasse. Williams allegedly killed the three after he lost his job and license to practice law due to a theft conviction obtained by the lawyers. Dallas County Judge Mike Snipes told Williams after the verdict that he wasn't fooled by his professional demeanor, comparing him to serial killers Jeffrey Dahmer and Charles Manson.
In total, there are seven DUI's, one marijuana charge, money laundering, assault, barratry (ambulance chasing for profit), extortion, solicitation, coercion, bribery, child porn charges, theft, forgery, and gun smuggling.
Everything's bigger in Texas, including the corruption.