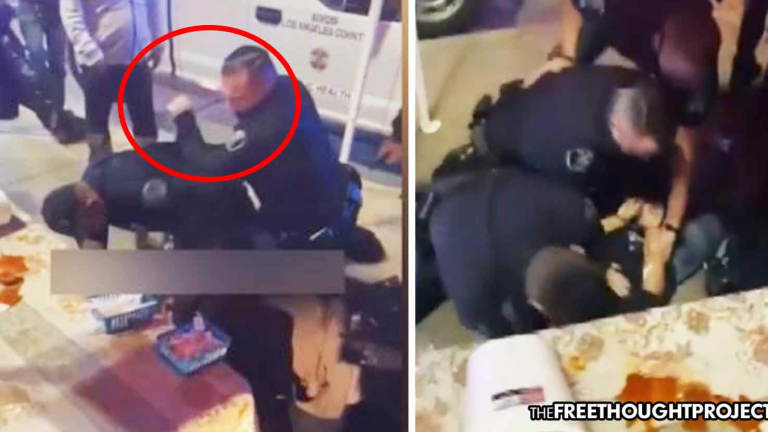 Husband & Wife Beaten with Flashlight, Stomped On Over Selling Tacos Without Permit
A couple was visited by police for selling tacos without a permit, who subsequently tackled them to the ground, beat, and arrested them.
Los Angeles, CA — In the land of the free, attempting to earn money in certain professions without first paying the state for the privilege of doing so can and will get you kidnapped and extorted. These laws are applied to children behind lemonade stands as well as adults selling flowers. The state callously and with extreme prejudice has been documented arresting people, or even beating up women to enforce these licensing laws. As the following case illustrates, even couples attempting to make money to keep from sleeping on the streets can and will become fodder in the war on earning without permission.
Thanks to hypocritical governor Gavin Newsom's tyrannical lockdown in the state of California, 1 in every 3 California restaurants will be permanently closing their doors. Other states, like New York, Michigan, Pennsylvania and Minnesota face similar fates while most states across America have suffered massive layoffs in the restaurant industry.
The latest Bureau of Labor Statistics report showed employment in leisure and hospitality is down by 3.4 million jobs since last February. About 17,000 jobs in "food services and drinking places" were cut in November alone. As the following incident illustrates, the few folks who survived the government's orders are facing harassment and even police brutality for simply trying to earn a living.
The following incident unfolded on Sunday in El Monte, Calif. as health inspectors along with multiple El Monte police officers responded to a report from a "see something, say something" citizen that Fermin Martinez and Sylvia Aguilar were operating their taco stand without a permit. The fact that people are snitching on their neighbors for trying to do anything they can to stay on their feet during these lockdowns is disheartening but the police enforcing it with violence takes it to another extreme.
As the video shows, the couple is upset that they are being harassed. They are verbally protesting when all of the sudden, the couple is tackled to the ground and savagely beaten. Aguilar is being kicked and stomped while Martinez is getting repeatedly hit with an officer's flashlight.
Martinez explained that the health inspectors target him for some reason, despite a myriad of other stands doing the exact same thing.
"There are a lot of taco stands around and they don't bother anyone else but us," said Martinez. "That's what I wanted to know, but then they started to hit me and they threw me on the floor and hit me many times in the head."
Aguilar explained that this situation is upsetting as they are not harming anyone. They are selling food to willing customers, yet they are targeted by the state for not paying them for the privilege to earn money.
"I'm sad very sad because we are working," she said. "We aren't robbing anyone and we don't ask anyone for help. We just want to work."
Unfortunately, in the land of opportunity, you must first fill the state's coffers before you attempt to fill your own. Martinez and Aguilar haven't yet paid for the permission to earn money selling tacos.
After they were beaten, the couple was arrested and hauled off to jail. County officials told KTLA the couple became "aggressive" so they had no other choice but to arrest them.
But the video shows Aguilar only become aggressive after she was attacked and put in handcuffs.
"During the complaint investigation, the unpermitted food operators at this location became aggressive and physical with the inspectors and law enforcement, which resulted in multiple arrests," the statement said.
Below is a video showing what it's like trying to ethically earn living in the land of the free.