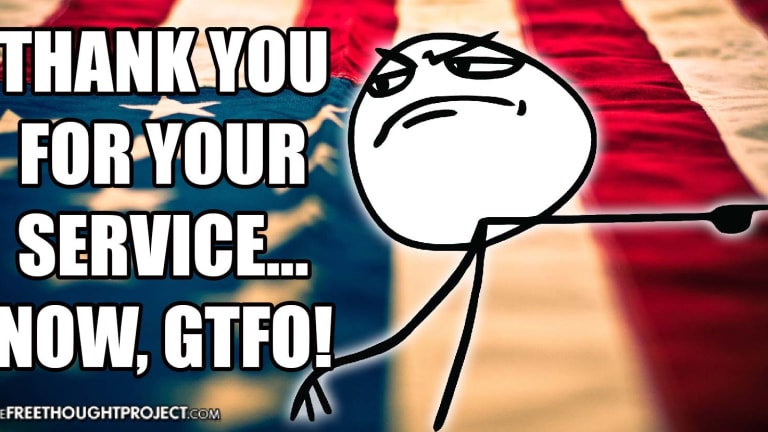 Court Orders US Army Vet Who Served 2 Afghanistan Tours Deported to Mexico
After honorably serving his country and putting his life on the line in Afghanistan, a US Army veteran is being deported back to Mexico.
Chicago, IL — Miguel Perez Jr., of Chicago, Illinois, is a battle-scarred U.S. Army war veteran who proudly displays his patriotism in the tattoos he wears -- a Statue of Liberty, a battle cross representing a fallen soldier, as well as the U.S. Army Special Forces insignia that reads "To liberate the oppressed." However, because this country is hell-bent on "sendin' them brown folk back where they came from," Perez will be thrown out like yesterday's trash.
A Chicago judge has ruled that Perez must be deported to Mexico in spite of his putting his life on the line for this country — not Mexico.
On Sunday morning, family and supporters gathered at Pilsen church in Chicago to voice their outrage over this insanity.
"My son fought for this country, not for Mexico," said Perez' mother Esperanza Medina.
Three decades ago, Perez and his parents came to the United States legally. Having fallen in love with the United States, Perez became a legal permanent resident and even enlisted in the US Army to fight for — what he thought — was his country.
Now, however, after the US military got what they wanted from him, Perez will be deported "back to where he came from!"
Perez, like millions of other kind and caring people, got involved in drugs. He never hurt anyone. However, police caught him with a substance deemed illegal by the government (cocaine), so he was arrested and thrown in prison. Even though he served his ostensible 'debt to society' in jail, it is this charge the judge is using as grounds for deportation.
According to the Chicago Tribune, Perez' attorney Chris Burgin "argued in court that his client's life would be in danger if he were sent back to Mexico, where he hasn't lived since he was 8. According to human rights activists and advocates for deported veterans, drug cartels target former U.S. residents, especially veterans with combat experience, to work on their behalf, and those who don't comply are at risk."
However, the judge isn't buying it and denied the torture claim last week.
According to ABC 7, Perez' attorney appealed the judge's ruling and reached out to U.S. Sens. Dick Durbin and Tammy Duckworth, both Illinois Democrats, asking to give Perez retroactive citizenship starting on the day he first served his country in the Army.
In spite of the appeal, however, Perez is still being held captive in an ICE facility and the deportation remains underway.
In the land of the free, you can put your life on the line for a government that will repay you by kidnapping you and sending you to another country.
Country, I was a soldier to you.
I did what you asked me to.
It was wrong, and you knew.

Country, now I'm just a stranger to you.
A number, a name; it's true.
Throw me away when you're through.

Home of the brave and the free; the red, white, and blue.
I wish it was true.
[author title="" image="https://tftpstagingstg.wpengine.com/wp-content/uploads/2016/03/magorist-e1456948757204.jpg"]Matt Agorist is an honorably discharged veteran of the USMC and former intelligence operator directly tasked by the NSA. This prior experience gives him unique insight into the world of government corruption and the American police state. Agorist has been an independent journalist for over a decade and has been featured on mainstream networks around the world. Agorist is also the Editor at Large at the Free Thought Project. Follow @MattAgorist on Twitter, Steemit, and now on Facebook.[/author]