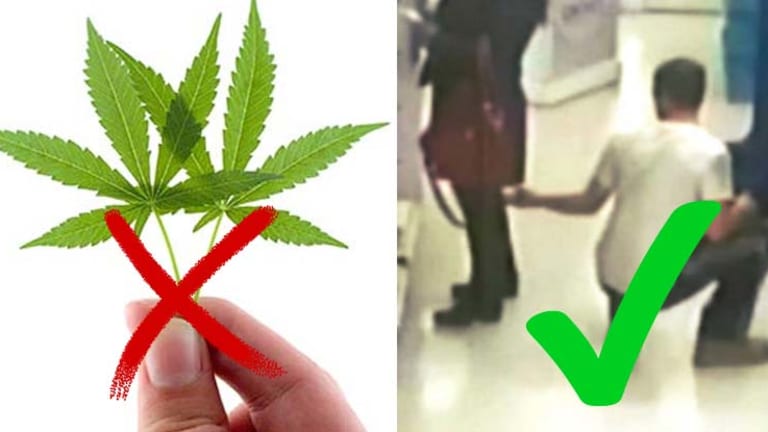 Court Rules Shooting 'Upskirt' Pics of Women is Legal in Public -- Still Throws You in a Cage for Pot
Cops will now look the other way when cameras are shoved up women's skirts to get an 'upskirt' shot. Pot smokers, however, will be caged.
In the state of Georgia, if you are caught with more than one ounce of a highly beneficial and nearly miraculous plant that heals children and adults alike -- you can be thrown in jail for up to 10 years. However, if you're caught sneaking a video camera up a woman's dress to film an 'upskirt' shot, you'll have nothing to worry about.
Thanks to a recent ruling by the Georgia Court of Appeals, putting your cellphone beneath a woman's skirt without her permission is 100% legal now.
In a 6-3 split decision, the court sided with Brandon Lee Gary who openly admitted to sneaking "upskirt" videos of a woman while she grocery shopped. Gary successfully argued that the wording of state law does not make what he did illegal by their definition of the term.
In 2013, Gary was seen on multiple surveillance cameras at a Publix grocery store repeatedly sticking his cellphone camera underneath the skirt of a female customer and recording video.
Shortly after he was caught, a grand jury indicted Gary on a single count of "Unlawful Eavesdropping and Surveillance," and he was found guilty at a bench trial in Superior Court.
According to Georgia law it's illegal for "[a]ny person, through the use of any device, without the consent of all persons observed, to observe, photograph, or record the activities of another which occur in any private place and out of public view."
Gary argued that since the woman was in a public place, putting a camera up her skirt did not violate this law.
When Gary appealed the initial ruling, the appeals court actually agreed with him -- in spite of the lower court noting that his actions were patently offensive and a person has a reasonable expectation of privacy in the areas of their bodies covered by clothing.
"We do not disagree with either of these propositions. Nor do we doubt that a woman whose body is surreptitiously photographed beneath her clothing has suffered an invasion of privacy of some kind," the appeals court said in its ruling earlier this month. "The question before this Court, however, is not whether the defendant's conduct was offensive; it is not whether a person walking in a public place has a reasonable expectation of privacy as to certain areas of her body; and it is not whether the victim's privacy was violated."
After the court ruled Gary's actions legal, they passed the buck to the General Assembly, noting that it's not their job to fix this ridiculous law.
"[I]t is regrettable that no law currently exists which criminalizes Gary's reprehensible conduct," the ruling states. "Unfortunately, there is a gap in Georgia's criminal statutory scheme, in that our law does not reach all of the disturbing conduct that has been made possible by ever-advancing technology.
"The remedy for this problem, however, lies with the General Assembly, not with this Court."
In the meantime, the law enforcement system in Georgia has no problem kidnapping, caging, and killing people over marijuana. Despite being only the 9th largest in population, the State of Georgia has the 6th highest number of arrests for marijuana possession.
The brutal statist irony here is that cops in Georgia will watch a pervert shove his phone up a woman's skirt to take a picture and will not act. However, if a 'straight A' college student gets caught with bits of a plant, they will be subject to the deprivation of their rights, freedom, and all too often, life.
What this case illustrates is the epitome of state hypocrisy and the utter lack of logic and morality. As perverts flock to Georgia to begin their 'legal' quest for the perfect upskirt, SWAT teams will continue to kick in doors in the middle of the night to arrest those dangerous people who would dare possess a plant.