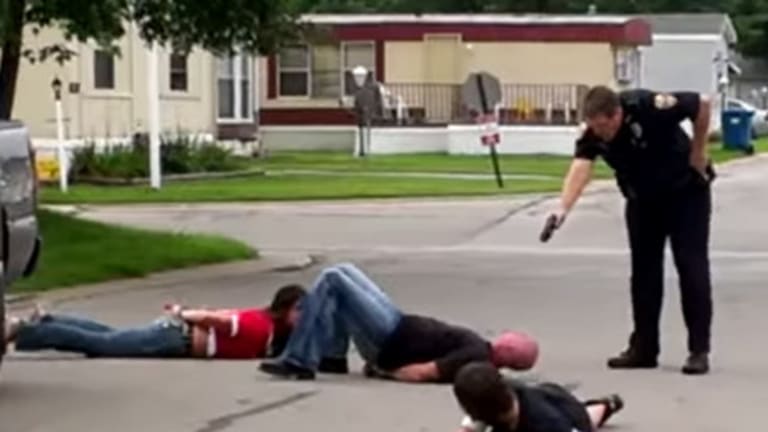 Crazy Cop Who Held Couple at Gunpoint Returns to Work After Paid Vacation
A Washington Township police officer is back on the job after authorities found no wrongdoing after he held a couple at gunpoint during a traffic stop
April 5, 2014
A Washington Township police officer is back on the job after authorities found no wrongdoing on a videotape of a traffic stop that had resulted in him being placed on paid administrative leave.
The tape, viewed more than a million times since it was posted online, depicts an encounter Officer Eric Hart had with at least two people Sept. 15 when he stopped a vehicle at 166 Pine Ridge St. in Raintree Village for having a license registration sticker that appeared to have been altered, according to Toledo Blade.
Apparently this couple simply wanted to get into their driveway and expressed their discontent with the police, who happened to be blocking their driveway.
What happened next was pure insanity.
After this incident, Hart was put on administrative leave as more of a dog and pony show than anything else. 
"He's not in trouble, but to keep things aboveboard, we put him on administrative leave until an internal investigation is fully complete," Chief Christopher Keiser said. "I'm not saying he did anything wrong, but we're trying to show we're not trying to sweep this under the rug or cover it up."
After his wonderful tax-payer funded vacation, Officer Hart was allowed to continue on, "protecting and serving." He was placed back on the force at the end of last year.
Well citizens of Toledo, you can now sleep well tonight knowing that this guy is out there to 'protect' you.