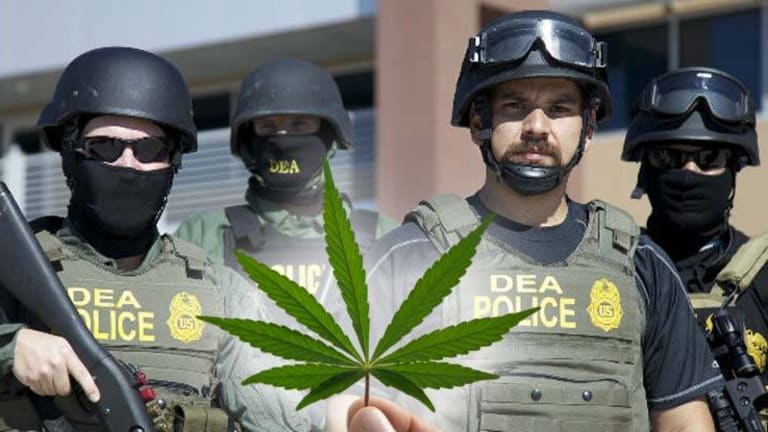 Even DEA Tyrants are Waking Up, Letter Reveals Plan to Downgrade Pot from Schedule 1 by July
Cannabis may finally be downgraded from a Schedule 1 drug by the DEA -- and it could happen in the next few months.
Cannabis may finally be downgraded from a Schedule 1 drug in the next few months. According to a letter sent to lawmakers, the Drug Enforcement Agency says cannabis is under consideration to be reclassified as Schedule 2 — which would allow researchers greater access to study the plant's medicinal qualities.
"Reclassifying cannabis will make scientific research easier and will send a strong signal that the U.S. government is finally ready to acknowledge that marijuana has medical value," said Tom Angell, Marijuana Majority chairman, according to the Washington Times.
"The letter to lawmakers, signed by the heads of the DEA, the Department of Health and Human Services and the Office of National Drug Control Policy, states that the DEA has received scientific and medical evaluations as well as a rescheduling recommendation from HHS and that it hopes to release a determination on rescheduling 'in the first half of 2016,'" the Times summarized.
In 2015, according to Marijuana.com, the Food and Drug Administration issued that recommendation to the DEA, though the contents of that letter have not been made public. HHS tasks the FDA with medical and scientific evaluation of substances for rescheduling.
Though classifying cannabis under Schedule 2 would clear a major hurdle for broader medical marijuana legislation around the country, it's still far less than the complete decriminalization or legalization multiple studies recently advocated. 
According to the DEA, Schedule 2 drugs have "a high potential for abuse, with use potentially leading to severe psychological or physical dependence" and are "considered dangerous." While its current classification puts cannabis on par with heroin, rescheduling would equate the plant with cocaine and morphine.
Still, the potential benefits of cannabis could be more fully explored if the DEA decides to make the rare move — the agency has only done so five times in the past, according to a 2015 report by the Brookings Institution.
Though stalwarts in the DEA have scoffed at the idea of reclassifying cannabis, advocacy for both its medicinal applications and recreational use have gained enormous popular support.
In fact, more than 6 in 10 Americans believe "the use of marijuana should be made legal," according to new poll from the Associated Press-NORC Center for Public Affairs Research. In February, a Probolsky Research poll found 60 percent of registered voters in California support a November initiative "that would legalize marijuana for recreational use under California law and allow government to tax" its retail sales.
Evidence supporting outright legalization is too voluminous to even summarize in one article, but at the very least, downgrading cannabis from Schedule 1 shows progress unimaginable just a decade ago. Should the DEA decide to do so, countless patients could benefit from the easing of restrictions for researching this already-proven healer of a plant.
While loosening the grip of government is always a good thing, the fact that cannabis remains 'illegal' in any shape or form is utterly unacceptable. Anyone who continues to kidnap, cage, and kill people for possessing it is actively accommodating tyranny and is an opponent to a free and peaceful society.