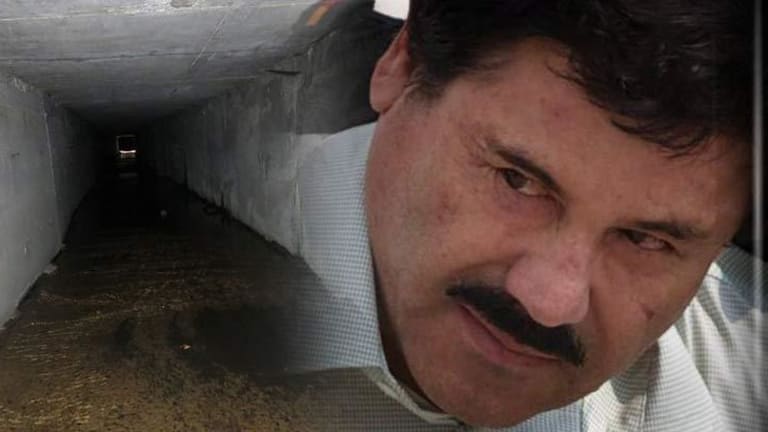 The US Knew the Cartel Kingpin "El Chapo" Planned to Break Out of Prison
DEA documents show 'El Chapo' began escape plots in 2014
Mexico City, Mexico - Almost immediately after being apprehended in 2014, plans to free Mexico's biggest cartel boss, Joaquin "El Chapo" Guzman, were already being strategized, according to a report by the Associated Press.
Guzman, the billionaire head of the powerful Sinaloa Cartel, made his escape on Saturday morning from the maximum security prison located 50 miles outside of Mexico City, security officials said.
A law enforcement source, speaking to CBS News on the condition of anonymity, because he was not authorized to discuss the case, said that Guzman's son, family and cartel compatriots began formulating "potential operations to free Guzman" from prison almost immediately after his capture.
Drug Enforcement Administration agents uncovered pieces of intelligence regarding the planning of escape attempts, which they claim were passed along to the Mexican government.
But according to Mexico's Interior Secretary Miguel Angel Osorio Chong, Mexican security officials were never informed "in that respect," referring to active escape plans being forwarded on to his government.
U.S officials had pushed for the extradition of Guzman after he was arrested, but their extradition request was rejected by Mexican authorities. The source claimed that from the day Guzman was captured, there was major concern that he would attempt to escape.
At the time, Eduardo Medina Mora, the former Mexican ambassador to the U.S. said:
"He's locked up in the most reliable prison we have in Mexico and certainly once bitten, twice shy. We will take our precautions in this case."
Given the fact that he had already successfully escaped a maximum security facility once, in concert with the reality of being a billionaire cartel kingpin incarcerated in a quasi narco-state, perhaps extra precautions would have been in order to assure Guzman didn't escape.
With so much evidence having been brought to light, revealing complicity between the Mexican and U.S. government and the Sinaloa cartel, perhaps Guzman was never meant to be held permanently.
It makes one wonder; who is really running the show in Mexico?
Jay Syrmopoulos is an investigative journalist, free thinker, researcher, and ardent opponent of authoritarianism. He is currently a graduate student at University of Denver pursuing a masters in Global Affairs. Jay's work has been published on BenSwann's Truth in Media, Chris Hedges' truth-out, AlterNet and many other sites. You can follow him on Twitter @sirmetropolis, on Facebook at Sir Metropolis and now on tsu.