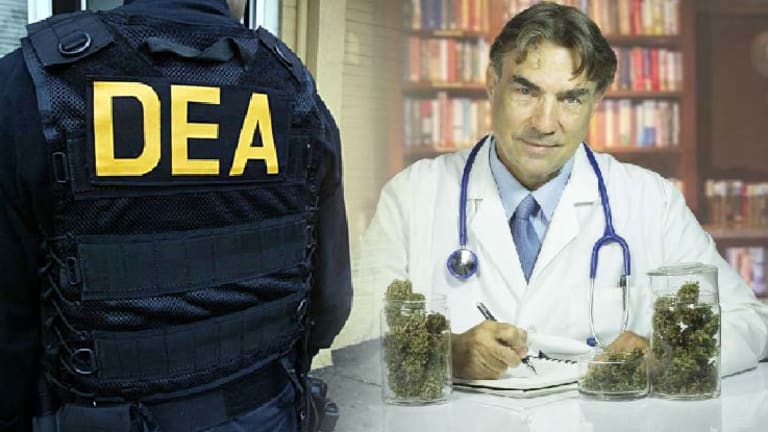 DEA Bars Cannabis Drs, As Dr Who Falsely Diagnosed Cancer to Make Millions Keeps License
A doctor was caught falsely diagnosing people with cancer to sell them surgery and radiation and keeps his license, while docs advising on LEGAL pot get crushed.
Patients and doctors are in an uproar in Port St. Lucie, Florida over the fact that Dr. Gary Marder, a dermatologist, still has his medical license after falsely diagnosing patients with skin cancer. In doing so, Marder bilked Medicare and profited millions of dollars, while giving patients radiation treatments and surgery for no reason.
Marder agreed to pay an $18 million settlement after the federal investigation, but as of Feb. 10 records showed he still had his medical license. The Florida Department of Health, which is in charge of medical licenses, "cannot say whether they have received a complaint against Marder or if they have plans to take action against Marder."
Marder received disciplinary action in 1998 for "similar issues."
"Records indicate he was accused of failing to keep a written medical record, billing patient's insurance company for procedures that weren't performed and exercising influence on the patient for financial gain. The petitioner asked for Dr. Marder's medical license to be revoked but it wasn't and is currently still active."
He was finally exposed when Gloria Strumalo sought a second opinion from Dr. Ted Schiff, who has seen a number of Marder's patients. According to Schiff, they always had incomplete medical records.
"We've always seen issues (from Dr. Marder's patients) but it seemed that over the past 3-5 years we would see more and more patients who had unusual diagnosis, diagnosis of cancer where we didn't see where it was," said Schiff.
Dr. Steve Rosenberg, a member of the Florida Board of Medicine, said it can take several years to revoke a doctor's license – with many legal maneuvers available to delay the process – while the doctor in question continues bad behavior, putting patients' lives at risk.
It's not simple to bar a doctor from continuing to practice, unless the doctor is dealing with "controlled substances" such as the cannabis plant.
Two weeks ago, the Drug Enforcement Agency (DEA) revoked the certificates of two Colorado doctors – because they allegedly told patients to grow more than six cannabis plants.
The evil doctors had put patients in the critical danger of having too many plants of a miraculous medicine that has never killed anyone. God forbid if they have excess cannabis, they give it away to others in a state that has legalized both recreational and medicinal cannabis use.
In all its decriminalization wisdom, Colorado somehow felt that individuals should not grow or possess more than six cannabis plants. The two doctors, Gentry Dunlop and Janet Dean, were among five physicians who had their Colorado Medical Board suspended last summer for writing "improperly large numbers of medical marijuana recommendations authorizing high plant counts."
DEA seized on this to further shut down the cannabis-prescribing doctors. As of now they can't practice medicine or prescribe medication, but four of the doctors have filed suit over the state suspensions.
"Four of the suspended doctors — everyone but Dean — filed suit over the suspensions last year. After winning a brief reprieve, a judge in Denver allowed the suspensions to continue while the doctors' administrative appeals progressed. The doctors appealed the judge's order; meanwhile, their cases at the Medical Board are also still pending…
The doctors say their suspensions were arbitrary, and that all of their "recommendations conformed to the law and policy."
When we interviewed the mother of Novaleigh, a 5-year-old girl who has been able to survive and grow only because of cannabis, she informed us that most Colorado doctors are scared to sign the card that allows Novaleigh to obtain her life-saving medicine – because the DEA might revoke their certificates.
These cases represent a staggering example of the unjust and arbitrary nature of government "oversight" on the medical field, and the absurdity of the War on Drugs.
On one hand, a doctor who lied to patients, subjected them to needless radiation and surgery, pocketed millions and defrauded Medicare gets to keep on practicing with no repercussions. And according to a doctor on the Board of Medicine, there are "too many cases" of such dangerous deception.
On the other hand, doctors who prescribe a plant that provides miraculous benefits for a number of different medical ailments are harassed and shut down by government. Authorities believe they must protect people from having seven cannabis plants.