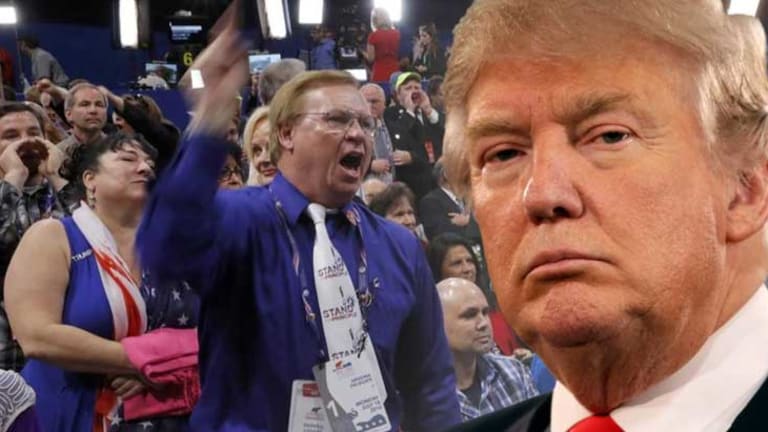 RNC Delegates' Votes Switched Against Their Will to Nominate Trump
A number of delegates at the Republican National Convention are outraged over their votes being forcibly switched to support Donald Trump.
Trump's contentious rise in popularity during his rise to presumptive nominee culminated with an equally fraught official nomination on Tuesday, as an entire delegation became infuriated after having their votes switched to the billionaire — despite his winning less than 14 percent support from voters.
In the delegation from Washington, D.C., Marco Rubio had earned 10 binding votes while John Kasich won nine — but to the enmity of delegates, seemingly outdated party rules switched all 19 votes in support of Donald Trump.
As D.C. Republican Party rules on the binding of delegates dictate, "if only one candidate's name is placed in nomination at the Republican National Convention, all delegates shall be bound to vote for such candidate on the first ballot provided that the candidate received votes in the D.C. presidential preference poll."
With Trump as the sole candidate on the ticket — and his having received some votes in D.C. — the 19 votes were automatically swapped from Kasich and Rubio.
Vexed delegates' shouts for a recount could be heard amid cheers during the announcement of Trump's official nomination, as many said they felt excluded from the process.
"How is [Trump] going to listen to us if he's elected president, if he's not listening to us now?" first-time D.C. delegate and civil rights attorney Kris Hammond toldThinkProgress, adding he felt insulted by his party. "He's not allowing dissent. He's not going to allow anything other than subservience to Donald Trump."
According to the outlet, Hammond and other delegates were told by party leaders they would be able to vote for Kasich and Rubio, despite the controversial rule.
"I am not surprised," Hammond added of the vote switch. "It has reinforced my previous conception that you cannot trust this party to do the honorable thing and act in a responsible manner."
National committeeman from D.C., Bob Kabel, who served on the convention rules committee, echoed Hammond's claim of an understanding from party leaders.
"We thought we had them waived," Kabel lamented, the Washington Examinerreported. "We thought we had an agreement."
Kabel explained the D.C. delegates had supported the binding delegates rule since they were under the assumption it would mean their votes were bound to Kasich and Rubio.
"We were told all along that this is not the way the rules would be interpreted," explained D.C. delegate Chip Nottingham, further intimating a possible case of bait and switch. "To just be insulted like that is outrageous. It's petty. The [Trump] campaign didn't need our 19 votes. They never earned them."
But the D.C. delegation wasn't the only group to have their votes forcibly exchanged for Trump against their wishes in accordance with state party rules — three other states' delegations, including those from Alaska, were also infuriated over changed votes.
"I was very unhappy when they announced our vote," Larry DeVilbiss, a Cruz delegate from Alaska, told ThinkProgress. "Back in our state it looks tacky because we had a preferential poll, and we had our delegation proportionate to all those votes. I'm upset. I know [voters will] be upset."
Amid peppered outrage over the changed votes and after a lengthy musical interlude, RNC chairman Reince Priebus overruled calls for a recount and allowed Trump's nomination to continue.
Infuriated over the rule essentially nullifying delegates' wishes, Hammond told ThinkProgress he may resign from the local Republican Party Committee in order to cast a protest vote for Libertarian candidate, Gary Johnson — and encouraged other D.C. delegates to do the same.
"This is Donald Trump and the Republican Party giving the District of Columbia a big middle finger," he railed. "Why would I pledge loyalty to someone who did not respect me? I think if Gary Johnson can defeat Donald Trump in the District of Columbia, that will be a slap in the face. He will find out that he cannot disrespect DC voters."
Hammond and others parroted fears the continued support of Trump by the Republican Party will be its ultimate downfall, and compared his experience during the GOP convention to "trying to talk an old friend out of suicide."
In an election fraught with acrimony and voters turning to third parties in droves to quell frustration, recent reports show quickly mounting support for Gary Johnson placed him at a record 13 percent.
With Democrats furious over Bernie Sanders' endorsement of hawkish Hillary Clinton and Republicans irate over feeling excluded at the convention both desperately seek to vote for someone unwilling to use deception to attain the White House, perhaps Johnson, Green Party candidate Dr. Jill Stein, or other third parties stand more than a snowball's chance in hell, after all.