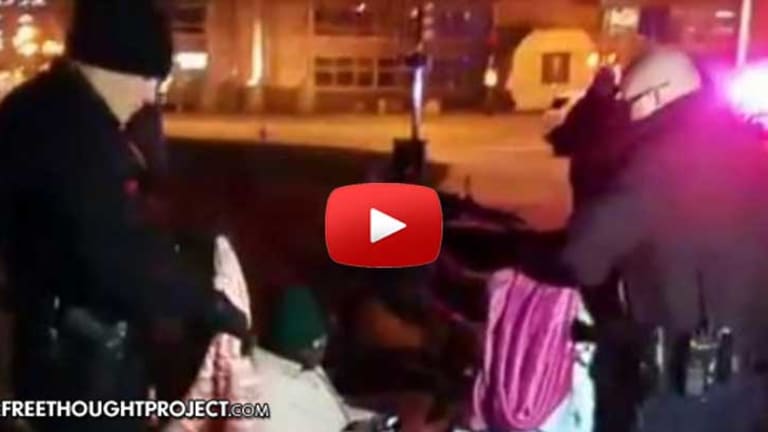 Denver Police Caught On Video Stealing Blankets From Homeless People
Denver police have sparked national controversy after video of them stealing blankets from homeless people went viral this week.
Denver, CO -- The homeless population of the United States is constantly under attack by law enforcement, for the crime of being poor and living on the streets. For people who are down on their luck and out in the cold, the police are sadly more of a concern than the elements or common criminals.
In Denver, for example, local police have sparked national controversy after video of them stealing blankets from homeless people went viral this week. The police confiscated the blankets and camping gear claiming that the property was being held as "evidence." The officers were enforcing a city-wide ban on "urban camping," a measure that is popping up in cities across the country. These "urban camping" bans are an obvious assault on the homeless population who does not have a choice but to camp on the streets.
The following video was taken last week by local business owner Kayvan Khalatbari, who was disgusted with the show of force that he saw.
Another video taken by the journalists at "Unicorn Riot" showed officers stealing tents and other camping gear during the same time period.
After public outrage reached levels that were impossible for the local government to ignore, Mayor Michael Hancock was forced to release a statement to address the controversy. In the statement, Hancock said that the city will change their policy and that they will stop taking camping gear from homeless people. However, the law is still in effect and will still be enforced through fines and imprisonment.
"As a city, we have a responsibility and moral obligation to protect the lives of our residents. Urban camping-- especially during cold, wet weather -- is dangerous and we don't want to see any lives lost on the streets when there are safe, warm places available for people to sleep at night. Every night, we have beds open for people to sleep and every day we have safe places and resources to help people experiencing homelessness," Mayor Hancock said.
"Every step we take is intended to connect people with safe and warm places and critical supportive services. We never intended to take the belongings that people need to keep warm. Therefore, I have directed Denver police to cease taking camping equipment, like tents and blankets, when enforcing the unauthorized camping ordinance through the end of April," he added.
At face value this seems harmless and caring, however, forcing homeless people into shelters is not a realistic solution, and it is not a solution that respects their freedom as individuals, or their right to exist. In our coverage of homeless issues, the Free Thought Project has interviewed many people who have lived on the streets and we were informed that a large number of these people would rather live in a tent on the street than packed into a homeless shelter.
Homeless shelters are a valuable resource, but only if a person enters one voluntarily on their own will. For a person who would rather brave the elements, being forced into a homeless shelter can be similar to being thrown in a prison. Many people prefer the freedom of a cold winter in a tent, as opposed to the institutionalized feel of a shelter, and these people should be free to make that choice.
[author title="" image="https://scontent-lax3-1.xx.fbcdn.net/v/t1.0-0/p206x206/11180635_10206767821827999_559224194627129346_n.jpg?oh=1629dfaa493cde9bde7d896161275ada&oe=58A44235"]John Vibes is an author and researcher who organizes a number of large events including the Free Your Mind Conference. He also has a publishing company where he offers a censorship free platform for both fiction and non-fiction writers. You can contact him and stay connected to his work at his Facebook page. John is currently battling cancer naturally, without any chemo or radiation, and will be working to help others through his experience, if you wish to contribute to his treatments please donate here.[/author]