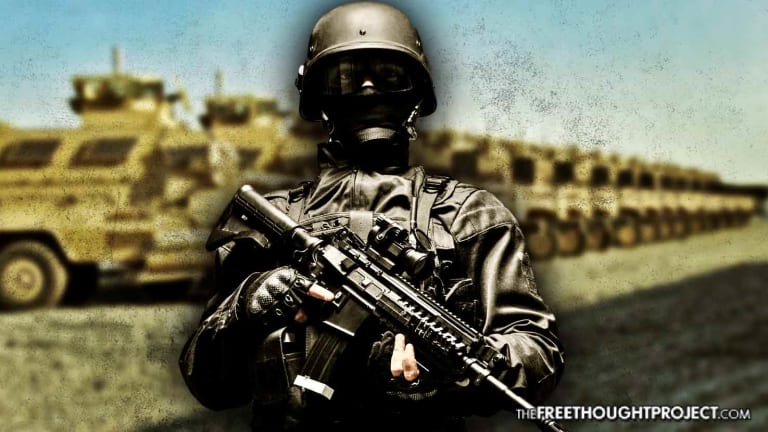 Dept With Only 8 Cops Secretly Acquired an Arsenal of 19 Military Vehicles Using 1033 Program
A tiny police department in a small Delaware town has been using the newly reinstated 1033 program to amass an arsenal of vehicles, weapons, and equipment and they are keeping it secret.
Washington, DC — Last August, the Trump administration lifted a ban on military surplus hardware being transferred to police departments across the United States. The controversial 1033 program became a source of citizen outrage after images of police armed with military-grade weaponry, including grenade launchers and armored MRAPs, were beamed into people homes across the country during the battlefield-style police response to the rioting in Ferguson, Missouri in 2014.
As many Americans noted, Ferguson, Missouri looked like a war zone, with police kitted out in Marine-issue camouflage and military-grade body armor, toting short-barreled assault rifles, and rolling around in armored vehicles — virtually indistinguishable from US soldiers.
Shortly after the American public became widely aware, and largely outraged, over the extreme militarization of their local police forces, President Obama signed an Executive Order (EO) that blocked large-caliber weapons, armored vehicles, grenade launchers and other heavy military hardware from being repurposed from battlefields across the globe to small town USA.
This was one of very few notable pro-liberty moves by the Obama admin, however, thanks to the current administration, it is all gone.
The new Trump plan went into effect immediately and completely rolled back the EO that blocked state, county, and local police departments from obtaining military weapons of war. Unsurprisingly, drug warrior extraordinaire, Attorney General Jeff Session led the charge to reinstate the program.
Opening up the torrent of military weapons flowing back into the hands of the world's deadliest police also opened up the conversation about much-needed scrutiny of this process. And now, a new report proves the need for this scrutiny.
As Tech Dirt reports, not everyone abuses this program, but those that do, do so spectacularly. An 11-member police force (8 full-time and 3 part-time) for a Delaware town with 400 residents has availed itself of more than $3 million in 1033 gear over the last five years. This first came to light late last year when documents obtained by Muckrock prompted town officials to wonder why they hadn't been notified of the department's stockpile.
When asked if the Dewey PD could account for all of the items by providing the physical location of items in their possession and paper trails for items sold, Sgt. Cliff Dempsey said, "We're not going to comment on that matter at this time."

On the agenda for a Nov. 11 Dewey Beach commissioners' meeting is the discussion of three options for to the 1033 program:

1. require the DBPD to provide complete accounting for property received through any federal or surplus property program,

2. accept a recommendation from the town's audit committee to utilize the town's auditors, or

3. hire an independent consultant to conduct a more comprehensive review.
Earlier this month, the Milford Beacon published the results of a Freedom of Information Act request to the federal Defense Logistics Agency showing the scope of their weapons and equipment cache.
Some of the equipment can be located and some of it has been accounted for. However, what is public is only a fraction of their total arsenal.
As the Beacon reports, among hundreds of line items turned over between March 2013 and December 2017, the police acquired a total of 12 ATVs, 51 jackets or parkas and 13 space heaters, and 19 trucks of all kinds.
Nineteen trucks were received through the LESO program between March 2013 and December 2017. The department asked for many more than that.
Included in this cache of military vehicles—to police a town of 400 citizens—is an armored Humvee and another mine-resistant armored vehicle. There are more vehicles than their police officers can drive and the department apparently sees nothing wrong with this, nor do they want you to know about it.
What's more, they are apparently profiting from the sale of some of the equipment and refusing to report how much they are making, who they are selling it to, or where the money is going.
As Tech Dirt points out, the extensive list of items obtained makes it appear the Dewey PD has stocked and furnished its office at federal taxpayers' expense while avoiding any sort of local accountability.
The police department couldn't care less about accountability either because everything they are doing is apparently legal. They are unafraid of telling the local government to kick rocks.
In November, the Dewey Beach commissioners voted to demand that police provide a full report of all transactions they've conducted under the 1033 program. To this date, they've yet to report a single thing to the council.