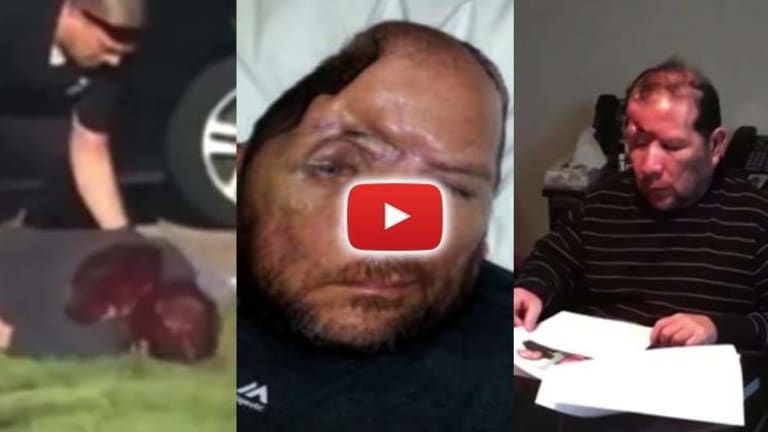 WATCH: LAPD Tried to Execute this Innocent Man, But He Survived -- Now He's Fighting Back
Shot in the head for holding a towel, Walter DeLeon has recovered enough to go after the men who tried to kill him for no reason.
Los Angeles, CA – Shot in the head for holding a towel, a disabled man filed a civil rights lawsuit against the LAPD on Monday for attempting to kill him without reason or warning. Although witnesses assert the man did not pose a threat to anyone, the officer immediately jumped out of his patrol car and shot him without issuing any commands.
At 6:35 p.m. on June 19, 2015, LAPD Officer Cairo Palacios and his unidentified partner were sitting in their patrol car stuck in traffic when they noticed a man standing on the sidewalk attempting to flag down the officers. According to LAPD Cmdr. Andrew Smith, the cops heard 48-year-old Walter DeLeon calling out to them saying, "Police, police."
According to witnesses, Palacios and his partner momentarily spoke with DeLeon when Palacios suddenly exited the police cruiser and fired multiple shots at DeLeon without warning. After Palacios shot him in the right side of his head, DeLeon immediately fell to the ground.
The officers searched him for weapons but found that DeLeon had been unarmed. A passing motorist recorded a ">graphic video of the officers refusing to administer medical attention while callously handcuffing DeLeon even though he appeared unconscious with a massive exit wound in the back of his head and blood pouring down his neck. One of the motorists can be heard in the video exclaiming, "Oh! I see his brain!"
">
Charged with a felony count of assaulting a police officer, DeLeon spent weeks in a coma. Shortly after the shooting, the LAPD called DeLeon's family to inform them that the charges against DeLeon had been dropped.
After spending two weeks in a coma, DeLeon awoke to discover that he lost one pound of cranial matter, the ability to walk, most cognitive functions, and an eye with "near complete and permanent blindness in the other eye." Enduring nine massive surgeries, DeLeon spent five months in hospitals fighting to survive.
"He can't go to the restroom by himself. He can't feed himself. He can't dress himself," his sister Yovanna DeLeon told ABC7.
Although DeLeon remembers taking a walk while holding a water bottle and a towel wrapped around his hand to wipe the sweat off his face, he can no longer recall why he had flagged down the officers for help. DeLeon suspects the officer mistook the water bottle for a gun and overreacted.
"How threatening can I be toward them with a bottle of water and a towel?" DeLeon asked.
According to DeLeon's recent civil rights lawsuit, Palacios acted unreasonably for shooting DeLeon in the head for holding a towel. Instead of engaging in de-escalation protocols, Palacios immediately resorted to deadly force without justification and nearly killed DeLeon without issuing a warning or command to drop his towel.
The lawsuit also pointed out that LAPD officer-involved shootings doubled in 2015 from the previous year. Due to a lack of transparency and accountability, the LAPD have also been accused of sending inexperienced officers with inferior training into the field. Palacios and his partner had been working for the City of Los Angeles' Department of General Services providing security at public landmarks when the LAPD absorbed their department in 2013. Instead of gaining experience patrolling the streets, Palacios and his partner primarily worked at Griffith Park.
"This complaint gives me a voice for the people who are weak," DeLeon said in a ">video statement. "There are hundreds who did not make it, who are no longer living. So I'm here for that purpose, to be heard and to bring change to the law enforcement departments as to how they go about enforcing the law."
[author title="" image="https://"]Andrew Emett is a Los Angeles-based reporter exposing political and corporate corruption. His interests include national security, corporate abuse, and holding government officials accountable. Andrew's work has appeared on Raw Story, Alternet, Activist Post, and many other sites. You can follow him on Twitter @AndrewEmett and on Facebook at Andrew Emett.[/author]