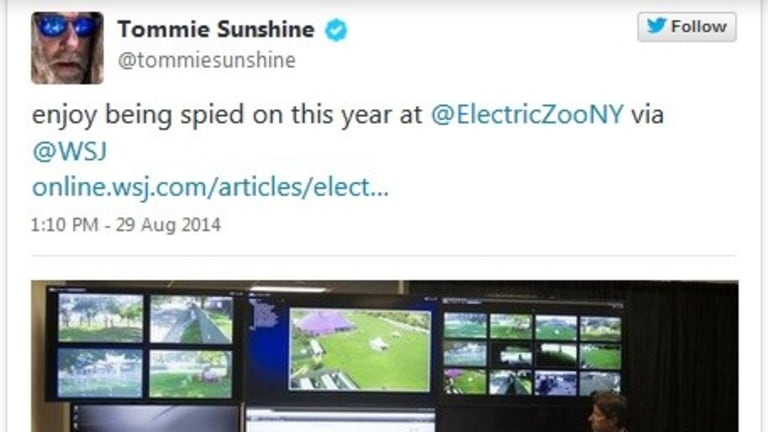 "Police State Experiment Of Lasting Proportions" Music Festival Implements Total Control
"Electric Zoo" is one of the largest electronic dance music festivals in the country, and also one of the most popular events for police to patrol. Last year there were a number of high profile deaths at the festival, as a result of fake drugs that were fraudulently sold as "Molly" or MDMA. To keep the festival alive, event organizers have been forced to allow a heavy police presence at the event, and surrounding the festival grounds.
The heightened security has had many fans and even a few performers raising their concerns about music festivals becoming overrun with police. Tommie Sunshine, one of the DJ's performing at this year's festival, called the event a "police state experiment" on his twitter account. He commented on the surveillance measures in place at the festival, and posted pictures showing the police presence.
 Sadly, even in rebellious cultures like the rave community, it is still extremely rare for someone in the public eye to speak out about police, or the government in general. There are a few DJ's and performers who play these festivals that actually do make an effort to educate their audience, Tommie Sunshine being one example, and Porter Robinson another.
Last year, Porter Robinson also spoke out about police on Twitter, and was even accused of inciting a riot.
Heavy police surveillance and occupation is becoming a regular thing at large scale festivals and events. As we reported last month, Boston police tested an advanced facial recognition system to monitor concert-goers at the Boston Calling Festival this past year.
John Vibes is an author, researcher and investigative journalist who takes a special interest in the counter culture and the drug war. In addition to his writing and activist work he is also the owner of a successful music promotion company. In 2013, he became one of the organizers of the Free Your Mind Conference, which features top caliber speakers and whistle-blowers from all over the world. You can contact him and stay connected to his work at his Facebook page. You can find his 65 chapter Book entitled "Alchemy of the Timeless Renaissance" at bookpatch.com.