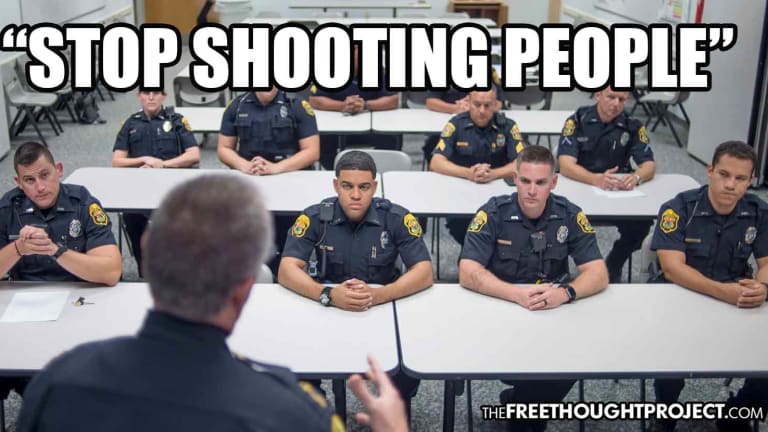 DOJ Building National Police Training Center to Teach Cops to Use Less Excessive Force
The DOJ is building a national training center for police in what will likely be a futile attempt at curbing the use of excessive force.
Since the death of George Floyd in May, the nation has been engaged in fierce debates about how to curb the problem of excessive force in the land of the free. After massive proposals from Congressman Justin Amash and Senator Rand Paul who wanted to end qualified immunity and no knock warrants respectively, were largely ignored, the United States Department of Justice is now stepping in to allegedly train cops on how to be less violent.
On Tuesday, the DOJ announced it's putting $3 million into creating a new center to help police agencies across the nation. It will be aimed at preventing the use of excessive force and it is being created in Minneapolis — ground zero in 2020 for police reform.
DOJ officials said the national center will be run by the International Association of Chiefs of Police. The IACP is made up of more than 31,000 members in over 165 countries, who, according to their website, is committed to advancing safer communities through thoughtful, progressive police leadership.
According to TwinCities.com, Police Chief Medaria Arradondo said Tuesday that he is grateful for the offer and hopes city leaders will take advantage of it. He said the center would provide more resources and training, including mental health resources for officers, at a time when he trying to make changes at the department while facing diminished staff.
"In creating a new MPD, I want to utilize all available tools and resources to support the hardworking and professional men and women of the MPD," Arradondo said. "We have an obligation and duty to be guardians of our communities and enhance our level of service and this program seeks to do just that."
Katharine Sullivan, principal deputy assistant attorney general for the Office of Justice Programs said justice officials envision the center would have a coordinator, who is an expert in policing, who will help agencies with training, issues of officer safety, officer recruitment or retention, and other issues.
"The idea is that we are here to meet your needs. Not to descend," Sullivan said.
Since the death of George Floyd and the subsequent burning down of the Minneapolis police station, more than 130 officers have quit their jobs and more departures are expected. The taxpayers will still be on the hook for their paychecks, however, as most of the officers have filed for disability.
The idea of attempting to rein in police brutality and excessive force using international police influence from other countries — who have far fewer police problems than America — is a good one. However, the idea that this can be done with $3 million on a voluntary basis in a single location in the country speaks to the sheer lack of concern the federal government has over meaningful reform.
In contrast to the measly $3 million to curb excessive force, the Pentagon has handed out billions in weaponry to do the exact opposite. Since 1990, the Defense Department has funneled more than $7.4 billion in excess military gear to nearly 8,000 federal and state law enforcement agencies across the United States — who didn't even want or need it.
When the feds spend $3 million to stop police brutality while handing out billions in weapons to carry it out, their gesture rings hollow.
If the federal government was truly interested in slowing excessive force they would end qualified immunity and end the war on drugs. But instead of actual solutions that would prove to be revolutionary, quite literally overnight, the DOJ is pretending to care by putting a bandaid on a sucking chest wound.