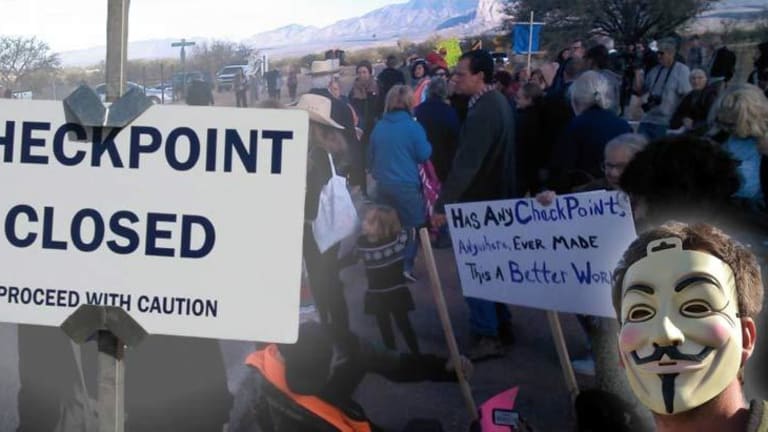 Community Bands Together for the Most Epic Checkpoint Refusal Ever!
Our children live in a world where they pass through a military-style checkpoint every morning and afternoon for school. Every time their parents take them to Tucson shopping. Every time they go to a friends house in Amado, or to Karate in Sahuarita. Men carry guns, dogs bark, lights flash.
Amado, AZ -- In one of the most uplifting acts of civil disobedience this year, the residents of Arivaca, Arizona showed an astonishing level of dedication to freedom. Approximately 100 residents turned out for the public hearing in which citizens demanded the unconstitutional and heavily militarized checkpoint, more than 25 miles inland on Arivaca road be shut down.
According to BorderCommunityAction.org:
Community members called on US Congressman Grijalva to deliver on his promise to hold a federal hearing on the issue before Department of Homeland Security officials.Arivaca residents and supporters gathered at 10am and peacefully proceeded to the checkpoint to hold the hearing. Upon entering the checkpoint, they were met with a blockade of armed Border Patrol agents who used physical force, attempting to move the residents back. Despite this intimidation, protesters held their ground and sat-in while community members held a public hearing calling for the removal of the checkpoint.
From elderly men and women to the children, the attendees remained unfazed in the face of this tyranny. Many of the residents voiced their concern over the entirely unnecessary and despotic checkpoint.
Local business owner Maggie Milinovich said, "our reverse-gated community is a barrier to tourists…this checkpoint is choking our community."
Carlotta Wray spoke about her experiences being racially profiled by Border Patrol, saying, "because of our brown skin, me and most of my family have to reach into our pockets for ID at the checkpoint to prove that we're legal citizens in our own town, I'm sick of it."
Patty Miller said of the ongoing military-style presence of Border Patrol in the Arivaca community, "it's like a war zone all the time."
The event was organized by the Community Organization to End Border Patrol Checkpoints. Their mission is described on their Facebook Page.
Arivaca, AZ is a small rural community located in the militarized zone of the border region between the United States and Mexico. With a population of about 700, Arivaca is also a vibrant loving community that cares for each other. As with many border communities, residential life in Arivaca has been deeply impacted by mass migration and the subsequent arrival of thousands of border patrol agents and expansive enforcement infrastructure to the area. Locals routinely encounter federal agents on their property, in town, on the road, or in the many helicopters flying overhead. All residents and visitors to the area must pass through an immigration checkpoint to confirm their citizenship status.And yet while living under this sizable presence of immigration enforcement for years, Arivacans routinely provide critical care and humanitarian aid to migrants in distress. This beautiful community of diverse people care about human dignity and helping others. Arivaca will not turn a blind eye to the death and suffering that occurs in our backyard by the hands of Homeland Security and the US government.
The militarization and its subsequent effect on the lives of the children in the town is well documented by the group.
Peppered throughout the Mexican-American border, there are 71 traffic inland checkpoints including 33 permanent traffic checkpoints. It must be noted that these checkpoints are not on the border and are located inland, anywhere from 25 away from Mexico and inland as far as 75 miles.
These checkpoints are, at best, unconstitutional, and at worst, completely tyrannical and oppressive.
Many brave individuals have put their very freedom on the line to expose and resist these checkpoints. Seeing an entire community come together to pose a massive resistance is heartening, to say the least. The Free Thought Project wishes the folks of Arivaca, Arizona the best. If you'd like to help this group rid their community of this freedom-killing oppression, you can do so by calling Congressman Grijalva's office and ask him to keep his promise to hold a federal hearing about closing the checkpoint.
Rep. Grijalva can be reached at the following numbers:
202-225-2435
520-622-6787
928-343-7933