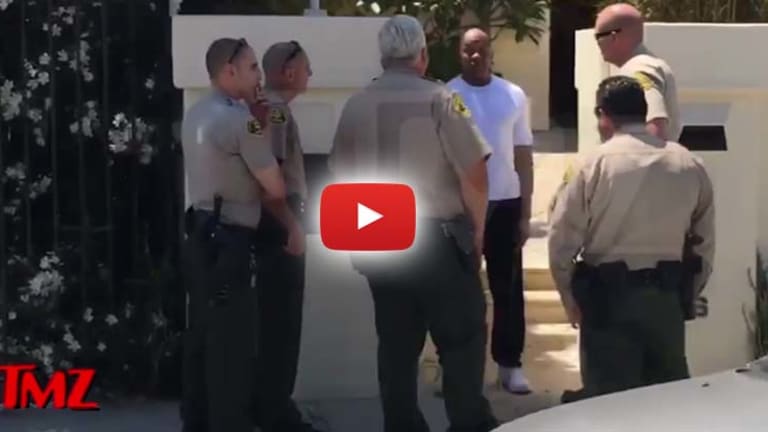 "Another Black Man with a Gun" -- Dr. Dre Swarmed by Cops at His LA Home
This is how John Crawford was murdered. This is how Tamir Rice was executed. This is how Charles Kinsey almost was. Dr. Dre was lucky.
Los Angeles, CA -- (RT) Hip-hop star Dr. Dre was searched, handcuffed, and issued a citation outside his California home after a man called police to report that Dre had pointed a gun at him. Police found no proof of the claim, which came after an alleged road-rage incident.
The Los Angeles County Sheriff's deputies said that they arrived at the Malibu home of Andre Young, known as Dr. Dre, on Monday after a motorist called law enforcement claiming Dre had pointed a gun at him. Dre told the deputies that the man had blocked his driveway twice and that he had not made threats for which he was accused, the Los Angeles Times reported.
Dre, 51, told the deputies that the man had followed him home following a road-rage incident, a source familiar with the sheriff's investigation told the Times.
Dre was cooperative with law enforcement, the deputies said, allowing them to handcuff and search him. Deputies did not find a gun present, according to reports. Dre was eventually issued a citation, but not taken into formal custody.
Video posted by TMZ shows Dre being searched.
When Dre accessed his cellphone during the incident, the man reportedly said, "Here we go again, another black guy with a gun," TMZ
Dr. Dre got cuffed and patted down by Sheriff's deputies outside his Malibu home! Let @GaryTMZ tell you about it.https://t.co/IFLGGUFmLv
— TMZ (@TMZ) July 25, 2016
">reported.
Dre told deputies that the man had followed him home from the freeway, then parked his car directly in front of his residence, blocking his driveway. Dre said he then asked the man to leave; the man did, but then quickly returned and parked at approximately the same location in front of Dre's home. Dre then used a cellphone to record the man, who then responded by driving away.
"Due to the nature of the call, the person was searched, handcuffed, and briefly detained in a patrol car while deputies investigated the incident," said Sheriff's Captain Chris Reed, who explained that in Los Angeles County, a private person can request a citizen's arrest involving an alleged misdemeanor crime even when a law enforcement officer was not present to witness what occurred.
In order for the case to progress beyond a citation, the man who called police must take Dre to court, Deputy Mike Barrazatold USA Today, which also reported that Dre's attorney and publicist has not responded to request for comment.