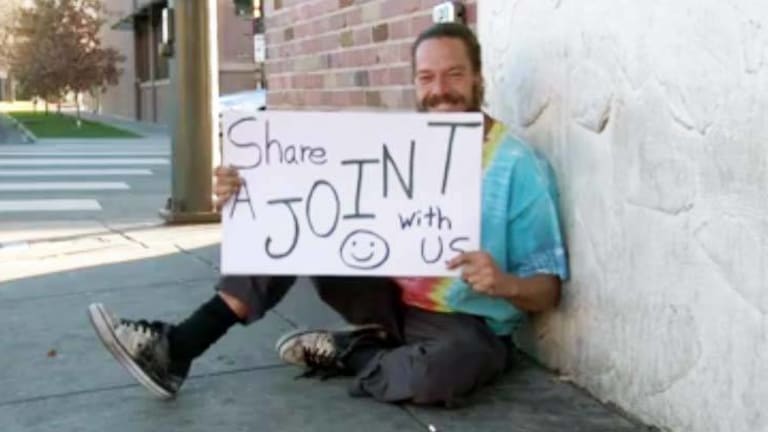 Dreaming of a GREEN Christmas -- Charity Hands Out Hundreds of Joints to Denver Homeless
Christmas could not have been merrier or greener for the homeless on the streets of Denver
(RT) -- Christmas could not have been merrier or greener for the homeless on the streets of Denver: They were treated to some holiday joints handed out by volunteers in the city where marijuana is legal to enjoy.
In an attempt to engage Colorado's homeless community in a unique way, and to spread some love to those without a home on Christmas day, a group of volunteers from Cannabis Can took to the streets at 4:00pm, handing out 1,000 pre-rolled joints. The group focused their community efforts on the Colfax, Lawrence and Broadway areas.
The NGO has stated that it is addressing the issue of homelessness in America with a completely new approach, by sharing big warm hugs and some green magic. "Cannabis can make a difference,' is kind of what we're standing for," Nick Dicenzo, the founder of the non-profit, told Denver's KMGHTV. "Merry Christmas, Happy Cannamas – would you like some rolling papers?"

Posted by Cannabis Can on Tuesday, December 22, 2015
The charity event is part of the NGO's "Restrooms and Grooms" fundraiser campaign. The aim of the drive is to raise enough money to provide the homeless with regular access to restrooms, showers, and haircuts.
"A lot of the people we spoke with really were just like, 'If I had regular access to a shower, and a haircut my life would be so much better. I'd have so much more opportunity,'" Dicenzo said. "Spread the word, spread the cheer, to give back."
Posted by Cannabis Can on Tuesday, December 22, 2015
Ever since voters passed an amendment in November 2012 allowing anyone over the age of 21 to use marijuana recreationally, homeless shelters have reported an influx of newcomers eager to sample weed.
"The older ones are coming for medical [marijuana], the younger ones are coming just because it's legal," Brett Van Sickle, director of Denver's Salvation Army Crossroads Shelter, told CBS news. The charity claims as many as 30 percent had relocated for pot smoking reasons.