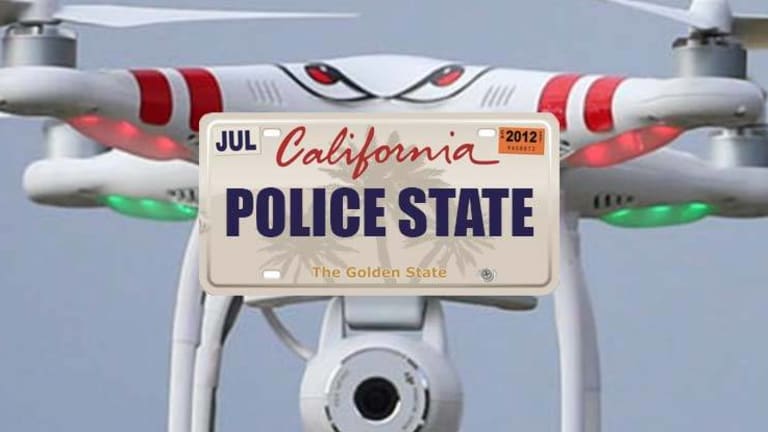 Drone Legislation to Require Owners To Buy Insurance, Get License Plates - Constant GPS Tracking
Before you purchase your very own drone, be aware that the governement will need to know where it is at all times, and can shut it down at will.
Los Angeles, CA -- Assemblyman Mike Gatto Southern of California lawmaker introduced legislation this week that would require owners of drones to get insurance and license plates, similar to the requirements for motor vehicles. The bill is called the Drone Registration/Omnibus Negligence-prevention Enactment (DRONE) Act of 2016 and would tighten the restrictions on personal drones even further than they have been already.
"If cars have license plates and insurance, drones should have the equivalent, so they can be properly identified, and owners can be held financially responsible, whenever injuries, interference, or property damage occurs," Gatto told CBS.
The bill has technical requirements as well and would require all personal drones to be tracked by GPS and an automatic shut off to prevent them from crossing paths with airplanes.
"Hundreds of thousands of plastic and metal vehicles will be overhead in the years to come. One could imagine the auto industry balking at the idea of registration requirements at the turn-of-the-century, but the industry survived. As technology evolves, so must our laws in order to protect our citizenry. This is a sensible measure that will increase public safety and encourage responsible use of drones in California," Gatto said.
As we reported last month, the FAA has recently begun to require owners of private drones to register with the government and pay a registration fee. To make matters worse, their personal information will be exposed in the process.
The privacy concerns surrounding drone registration has grown with the FAA's admission that the registration information would be available to anyone with an internet connection. This means that addresses and other sensitive personal information of drone owners would be publicly listed, creating an obvious safety hazard. The FAA says that the names and addresses would not be searchable, however, if you have the number to someone's drone, you can easily pull up their address and other personal information.
The registration move was just the beginning of a slippery slope that will quickly bring far-reaching, local, state and federal restrictions on drone operators.
John Vibes is an author and researcher who organizes a number of large events including the Free Your Mind Conference. He also has a publishing company where he offers a censorship free platform for both fiction and non-fiction writers. You can contact him and stay connected to his work at his Facebook page. You can purchase his books, or get your own book published at his website www.JohnVibes.com.