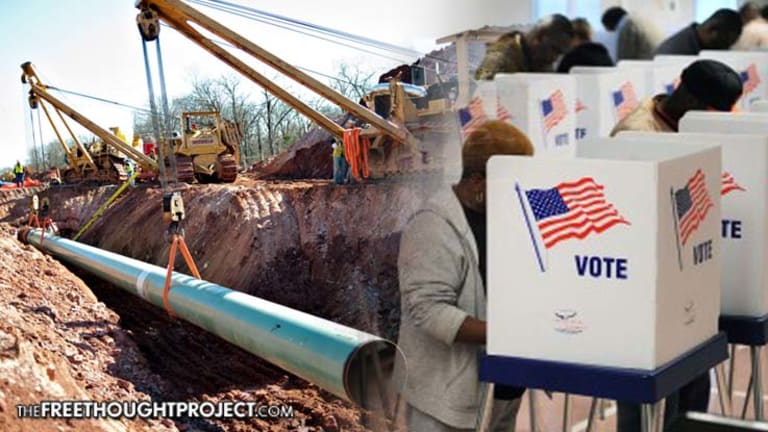 Using Election Day as a Distraction, Dakota Access Pipeline Defies White House Pushes on With Drilling
While everyone argued about the election, the company constructing DAPL announced plans to defy Obama and begin drilling.
Cannon Ball, ND — "It's almost as though they have no soul."
Intentionally exploiting the chaos of Election Day, the company constructing the much-maligned Dakota Access Pipeline announced Tuesday it would defy President Obama's request to stand down and will begin drilling for the most contentious section of construction under the Missouri River — in just two weeks.
Unequivocally a significant escalation to seething contention, Energy Transfer Partners plans to flagrantly spurn requests from multiple federal agencies, the president, and even international human rights groups, by pushing ahead with construction of the exact portion of pipeline at the center of massive opposition.
Thus far, as a lawsuit by the Standing Rock Sioux Tribe languishes in court, ETP has not been required to stop constructing the $3.7 billion Dakota Access Pipeline — and unsurprisingly has made significant progress on the project, despite verbal appeals and adamant opposition from the tribe and thousands of supporters occupying camps to protect the waters of the Missouri River from future contamination.
ETP, in fact, plans to continue with construction as planned, despite Obama's talk of possibly rerouting the pipeline to at least partially accommodate fears it could rupture into the Missouri and poison drinking water for nearby Standing Rock Sioux Reservation and some 18 million people downstream.
Last week, Obama finally gave a statement on mass arrests and police violence taking place because of this construction, saying tepidly he would "let it play out for several more weeks, and determine whether or not this can be resolved in a way that I think is properly attentive to the traditions of the first Americans."
In a statement cited by the Guardian, Energy Transfer Partners explained it was "mobilizing horizontal drilling equipment" to tunnel under the Lake Oahe reservoir on the Missouri River near the encampments of water protectors and activists opposing Dakota Access. For months, the project has continued virtually unhindered, and undercutting the reservoir is one of the only remaining obstacles to completion.
Considering this section of pipeline comprises the heart of the issue for the Standing Rock Sioux, the timing of the announcement during Election Day must have been purposely planned. National coverage of Dakota Access construction and the massive movement opposing has already been severely limited, and often mischaracterizes the situation — so the distraction of the election meant this startling news went largely undetected — except by those directly affected.
"With the election being so big, and North Dakota being so small, they think they can just sweep this under the rug," Danny Grassrope of the Lower Brule Sioux Tribe explained of the suspect timing of the announcement. "I'm not really surprised. Snakes are sneaky, and this is a black snake. It blindsides everyone."
Mainstream presstitutes who covered the stand against Dakota Access at all, have portrayed explicit and unfettered violence by heavily-militarized police against the largely peaceful and prayerful Native Americans as essentially law versus disorder.
However, strict rules in place at the campsites prohibit the bringing of weapons and use of violence to oppose the pipeline — and instead encourage civil disobedience and prayer to combat what has been termed "the black snake."
News of drilling for construction under Lake Oahe filtered into the encampments, and infuriated water protectors already wary of exploitation by ETP and complicity by the government, whose police essentially protect Big Oil from angry civilians.
"I'm in shock. I'm speechless," Sicangu Lakota Tribe member Cheryl Angel, who arrived at the camps in spring, told the Guardian. "It's unconscionable and devastating. It's almost as though they have no soul."
Angel's sentiments would be difficult to dispute, given ETP's apparent plans to dismiss any debate over rerouting Dakota Access, as the company's statement continues:
"Dakota Access previously received a permit from the army corps with respect the tunneling activities under Lake Oahe, and Dakota Access has all other regulatory approvals and land rights to complete the crossing of the Missouri river at Lake Oahe."
Indeed, Energy Transfer Partners spokeswoman Vicki Granado, asked to respond to Obama's comments by the Guardian, replied,
"We are not aware that any consideration is being given to a reroute, and we remain confident we will receive our easement in a timely fashion."
Water protectors and pipeline opponents expressed shock over ETP's seemingly shameless attitude and unwillingness to even discuss other potential options.
"I'm in tears, because I can't believe [the company] would do this to a whole group of people who don't have any say," Angel continued.
Jan Hasselman, an attorney representing the Standing Rock Sioux in the lawsuit over permitting on the project, noted for the Guardian that ETP does not yet have all the necessary permits to begin constructing the Lake Oahe section, saying,
"Starting construction without permits would be beyond the pale, even for Dakota Access. It is deeply irresponsible to keep putting investors' money into this route when both the President and Senator Tim Kaine are openly discussing rerouting away from Lake Oahe."
Law enforcement treatment of water protectors and activists so concerned the international community, a group from the United Nations is actively investigating possible human rights abuse, and Amnesty International deployed observers to the camps.
"Are indigenous people so invaluable that now that Dakota Access is to the water, does it not matter to anyone that people are going to start laying down their lives?" Jicarilla Apache and Laguna Pueblo Tribes member Eryn Wise told the Guardian.
"I think that people need to seriously question the integrity of the work produced by DAPL right now, because they're rushing. Is it safe when they've been rushing like this?"
Grassrope, knowing the ETP announcement would further inflame the incendiary situation, implored,
"A lot of people are going to get angry, and this is where we need to stay positive. We need prayers more than ever now."