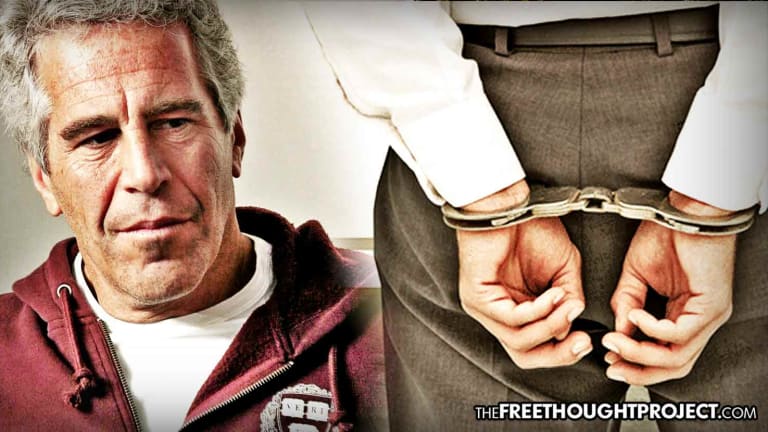 Finally! Billionaire Pedophile Epstein ARRESTED! More Elite Child Trafficking Arrests to Follow
Convicted Sex Offender Jeffrey Epstein has been arrested once again for sex crimes against children. The FBI is expected to make an announcement on Monday.
According to multiple news outlets citing law enforcement sources, billionaire hedge fund manager and convicted pedophile Jeffrey Epstein was arrested on Saturday and will make his first court appearance Monday for sex trafficking minors. According to the reports, the FBI will announce Epstein's arrest on Monday. The story was first reported by the Daily Beast which writes:
Billionaire pedophile Jeffrey Epstein was arrested for allegedly sex trafficking dozens of minors in New York and Florida between 2002 and 2005, and will appear in court in New York on Monday, according to three law enforcement sources. The arrest, by the FBI-NYPD Crimes Against Children Task Force, comes about 12 years after the 66-year-old financier essentially got a slap on the wrist for allegedly molesting dozens of underage girls in Florida.
The Daily Beast describes the nature of the charges which will be revealed in the indictment against Epstein on Monday. According to their law enforcement sources:
The new indictment—which, according to two sources, will be unsealed Monday in Manhattan federal court—will reportedly allege that Epstein sexually exploited dozens of underage girls in a now-familiar scheme: paying them cash for "massages" and then molesting or sexually abusing them in his Upper East Side mansion or his palatial residence in Palm Beach.
The new indictment is described as follows:
Epstein will be charged with one count of sex trafficking of minors and one count of conspiracy to engage in sex trafficking of minors—which could put him away for a maximum of 45 years. The case is being handled by the Public Corruption Unit of the Southern District of New York, with assistance from the district's human-trafficking officials and the FBI.
In what appears to be a mirror-image of the testimony of Epstein's prior child victims, court documents will reportedly show Epstein had help from his inner circle to victimize more children. The Daily Beast continues:
Several of the billionaire's employees and associates allegedly recruited the girls for Epstein's abuse, and some victims eventually became recruiters themselves, according to law enforcement. The girls were as young as 14, and Epstein knew they were underage, according to details of the arrest and indictment shared by two officials.
When reached by The Daily Beast on Saturday night, Epstein's attorney Martin Weinberg declined to comment. The United States District Court for the Southern District of New York also declined to comment. However, David Boies, an attorney who represents two of Epstein's dozens of victims, Roberts Guiffre and Sarah Ransome, told the Daily Beast:
It's been a long time coming—it's been too long coming,..It is an important step towards getting justice for the many victims of Mr. Epstein's sex trafficking enterprise. We hope that prosecutors will not stop with Mr. Epstein because there were many other people who participated with him and made the sex trafficking possible.
Ransome's urging implies the attorney would like for investigators to go after all of those individuals (mostly elite millionaires and billionaires) who engaged in sex with minors through Epstein's adolescent sex ring.
This notion was backed up by the daughter of Speaker of the House Nancy Pelosi. As Fox News reported, "Christine Pelosi, a Democratic National Committee official and daughter of House Speaker Nancy Pelosi,
This Epstein case is horrific and the young women deserve justice. It is quite likely that some of our faves are implicated but we must follow the facts and let the chips fall where they may - whether on Republicans or Democrats. #WeSaidEnough#MeToohttps://t.co/2mvskwQwW1
— Christine Pelosi (@sfpelosi) July 7, 2019
">warned conspicuously on Saturday evening that it is "quite likely that some of our faves are implicated" in the "horrific" sex-trafficking case against politically connected financier Jeffrey Epstein."

It's not the first time Epstein has been arrested and charged for sex crimes against children. In what the Miami Herald titled a "Perversion of Justice", Epstein was given a plea deal in 2008 which allowed him extremely special privileges as a convicted sex offender. The Miami Herald described Epstein as:
A multimillionaire hedge fund manager accused of molesting a stream of underage girls at his Palm Beach mansion. In 2008, he pleaded guilty to two prostitution charges as part of a federal plea bargain. The deal, which was kept sealed, is considered one of the most lenient sentences for a serial sex offender in history.
The prosecuting attorney in the case, Alex Acosta, instead of representing the more than 50 adolescent victims by throwing the book at Epstein, gave the billionaire pedophile a sweetheart deal which allowed him to plead guilty to two counts of child sex prostitution and be given work release for 13 months instead of a deserved harsh prison sentence.
Also included in the deal was a Justice Department immunity deal preventing Epstein from being charged with further prosecution, an agreement which the FBI is now apparently ignoring. Such a corrupt agreement likely gave Epstein the feeling he was untouchable. Such an understanding has now, apparently, been shredded in favor of justice for children who have been sex trafficked by billionaires to the world's elite.
Critics of the deal contend Acosta was subsequently rewarded with a Trump cabinet seat for helping Trump's long-time friend and Floridian neighbor in Epstein. Acosta now serves as Trump's Labor Secretary. Questions remain as to why Acosta was given the cabinet seat and not disbarred as attorneys representing the victims likely believe he should be.
Also worth noting is one of the rumored prosecutors in the case has ties to the former director of the FBI James Comey. According to CNN:
Maurene Comey, the daughter of former FBI director James Comey, is one of the prosecutors, according to a source with knowledge of the case.
Without regard to who or what political entities are at work attempting to bring Epstein to justice, this one fact remains. A pedophile pimp to the elite was allowed to victimize adolescents and children for decades without any effective punishment. It now appears Epstein will be headed to court once again, accused of victimizing children and forced to answer for his crimes.