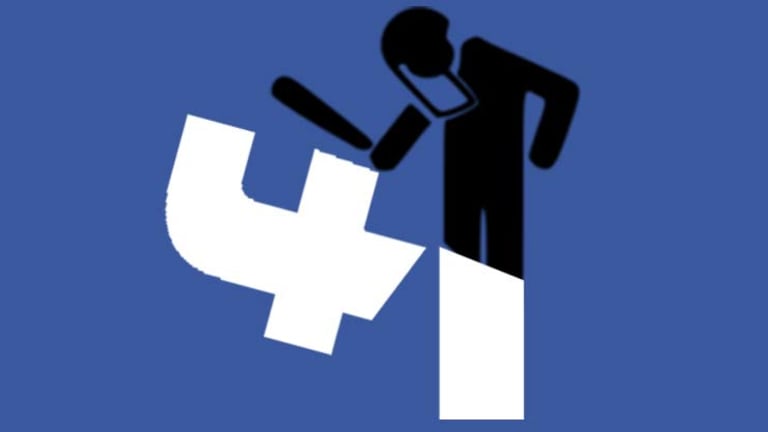 How Facebook Censorship Actively Hides Evidence of Police Brutality
Facebook isn't required to adhere to the First Amendment, but did the platform cross a red line by deleting Korryn Gaines' accounts?
When Facebook acted at the behest of Baltimore County police last week by abruptly deleting Korryn Gaines' social media accounts amid an ongoing standoff between authorities and the 23-year-old, did the private corporation become an agent of the State? If it did, far more precipitously, did the social media giant impinge on Gaines' constitutional rights as a chilling new manifestation of subjective government-sanctioned censorship?
During what became a five-hour standoff, Gaines posted a number of videos documenting her prolonged encounter with a heavily-armed Baltimore SWAT team — summoned to the scene after officers learned the woman had a firearm. In one video uploaded to Instagram, which Facebook owns, Gaines speaks with her five-year-old son, who sits on the floor wearing red pajamas.
"Who's outside?" she asks him.
"The police," he softly responds.
"What are they trying to do?"
"They trying to kill us," the child says, not realizing the accuracy in his innocent answer.
Not long afterward, the child would be shot in the cheek and Gaines mortally wounded by the police in military gear outside the door.
But the conclusion of that standoff, as well as the time directly prior to police firing their weapons, would not make it onto social media, thanks to Facebook's compliance with law enforcement requests to delete Gaines' Facebook and Instagram accounts. Officers, unsurprisingly, were not equipped with body cameras to document their actions and potentially hold them accountable.
Controversy over the corporation's choice to comply with authorities — who employed a little-known "law enforcement portal" feature to request the takedown of Gaines' accounts — grows hotter by the day as activists and advocates skewer Facebook for its frighteningly broad censorship powers.
Rather than standing as an albeit tellingly typical incident of fatal use of force by police, the fatal shooting of Korryn Gaines has forever transformed discussions about censorship and the role of social media in the police accountability movement.
On August 1, officers arrived at the apartment in an attempt to serve separate warrants for Gaines and her boyfriend, Kareem Kiean Courtney, announcing themselves as police. Though no one answered their knock at the door, officers claimed to have heard a cough inside, and persisted for ten minutes, according to court documents cited by the Baltimore Sun.
Ultimately, authorities contacted the landlord for a key, but were unable to gain entry due to a chain lock. Officers could see a woman sitting on the floor and asked her to come to the door. When she refused, one cop "kicked the door forcing the door open," while another entered and found the woman, later identified as Gaines, who then leveled a shotgun in their direction.
One officer then left to summon backup, and a standoff ensued.
As SWAT-reinforced law enforcement peered through the door, they also kept an eye on Gaines' social media activity — and when they observed commenters encouraging the woman not to comply with their orders, asked Facebook to deactivate her accounts "in order to preserve the integrity of the negotiation process," according to Baltimore County Police Chief James Johnson, as he told the press the following day.
Ironically, Johnson claimed the deletion was necessary, not only to protect officers, but Gaines' son, Kodi — who later suffered a gunshot to the cheek by those protective police.
While Facebook commonly and frequently provides authorities with users' information on request, even for private profiles, via the "law enforcement portal," the same feature gives police sweeping power to deactivate an account in cases of exigency — as was done with Gaines' accounts last week — rendering the user incapable of communicating with anyone who could influence the situation.
"Law enforcement officials do not have the ability or authority to deactivate social media accounts on their own," explained Baltimore County police in a statement. "Facebook maintains a law enforcement portal through which police request assistance. This portal includes an 'exigency' option for emergency situations like the one yesterday. BCoPD applied for the exigency deactivation because of a barricade situation involving an armed subject with a child. Facebook evaluates law enforcement requests and determines what action will be taken."
Alarmingly, this intersection of a private corporation not bound to follow the constitutional dictates and law enforcement — a government body not known for willing transparency — represents a confluent conundrum with startling implications for both free speech rights and police accountability.
Activists and others, in fact, have accused Facebook of being directly complicit in Gaines' untimely death for greenlighting police-requested, blanket censorship.
"Facebook helped Baltimore police kill #KorrynGaines in the dark," artist Ferrari Sheppard tweeted. "Letting it sink in."
As Nicole Carty, campaigner with corporate watchdog group SumOfUs, told the Intercept, "by deactivating Korryn Gaines' account, Facebook created a really dangerous precedent of censorship by orders of police. … It's a fundamental threat to civil liberties. Social media and shareable video are instrumental in exposing the epidemic of police violence against black people in the United States."
Echoing a growing number of voices, she added, "Facebook is acting as part of the problem."
As mentioned, because Facebook is a private entity, it isn't bound by strictures or protections like the First Amendment, and thus may censor however it chooses.
"But there's no question that constitutional values are not only a good idea but they're also good for a business's bottom line when that business is selling a platform for speech," Lee Rowland, senior attorney at the ACLU's Speech, Privacy, and Technology Project, told the Intercept. "There's a real risk for social media companies if they're perceived as choosing sides in a public debate; by censoring on the request of law enforcement they run the risk of becoming a propaganda wing of the state."
Gaines' accounts have since been reinstated by Facebook as "memorialized" — an option used to preserve accounts of the dead — and a company spokesperson emphasized to the Intercept that though it did indeed remove her videos, that footage had not been Facebook Live streams. Reiterating law enforcement reasoning, the spokesperson claimed Gaines' followers had encouraged violence and removing the videos was meant to prevent "physical harm or death."
Considering the broad scope Facebook offers users, both in Facebook Live as well as claiming to provide the first, best source for news, acting in concert with law enforcement to censor incidents like the standoff with Gaines could either be the death knell for the platform — or for free speech and police accountability.
In response, as a backlash, an event currently underway through August 15th encourages Facebook users to deactivate their accounts. In the event's description, organizers claim "Facebook aided police in the cover up of Korryn Gaines murder. If ever there were a time to organize a Facebook blackout now would be the time."
Whether the social media behemoth's August 1 decision to capitulate to law enforcement demands will further chill public trust in its impartiality and spur users to abandon Facebook for an increasing number of social media options, or whether apathy and the lapse of time will forgive the transgression and chill free speech remains to be seen.