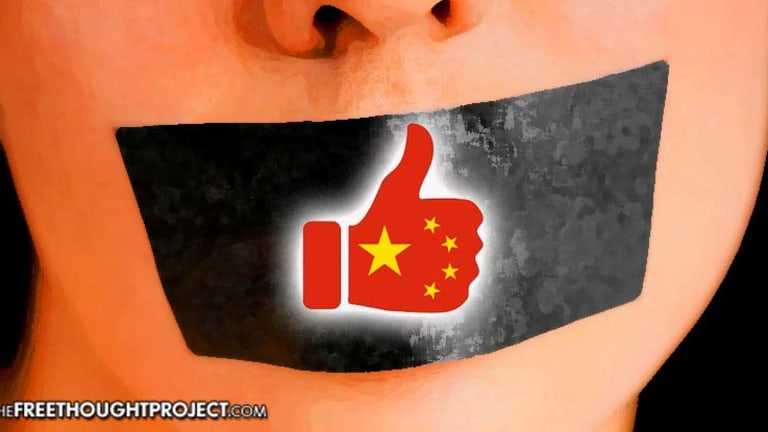 Facebook Has Created Ominous Censorship Tool to Profit from Chinese Oppression
Facebook has developed technology to systematically apply Orwellian censorship to users' posts, just so it can gain profits in China.
Mark Zuckerberg wants his platform back in China in the worst way — so much so, in fact, Facebook has developed technology to systematically censor users' posts.
News of such automated censorship should immediately send chills down the spines of advocates for free speech and press because — as proven countless times throughout the storied history of humanity — an invention's intended use doesn't prevent its misuse.
The New York Timesreports:
"The social network has quietly developed software to suppress posts from appearing in people's news feeds in specific geographic areas, according to three current and former Facebook employees, who asked for anonymity because the tool is confidential. The feature was created to help Facebook get into China, a market where the social network has been blocked, these people said. Mr. Zuckerberg has supported and defended the effort, the people added."
This tool constitutes a censorship Pandora's Box.
As the Times notes, suppressing content to kowtow to governmental standards isn't a new concept — Facebook has already restricted content in Pakistan, Turkey, Russia, and even France in the interest of reaping profit and keeping its business model alive where it would otherwise be prohibited.
That censoring occurred after the fact — granting government requests to remove content after it had been posted. But Facebook's quest for Chinese customers takes post-suppression to a whole other level, because, the Times continues, "the new feature takes that a step further by preventing content from appearing in feeds in China in the first place.
"Facebook does not intend to suppress the posts itself. Instead, it would offer the software to enable a third party — in this case, most likely a partner Chinese company — to monitor popular stories and topics that bubble up as users share them across the social network, the people said. Facebook's partner would then have full control to decide whether those posts should show up in users' feeds."
China's infamous censorship of its Internet forced Facebook out in 2009, but Zuckerberg's relentless pursuit of new users in the tightly controlled country seems to intimate his willingness to forego the company's key mission statement whenever doing so translates into profit.
Facebook claims it seeks "to make the world more open and connected," but Zuckerberg has strayed far from that principle with this new technology — in fact, according to the Times, a number of employees have left amid internal contention over this project and recent decision to wage an unnecessary battle against disinformation.
Doing business with China has been a tricky, if not impossible, proposition for many U.S.-based technology companies, but for Facebook — the world's largest social media platform — to delve into a new realm of censorship is perilous territory, indeed.
In fact, Zuckerberg eerily summoned the specter of fascism when explaining his justification for pandering to State-sponsored censorship standards, saying,
"It's better for Facebook to be a part of enabling conversation, even if it's not yet the full conversation."
Although superficially that evinces the potential Zuckerberg might diplomatically test the bounds of suppression in his quest for Chinese business, American Facebook users have had to contend with increasingly arbitrary, relentless, and inexplicable censorship by the platform. In other words, Zuckerberg appears to be regressing toward stringent control, rather than seeking to 'open and connect' the people of this planet.
Zuckerberg has traveled to China on multiple occasions, meeting with internet executives and politicians, including President Xi Jinping.
Facebook cautions the systematic censorship tool is only one of many options it's parsing over in the quest for China.
"We have long said that we are interested in China, and are spending time understanding and learning more about the country," a company spokesperson said. "However, we have not made any decision on our approach to China. Our focus right now is on helping Chinese businesses and developers expand to new markets outside China by using our ad platform."
However, it would seem to be one of the company's favored choices, as the Timesreports:
"It's unclear when the suppression tool originated, but the project picked up momentum in the last year, as engineers were plucked from other parts of Facebook to work on the effort, the current and former employees said. The project was led by Vaughan Smith, a vice president for mobile, corporate and business development at Facebook, they said. Like Mr. Zuckerberg, Mr. Smith speaks a smattering of Mandarin."
Facebook markets itself as a private technology company, not a media nor even a social media business, which allows it to legitimately conduct its affairs however it deems necessary.
However, a growing number of vocal critics contend the sheer size of Facebook's usership — and the fact it's publicly traded on the stock market — mean it has an imperative responsibility to preserve and protect free speech, rather than indulge oppressive governments and stroke the bruised egos of the perpetually offended.
And even the corporate media — notorious panderers of government propaganda and disinformation as they are — has cautioned Facebook's eagerness to bend the rules to meet China's strictures could set off a waterfall of requests from other governments for the same.
Paranoia about putative 'fake' news has already ignited a backlash against alternative media, state-sponsored outlets, and partisan reporting in Western nations from the European Union to the United States — with likely appalling implications for civilian access to information.
In fact, there would be virtually nothing obstructing the U.S. government from jumping on the censorship bandwagon and requesting a specialized suppression tool of its own under the guise of battling misinformation — when fighting misinformation, in actuality, amounts to the quashing of dissent.
Mark Zuckerberg's salivating over billions of potential new users in China could, thus, put all of us in the precarious position where censorship ultimately becomes de rigueur.