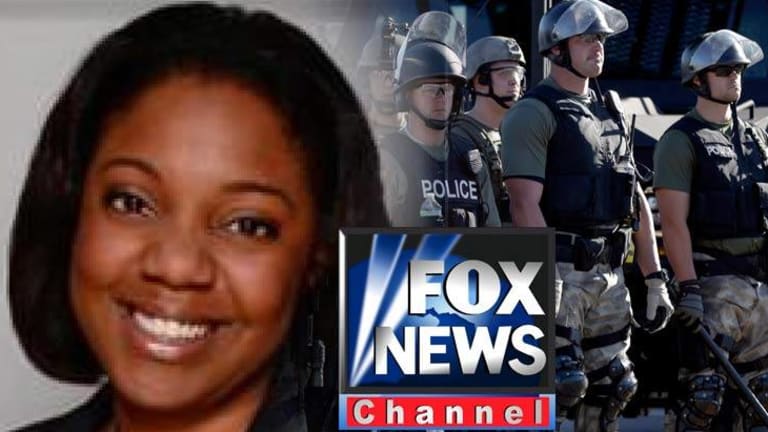 Fair & Balanced? FOX News Producer Also Works for St. Louis Police as PR Manager for Social Media
In a glaring conflict of interest, it was exposed that a "fair and balanced" FOX News producer also works to make St. Louis cops look good.
Ferguson, MO -- During recent protests commemorating Michael Brown's death, the St. Louis County Police Department updated its strategy in the emergency operation's center (EOC). A host of police and fire officials from different departments were busy monitoring chat rooms, tweets and video on social media, while sharing updates by police radio.
They plunged into the online force that has been so successful at exposing corruption and violence in their own ranks.
One of the people involved in that social media operation was Vera Cully, hired by St. Louis County to oversee their social media accounts in November 2014. The county did its homework and hired a seasoned journalist.
Only, Ms. Cully is listed as a web producer and interactive content handler at the local Fox news affiliate in St. Louis. Her involvement in both the local media channel and the county police department would bring serious concerns about conflict of interest.
"Culley, an African-American Web producer with extensive journalism experience, says her goal was to tell the police department's story, which she felt had gotten lost.

"There was no way in the world they were going to win on social media," she says. "But there was no reason for them to not be in the conversation. My approach was to simply join the conversation. Make sure the facts were being reported as facts.""
Her profile on Fox2now reads:
"Hello, all! For nearly 10 years, I've been an [sic] web producer and handle the interactive content for FOX2now.com and STLMoms.com.
An alum of East Saint Louis Senior High School, I earned my Broadcast Journalism degree at the University of Illinois in 2002.
At FOX 2, I concentrate mainly on the morning news content as well as some of the most interesting and viral stories floating about the internet every day. You can watch me every morning around 6:45 a.m. as I let you know "what's hot on the web.""
Fox 2 did the seemingly vengeful act of publishing the names, ages, and cities of people arrested who were engaging in civil disobedience at Moral Monday demonstrations on August 10. Their commitment to correcting stories with police accounts that prove to be false is questionable.
Interestingly, officials at the St. Louis EOC were using an app called Periscope, which the Washington Post has called a "huge boon for cops."
"What makes Periscope and Meerkat such a leap forward for cops is that they can open up a livestream without anyone else knowing. In that respect, they're just like all the other lurkers. The difference is that these lurkers can arrest you."
While they congratulated themselves for having Lt. Col. Troy Doyle use Periscope for providing "an officer's eye view" that some viewers said "humanized the police," how else was the app being used during protests?
One thing is certain—authorities are fearful of social media. It bypasses the Praetorian Guard of the mainstream media, getting unfiltered information to people instantaneously and globally.
With the new strategy at the EOC, St. Louis County is following the lead of the most successful war machine, the Pentagon. The US military has mastered the art of propaganda, and it is another commodity in the militarization of local police.
War-makers know that getting their message out in front to the people suffering from death and destruction is key to convincing people of their righteousness. Was St. Louis one of the first salvos in law enforcement's updated propaganda war?