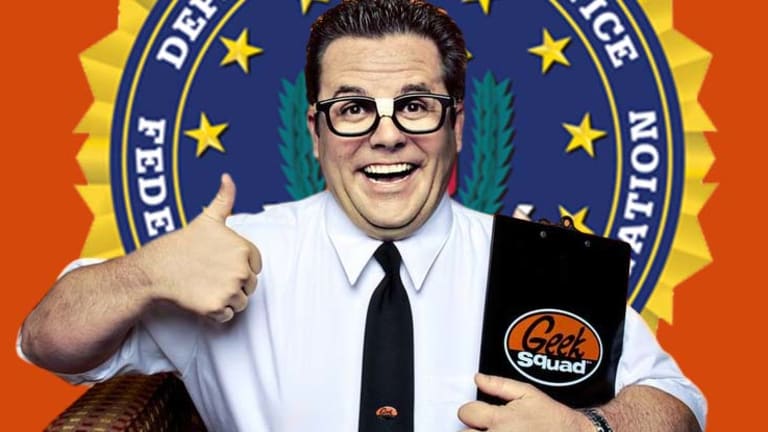 The FBI Paid Best Buy's 'Geek Squad' to Spy on Americans
The FBI Paid a Best Buy employee to turn in child pornography to the FBI. As a result of a warrantless search, the whole case is now in jeopardy.
If you've ever taken your computer in for service at the GEEK Squad inside your local Best Buy, then you know when you hand over your laptop to the technician, he/she has your entire life in his/her hands. Your search history, your financial accounts, your private emails, and your photo album can all be accessed, copied, deleted, or shared. When you give them your computer, you trust that no one will see your most private matters. However, you'd be wrong.
Several Best Buy employees have now been revealed to be working with the FBI to prosecute pedophiles. And while busting pedophiles is most certainly in everyone's interests, wholesale invasion of privacy and corporate spying is certainly not.
According to the LA Times, Dr. Mark Albert Rettenmaier, a gynecological oncologist who practiced at Hoag Hospital in Newport Beach, CA, was indicted on two felony counts of possession of child pornography after he took his hard drive to Best Buy for repair. The drive was then sent to a GEEK Squad repair facility located in Kentucky. There, Justin Meade, a supervisor at the Geek Squad center, found suspicious photos of nude underage girls on the hard drive and contacted the FBI. Meade was then paid $500, but the FBI agent working the case did not indicate for what purpose he was compensated. Tracey Riley, the FBI agent Meade contacted wrote in a statement, "I never asked or ordered Mr. Meade or any Best Buy employee to search for child pornography or gather information on child pornography or any other crimes on my behalf or on behalf of the FBI." But Rettenmaier's attorney is calling that statement into question after learning Meade received compensation for his work with the FBI, dating back to 2009.
"The doctor's attorney (James Riddet) says the FBI essentially used the employee to perform warrantless searches on electronics that passed through the massive maintenance facility outside Louisville, Ky.," wrote the LA Times. According to Riddet, since 2009, "the FBI was dealing with a paid agent inside the Geek Squad who was used for the specific purpose of searching clients' computers for child pornography and other contraband or evidence of crimes." But those searches are illegal, according to Riddet, because no search warrant was obtained to peruse Rettenmaier's hard drive. And it's against Best Buy's policies to receive compensation from authorities for reporting crimes. It is, however, company policy to report such crimes as the employee deems necessary.
"Meade showed an FBI agent photos on Rettenmaier's hard drive, and the agent recognized them as child pornography, according to court records. The Geek Squad had to use specialized technical tools to recover the photos because they were either damaged or had been deleted, according to court papers," the Times states, a fact which is crucial to the defense's case. If the files were deleted, then they were not being used for nefarious purposes. Also, as the Times writes, "Riddet contends it is impossible to tell when the files were placed on the hard drive or who accessed them," a fact which does not incriminate his client. But the FBI used the deleted photos, nonetheless, to obtain a "search warrant for Rettenmaier's Laguna Hills home, which it raided in February 2012, court documents state," writes the Times.
While The Free Thought Project has absolutely no sympathy for pedophiles and purveyors of child pornography, we do have a stake in the way the government goes about getting the dirt on private citizens. Meade, who was considered a paid employee of the FBI, used his occupation to gain access to private information, from private computers, and from a private contract to repair said hard drive. The courts will have to decide whether or not Rettenmaier's privacy was violated, along with his 4th amendment rights to unreasonable searches and seizures, which require a warrant signed by a judge. If Meade was acting in his capacity as an employee of the FBI, the courts will most likely decide Rettenmaier deserves to go to prison. After all, a search of his phone and home turned up a reported 800 photos of nude girls. On the other hand, critics contend the FBI was out of line and should have gotten a warrant to look through the hard drive in question. UC Irvine Law School Dean Erwin Chemerinsky, an expert on constitutional law told the times, "If the government wants to look at somebody's computer, they need to get a warrant."
Not acquiring search warrants, using dubious methods to obtain incriminating evidence on suspects, and creating systems which could entrap child pornography users, are just a few of the ways the government has been exposed breaking the law. No wonder people have lost trust in their government. Suspects are no longer innocent until proven guilty. All so-called authorities, working under the auspices of the federal government, must be above board in how they conduct their business, and getting a search warrant builds a stronger case.
As The Free Thought Project has faithfully reported, the government has a myriad of ways it can spy on people, without warrants. Don't they realize or do they even care that their methods are contributing to the success or failure of their court cases? If their aim is to put away pedophiles, they need to learn to work within the law. Conflicts of interest arise when informants are paid to dig up dirt on people. The value of the 4th amendment must be protected for all Americans to live in freedom. As for Riddet, he is asking the judge in the case to throw out the evidence against his client because it was gathered without a valid search warrant.