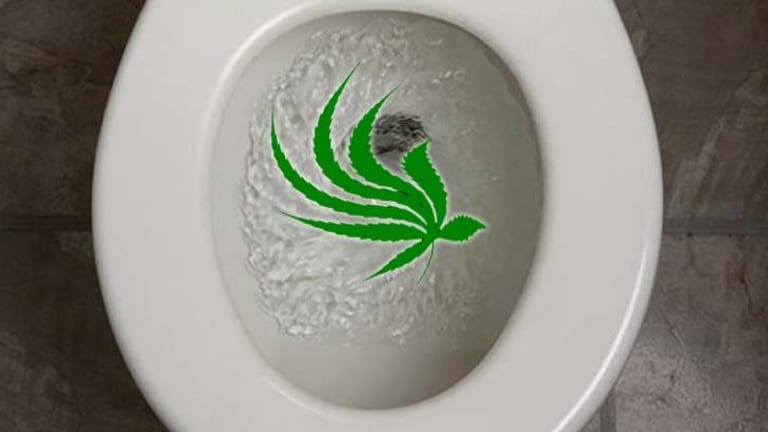 Feds Funding Study to Examine Washingtonians' Bodily Waste for Marijuana Use
Despite marijuana being legal in the state of Washington, the federal government is going to be studying the bodily waste of its residents.
Back in December we reported that authorities are beginning to use 'sewage epidemiology' to track drug use in communities. This method analyzes sewage from wastewater treatment plants for certain metabolites, essentially looking through our bodily waste for "illicit" substances.
After the historic legalization of cannabis in Washington state, researchers are seeking to determine if and how much pot use has changed across the population. Are more people using cannabis? Are more people using on the weekend than during the week? How does the data correlate with surveys about cannabis use?
These questions are natural for cultural research, but one of the interested parties may not be so benign. The federal government is partially funding a three-year pilot study in two undisclosed Washington cities, being conducted by the University of Puget Sound.
The National Institutes of Health will be contributing $120,000 to look at how per-capita cannabis use has changed since the opening of legal pot shops. The news is a bit perplexing, since the federal government is actively pursuing cases against Washington residents for growing and possessing cannabis. The Drug Enforcement Agency (DEA) and Department of Justice (DOJ) are still in the primitive mindset that cannabis use is a criminal act.
Since cannabis is bizarrely classified as a Schedule 1 drug, the feds remain obsessed with knowing how much of the plant is being sourced from the black market.
"The data could also show how much of the illicit black market for marijuana the state's legal stores are capturing, by comparing the wastewater data with the state's close tracking of marijuana sales. If sales figures continue to rise, but the wastewater levels show that overall pot use is flat, that would indicate that people are getting their marijuana at legal stores instead of on the black market.
But if sales figures rise and the sewer evidence of pot use also rises, that could indicate that people are still buying on the black market—and that legalization has increased overall use in the state without displacing much of the black market."
While the feds are eager to look through your poop for information on cannabis use, they are continuing to engage in war on the plant. The DOJ just sentenced the first person in the widely-watched Kettle Falls Five trial to 16 months for growing cannabis, after they coerced him to testify against co-defendants. DOJ is actively pursuing the remaining three defendants after all, but one charge was dropped in March.
Despite marijuana being legal in the state of Washington, this group of people who attempted to self-medicate could still be deprived of their freedom by the federal government.
The DOJ is going so far as to defy Congress by adopting an extremely narrow interpretation of their recent dictate. The 2015 Appropriations Act included a provision specifically aimed at preventing the DOJ from going after cannabis growers in states where it is legal. It barred DOJ from using funds to "prevent such States from implementing their own State laws that authorize the use, distribution, possession, or cultivation of medical marijuana."
However, the DOJ responded with this deceptive interpretation: "It prohibits the Department from preventing the implementation of State laws—that is, from impeding the ability of States to carry out their medical marijuana laws, not from taking actions against particular individuals or entities, even if they are acting compliant with State law."