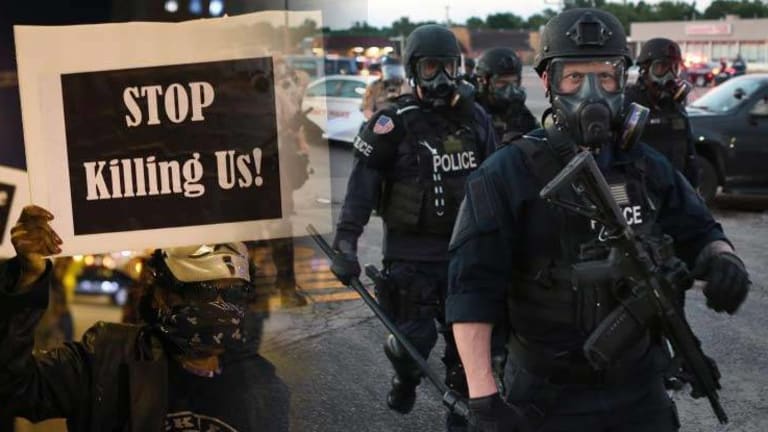 DoJ Cracks Down on Ferguson Cops -- Police Must Record Everything, No More Policing for Revenue
After becoming infamous for violence, corruption, and policing for profit, the Ferguson PD is getting a reboot.
Ferguson, MO — As a result of the fallout from Officer Darren Wilson's killing of unarmed teen Mike Brown in August 2014, the Ferguson Police Department, in coordination with the U.S. Dept. of Justice, rolled out a proposed set of sweeping changes to its policing practices and policies on Wednesday.
Included in the 131-page proposal, all law enforcement must record their action using body cams, officers are prohibited from targeting residents for the sole purpose of revenue generation, and any use of force will now be held to strict guidelines. According to a statement from Principal Deputy Asst. Attorney General Vanita Gupta, the agreement was released to allow for public comment before the city votes whether to accept it on February 9.
While the need for such changes is inarguable, it's unfortunate such an agreement — which reads like a course in remedial policing — had to be created in the first place. It's equally unfortunate how many other departments around the country, and the civilians they police, would benefit from such a revamping of guidelines, but who won't have the opportunity — barring another tragedy's appearance in national headlines.
A number of new dictates surround the department's use of force policy, which now includes de-escalation training and requirements, among other stipulations. According to the proposal, officers are prohibited from:
Using force on "restrained individuals"; except to prevent imminent threat of injury to any person, to prevent escape or "significant" property destruction, or if after other means were employed unsuccessfully, an individual is unable to be extracted from a police vehicle — and only if the officer receives permission from their supervisor for the use of force
Using neck holds, "a form of lethal force"
Using force "only because another officer is using force, or against persons who only verbally confront them"
Using "retaliatory force, including force used after a threat has diminished and that is thus not reasonably necessary; force intended to punish an individual for fleeing or otherwise resisting arrest; and force used in response to criticism or disrespect to an officer or any other person"
Using force against observers or those "recording officer behavior"
Using force "to effect compliance with a command that is unlawful"
Interestingly, this agreement includes an almost identical guideline to one Denver Police were forced to employ in June after the shooting death of 17-year-old Jessie Hernandez, which states officers must not "shoot from or at a moving vehicle, except to prevent otherwise unavoidable serious injury or death to the officer or third parties."
According to the Guardian, in addition to the decree itself, the city "will also be required to extend an amnesty scheme for municipal violations, meaning all warrants issued by the municipal court since January 2014 will be eliminated unless there is 'good cause to continue prosecution'" — essentially an extension of an amnesty scheme implemented last year.
Accountability will now be a priority, and if the proposal is approved by Ferguson City Council, an independent monitor will oversee its implementation and progress. Virtually every aspect of policing is addressed in this consent decree. However, considering the epidemic of police violence in the U.S., its effectiveness depends entirely on the individual officers' adherence to — and appropriate punishment for violation of — the agreement's mandates.