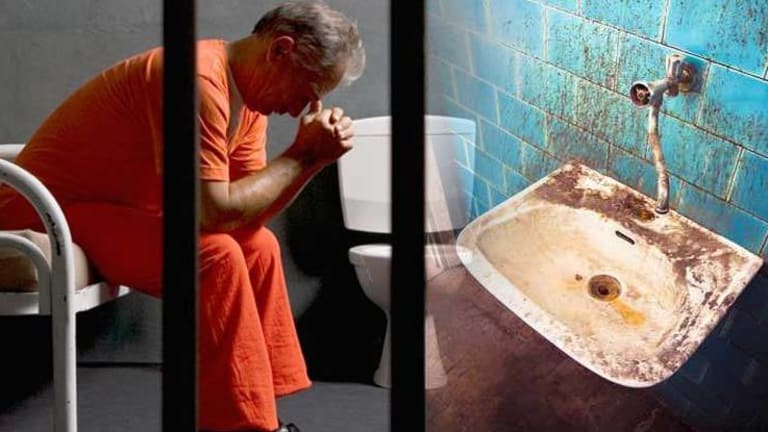 Inhumane Treatment -- Flint Inmates Forced to Drink, Eat, and Bathe in Contaminated Water
While government officials lied about the contamination of Flint's water supply, hundreds of inmates were forced to drink and bathe in it.
Flint, MI – Although city officials knew the water supply was poisoned, nearly 100,000 residents along with hundreds of inmates at Genesee County Jail in Flint were forced to drink, shower, and eat food cooked in contaminated water for nearly two years. Because the Genesee County Sheriff falsely claimed the water was safe, numerous incarcerated pregnant women inadvertently exposed their unborn children to lead poisoning and other detrimental toxins.
According to a recent Democracy Now! investigation, inmates at Genesee County Jail have been receiving their water from the tainted Flint River since April 2014. Agreeing to temporarily switch from Detroit's water supply to the Flint River in April 2014, the city's residents immediately noticed their tap water appeared cloudy while emitting a pungent odor. After testing the water supply on August 14, 2014, the Michigan Department of Environmental Quality (MDEQ) discovered the water tested positive for fecal coliform bacteria, also known as E. coli. Although the city issued several boil advisories to kill the bacteria, the CDC found that heating or boiling water only increases the lead concentration in the water.
Last October, the Genesee County Jail began distributing bottled water to prisoners during the Flint water crisis. But five days later, the jail reverted back to the city's water supply after Genesee County Sheriff Robert Pickell falsely stated that the water was safe. According to his Facebook page, Pickell has been sheriff of Genesee County since 1999 and previously worked as a CIA interrogator.
"In jail, we were drinking from the taps," former Genesee County Jail prisoner Jody Cramer told Democracy Now! on Thursday. "Our food was being made from the taps. Prior to this, they had already started handing out bottles of water when this first broke in October. And then they stopped, saying that their water was good. Many inmates made complaints due to the fact that the deputies would not drink from the faucets — they all carried bottled water."
On January 23, the jail eventually resumed the distribution of bottled water to inmates. Although the Institute of Medicine recommends drinking 73 to 100 ounces of water per day, inmates at Genesee County Jail have only been receiving 48 ounces of bottled water each day for the past week and a half.
"I have to not only drink this water, but I have to brush my teeth," Cramer explained. "I drink coffee. We've been told that there's nothing wrong with washing your body or hands with this water out the tap, that it's just consuming it. That's what they've told."
Even though state officials knew the water supply had been exposed to lead poisoning, the government repeatedly lied to the public regarding the water's safety. Through a FOIA request, a series of emails released last month revealed that Flint officials knew about the poisoned water and began purchasing clean water solely for themselves.
"There is pregnant women inside the Genesee County Jail, several pregnant women inside Genesee County Jail," asserted Cramer, who worked as a trustee in the kitchen and helped distribute food and water bottles. "I know this because there's diet trays that are distributed. They're allowed so much, or they get a double portion because they're pregnant or something. So you see, when you make their tray—you have a list of how many people, and there's a lot of pregnant women in the Genesee County Jail. As far as I know, they get the same amount of water as anybody else."
According to Cramer and other inmates, deputies used the water crisis to conduct warrant sweeps under false pretenses. Cramer recalled, "A lot of the deputies were passing out water filtration systems or — in the city, if you had warrants — they did a warrant sweep while they did that, so they tricked you. If you answered your door, and they would say, 'Hey, how are you doing, Mr. Cramer?' If I responded, then I just confirmed that I'm me. 'Well, here's your water filtration system. By the way, you have a warrant for your arrest.' People were saying that's how they got arrested."
Instead of protecting citizens, the local and state government knew about the contaminated water and continued suppressing information while purchasing clean water solely for themselves. By deceiving residents, deputies were able to imprison locals in desperate need of a sanitary water supply. Unable to buy clean water, inmates at the mercy of the State were forced to drink, eat, and shower in water riddled with bacteria and lead poisoning for nearly two years.
Andrew Emett is a Los Angeles-based reporter exposing political and corporate corruption. His interests include national security, corporate abuse, and holding government officials accountable. Andrew's work has appeared on Raw Story, Alternet, Activist Post, and many other sites. You can follow him on Twitter @AndrewEmett and on Facebook at Andrew Emett.