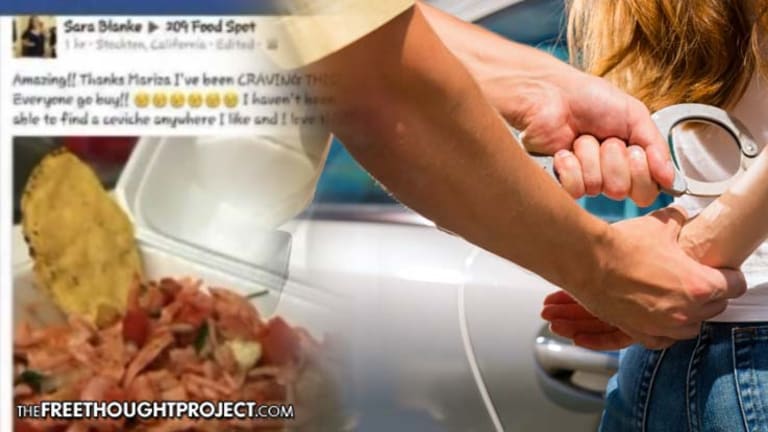 Single Mom Charged with Multiple Crimes, Faces a Year in Jail for Participating in Facebook Food Group
For participating in a social media food group where people traded dishes and recipes, a single of mother of 6 could be thrown in a cage for a year.
Stockton, CA -- A single mother of six is now facing down the possibility of being kidnapped by the state and thrown in a cage, away from her children, for a year -- for participating in a voluntary Facebook food group.
For years, Mariza Reulas and others enjoyed the fine recipes and food trading in the social media group called 209 Food Spot on Facebook. According to Reulas, this group was a place where people could share recipes, organize potlucks, and, on occasion, sell some of their food to willing neighbors.
"Somebody would be like, 'Oh I don't have anything to trade you but I would love to buy a plate,' like they'd be off of work," Reulas explained to FOX 40.
However, in the ostensible land of the free, selling a food dish to a willing buyer is akin to rape -- or, considering the 3-month sentence of convicted rapist Brock Turner -- selling food is far worse than rape, according to the state.
The incident began last December when someone contacted Reulas to purchase a dish of her highly desired homemade ceviche. So, like she always did, Reulas made her signature dish and prepped it for who she thought was a willing customer. However, this was no customer -- it was an undercover agent from San Joaquin County.
According to court documents, authorities squandered taxpayer dollars in an elaborate undercover sting operation to bust members of 209 Food Spot -- because they did not pay the government the proper extortion fees, via permitting, to sell their food.
Reulas, along with a dozen other entirely innocent community food traders, was targeted by authorities and charged with two misdemeanor crimes -- operating a food facility and engaging in business without a permit -- for trading homemade dishes.
Everyone else who was charged pleaded down to three years of probation. However, Reulas, rightfully so, refuses to be bullied by these bureaucratic thugs and is taking her case to trial.
"I don't write the laws, I enforce them. And the legislature has felt that this is a crime," said San Joaquin County Deputy District Attorney Kelly McDaniel in the typical and equally repugnant callous bureaucratic fashion.
According to FOX 40, McDaniel says selling any food not subject to health department inspection puts whoever eats it in real danger, not to mention it undercuts business owners who do get permits to make their food.
"Food prepared in a facility that does not inspect it creates a risk to the public," said McDaniel.
However, Reulas was not operating a restaurant here. She was not distributing mass quantities of food nationwide. No, she was trading, and occasionally selling, a single dish at a time to people who loved food as much as she does.
"When they talk about potential jail time for this, what goes through your mind?," asked FOX40.
"My kids," responded Reulas.
As FOX 40 reports, without a father in their life, Reulas says the thought of having to leave her kids scares her. Every court appearance takes a toll on her youngest son, six-year-old Justice.
"The night before (court) he always asks like are you going to come back?" said Reulas.
Reulas' case comes on the heels of another ridiculous example of statist food control. Over the weekend, the Free Thought Project brought you the story of a Kansas City charity who was forced to bleach and throw away thousands of pounds of food destined for the plates of 3,000 homeless people.
Because the state cares more about 'just doing their job' than they do about helping anyone or allowing a single mother of 6 to make a couple of extra dollars selling ceviche, good people starve while others are deprived of their freedom.
[author title="" image="https://tftpstagingstg.wpengine.com/wp-content/uploads/2016/03/magorist-e1456948757204.jpg"]Matt Agorist is an honorably discharged veteran of the USMC and former intelligence operator directly tasked by the NSA. This prior experience gives him unique insight into the world of government corruption and the American police state. Agorist has been an independent journalist for over a decade and has been featured on mainstream networks around the world. Follow @MattAgorist on Twitter and now on Steemit[/author]