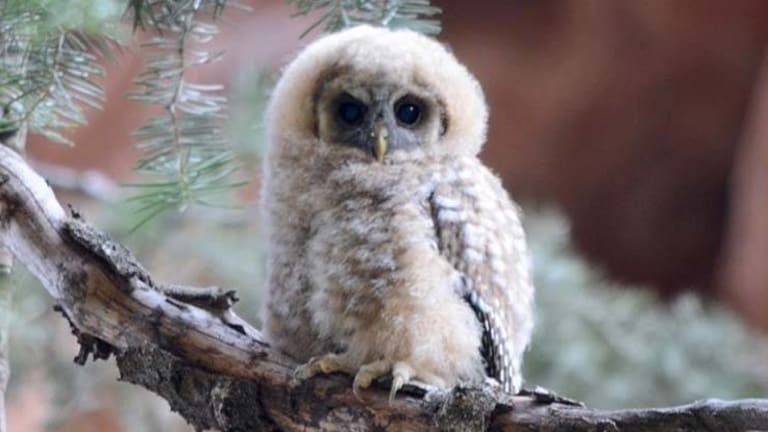 Federal Govt to Slaughter Dozens of Endangered Spotted Owls to Facilitate Timber Sale
The Forest Service will allow clear-cutting of a threatened owl's habitat -- but the agency's priority might not be saving the environment.
Up to 103 northern spotted owls — a species listed as threatened — may be killed in the Klamath National Forest for the sake of timber sales, thanks to federal wildlife officials.
In the summer of 2014, lightning fires affected 6,800 acres of forest, allowing the area to recover after years of fire suppression, while also increasing prey species for the owl. But the Westside Fire Recovery Project would allow the area to be clear-cut — ostensibly for ecological purposes.
"Natural fires restored the forest after decades of fire suppression and gave spotted owls a kitchen full of food," explained Jay Lininger, a Center for Biological Diversity (CBD) senior scientist. "Owls can thrive with fire, but they cannot survive clear-cutting after fire."
An opinion written by the Yreka Fish and Wildlife Office of the U.S. Fish and Wildlife Service in February claims the logging could "incidentally take" 74 adult owls and between 12 and 29 juveniles, though it would not affect the species as a whole.
However, over 70 percent of the land slated for logging "overlaps Late-Successional Reserves designated by the 1994 Northwest Forest Plan to secure old-growth forest habitat for crashing spotted owl populations and prevent their extinction," reported CBD.
Northern spotted owls have been sharply declining across their entire range at an annual rate of 4 percent between 1985 and 2013, according to a recent study. The Klamath Mountains — including a portion of the area to be clear-cut — are believed to be ideal for recovery of the species in the Cascades and Coast ranges.
"Clear-cut logging at that scale in occupied habitat is a major setback for spotted owl recovery," said Lininger.
According to CBD, Dr. Paul Henson, the Fish and Wildlife official responsible for spotted owl recovery, explained to the Forest Service last year that the Westside logging project should be minimized within areas the owl returned after the fires.
"In general, most scientists agree that salvage logging does not contribute positively to the ecological recovery of naturally disturbed forests," Henson wrote to Patricia A. Grantham, Forest Supervisor for Klamath National Forest. "It is important for [land managers] to seek ways to implement important fuel reduction work without over-utilizing salvage logging that can adversely affect the restoration of natural conditions."
Henson also intimated such logging projects might not have purely ecological motives:
"In our experience many post-fire salvage projects tend to be more opportunistic than part of a larger-scale, proactive strategic planning effort to reduce fire spread and severity."
The Bureau of Land Management (BLM), the federal agency tasked with sustaining the health, diversity, and productivity of America's public lands, has also been implicated in a scheme to kill innocent animals. Last year, they were caught illegally selling captured wild horses to a Colorado rancher, who then sold the animals for slaughter.
One of the BLM's duties is to protect the herds of wild horses that roam freely in the Southwestern Unites States. However, an investigation by the Office of the Inspector General of the U.S. Department of the Interior revealed that the BLM had sold approximately 1,800 wild horses to rancher Tom Davis, who then promptly sent the horses to be slaughtered in Mexico