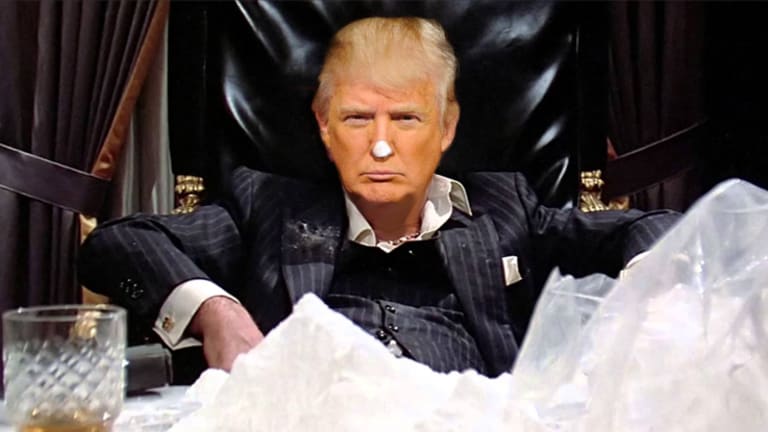 Former Presidential Candidate Accuses Trump of Sniffing Cocaine Before Debate -- Hilarity Ensues
Donald Trump's "sniffles" at the first presidential debate created a hilarious social media trend.
After launching attacks against Democratic presidential nominee Hillary Clinton's health concerns for months, GOP presidential candidate Donald Trump appeared repeatedly sniffing throughout the 2016 debate and drinking sips of water like Marco Rubio on camera. As Twitter noticed the possible nasal congestion, former Vermont Governor Howard Dean implied that Trump had sniffed cocaine shortly before the debate.
Between spouts of incessant interruptions and blatantly false statements, Trump continued to audibly sniff into his microphone like a coke addict with a runny nose. Although Trump never appeared to snort any suspicious white powder during the debate, Dean took to
Notice Trump sniffing all the time. Coke user?
— Howard Dean (@GovHowardDean) September 27, 2016
">Twitter and wrote, "Notice Trump sniffing all the time. Coke user?"

In addition to the former governor and presidential candidate, many Twitter users agreed with Dean's accusations and began using the hashtag #sniffles.
Besides the constant sniffling and drinking, Trump boasted several insane statements, including accusing Hillary of fighting ISIS her entire adult life, declaring that ISIS is beating the U.S. at cyber security, and referring to the U.S. as a Third World country. While refusing to answer direct questions, Trump also falsely claimed that he did not support the invasion of Iraq in 2002, was responsible for ending the Obama birther conspiracy that he had perpetuated, and took credit for establishing NATO's anti-terrorism unit.
Repeatedly refusing to release his tax returns, Trump did admit that he has not paid his federal taxes in years. Instead of investing in America's current endeavors and future prosperity, Trump avoided paying taxes while calling for Russian hackers to launch attacks on American citizens.
As the debate degenerated into childish insults and backtalk from both candidates, Trump noticeably continued sniffing while descending further into madness. A few minutes into the presidential debate, even this reporter had to ask on
Does @realDonaldTrump have a stuffy nose or a cocaine habit? #debates
— Andrew Emett (@AndrewEmett) September 27, 2016
">Twitter, "Does @realDonaldTrump have a stuffy nose or a cocaine habit? #debates"

[author title="" image="https://"]Andrew Emett is a Los Angeles-based reporter exposing political and corporate corruption. His interests include national security, corporate abuse, and holding government officials accountable. Andrew's work has appeared on Raw Story, Alternet, Activist Post, and many other sites. You can follow him on Twitter
Does @realDonaldTrump have a stuffy nose or a cocaine habit? #debates
— Andrew Emett (@AndrewEmett) September 27, 2016
">@AndrewEmett and on Facebook at Andrew Emett.[/author]