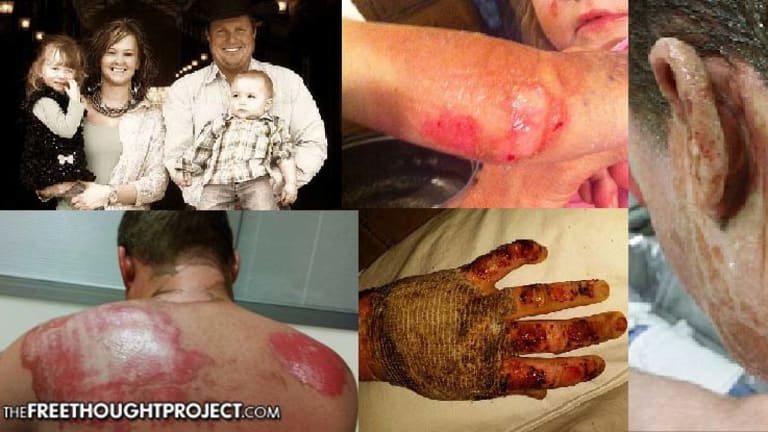 Fracking Found Responsible for Blast that Severely Burned Entire Family - No One Charged
Several new studies following an explosion on private property found fracking was indeed the culprit and not a single person has been charged.
Perrin, TX — Two and a half years after former oil field worker Cody Murray and three family members endured severe injuries when their pump house abruptly exploded into a fireball, new studies point the finger of blame squarely at one of Big Oil's most disputatious practices: fracking.
"It's really incontrovertible," asserted Murray family attorney, Christopher Hamilton, of rapidly amassing evidence hydraulic fracturing was responsible for decimating the Texas family's pump house in August 2014. "Sometimes the science just overwhelms."
Although studies have consistently intimated fracking practices contaminate water and spawn earthquakes of even sizable intensity, the idea fracked gas and particulates could travel through horizontal fissures underground had remained the stuff of theory.
But the studies stemming from the Murrays' lawsuit against gas operators EOG Resources and Fairway Resources — which the Texas Tribunereports is a subsidiary of Goldman Sachs — finally substantiated high-level methane contamination of the family's well originated from a drill site hundreds of feet away.
"The timing is undeniable, the location is undeniable, the chemistry of the gas is undeniable," Hamilton told local station WFAA. "This is not naturally occurring gas. This is gas that came from 4- to 6-thousand feet below the ground."
In the interview, the attorney shows video of bubbling, methane-laden water — the same water that caused the 2014 blast that left Cody Murray with second- and third-degree burns over nearly one-quarter of his body. The Murrays are suing in Tarrant County District Court for $1 million in damages.
"What you can see in the video here is just super carbonated water that is saturated with methane gas that's bubbling out of the Murray's water," Hamilton explains.
"This is an explosive gas. Large bubbles and pockets of this methane escaping from a water well, any sort of spark will start a fire."
On the fateful day in 2014, Murray and his father approached the pump house on the 160-acre property outside Perrin, around 60 miles northwest of Fort Worth — but what happened next forced the former oil industry worker to react immediately.
"At the flip of the switch, Cody heard a 'whooshing' sound, which he instantly recognized from his work in the oil and gas industry, and instinctively picked his father up and physically threw him back and away from the entryway to the pump house," the lawsuit states. "In that instant, a giant fireball erupted from the pump house, burning Cody and [his father], who were at the entrance to the pump house, as well as [wife] Ashley and A.M. [the couple's minor child], who were approximately twenty feet away."
The Tribune notes, "The blast was caused by a buildup of methane gas in the water well that caused enough pressure to send water spraying in the family's pump house. Ashley Murray turned off the well pump and asked her husband to investigate, and when he turned it back on, the gas exploded, severely burning" the four family members.
Thirty-eight-year-old Cody received "severe and extensive" burns to the body, the court filing notes, leaving him "permanently disfigured and disabled."
EOG Resources settled with the Murrays, but attorneys say methane and drilling chemicals leaked from a Fairway well with a faulty seal and traveled through subterranean fractures before tainting the family's water and building up dangerous pressure at the well.
As regulator of the state's oil and gas industry, the Texas Railroad Commission initiated an investigation of the explosion that is ostensively ongoing, but has yet to produce any results or details for disclosure to the public.
In fact, RRC thus far lists the result of its investigation as 'inconclusive.'
"There is nothing new to report at this time," Ramona Nye, spokeswoman for the Railroad Commission, told the Texas Tribune. "The Commission takes this and every incident we investigate very seriously."
She added, "As with any incident, our technical experts base their work on the appropriate science and data necessary to complete a thorough and comprehensive investigation."
Citing ongoing litigation, Fairway Resources refused to comment on either WFAA or the Texas Tribune — and family attorneys would not permit litigants to discuss the case with the media.
But, in the meantime, studies commissioned by Murray family attorneys have found conclusive evidence hydraulic fracturing is as insidious as detractors have been warning for years.
Fairway Resources drilled its JT Cook #2 well in 2013, and about a month later, the Singleton family, who joined the Murrays' lawsuit, observed noticeably murky water coming from faucets and informed the Railroad Commission — whose inspectors rushed to deny energy production was responsible, despite tests plainly pegging fracking as the culprit.
Indeed, lawyers and investigators claim RRC recklessly ignored the Singletons' complaint of tainted drinking water — a warning sign gas had dangerously befouled the supply.
Hamilton, the Murrays' attorney, hired"Thomas Darrah, a geochemist at Ohio State University; Franklin Schwartz, an Ohio State University hydrologist; Zacariah Hildenbrand, chief scientific officer at Inform Environmental; and Anthony Ingraffea, a civil engineering professor at a Cornell University with expertise in hydraulic fracturing" to investigate whether that gas well had caused both families' issues.
Darrah compared samples from local water wells with those from the Fairway well, and found, "The JT Cook #2 oil and gas well displays a geochemical match to samples of groundwater in the Singleton's and Murray's water wells in all of the measured data."
Schwartz disputes the RRC findings the methane contamination could not be decisively traced to Texas' Barnett Shale, saying the Commission did not account for "physical, chemical and isotopic processes" that alter gas underground.
Hildenbrand concluded a drilling mud additive, Chem Seal, found in the Murrays' water emanated from the Fairway well.
"Ingraffea wrote of at least three likely pathways for gas to escape Fairway's well," the Tribunereports, "which he said was constructed with 'bare-bones' protections and operated carelessly. The well also violated commission standards, Ingraffea wrote, notably because it lacked a Bradenhead gauge, a device that could monitor pressure and help detect leaks."
Hamilton's panel of investigative experts aren't the only ones calling into question the Railroad Commission's probe — an EnergyWireinvestigation of the explosion and government follow-through published in June, 2016, revealed "significant gaps in the [RRC] investigation and suggest at least one potential source wasn't fully examined."
Further, in December 2016, the Environmental Protection Agency published the results of a much-anticipated study on the water cycle and fracking, which "found scientific evidence that hydraulic fracturing activities can impact drinking water resources under some circumstances."
Stanford University Professor Rob Jackson — who studies groundwater contamination and who says the Railroad Commission failed even to test whether the explosion could have been related to oil and gas industry activity — toldEnergyWire,
"What's frustrating is that the Railroad Commission could figure out what actually happened. They don't seem particularly interested, though."
With an administration uber-friendly to Big Oil, expecting government regulators or oversight agencies to thoroughly investigate mishaps like the Murrays' and hold the industry accountable for wrongdoing seems naïvely optimistic — even though a rapidly-mushrooming body of evidence has declared fracking an untenable practice.