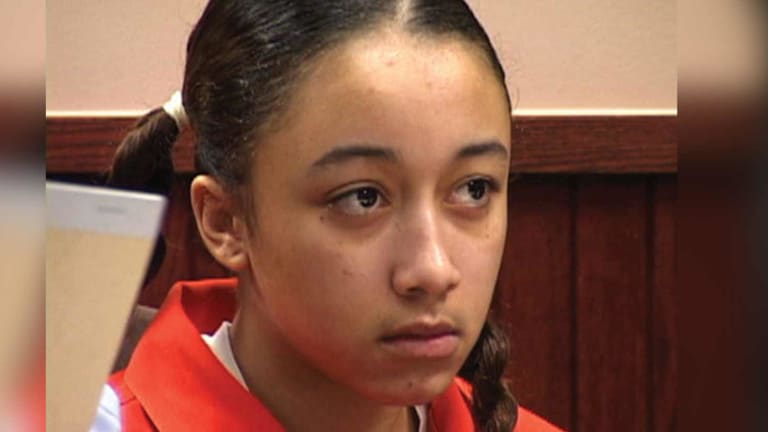 Social Media Demands #FreeCyntoiaBrown, The Child Sex Slave Jailed for Killing Her Abuser
#FreeCyntoiaBrown has surfaced on social media in a push to free a young woman who was sentenced to life as a child for killing a man who bought her for sex.
Nashville, TN — Cyntoia Brown was born into a family in which her mother and her grandmother were all sex trafficked, repeatedly raped, and abused. Brown was only a child the first time her 'owner' Kutthroat would pimp her out to pedophiles who had their way with her. She is now in jail for life for killing one of those pedophiles. #FreeCyntoiaBrown
With all the recent attention given to Hollywood's sexual predators, Brown's story has garnered the attention of high profile celebrities like Rihanna and Kim Kardashian West who are bringing new light to the dark story surrounding Brown's life.
"The system has failed. It's heart breaking to see a young girl sex trafficked then when she has the courage to fight back is jailed for life! We have to do better & do what's right. I've called my attorneys yesterday to see what can be done to fix this. #FreeCyntoiaBrown," Kardashian wrote.
"did we somehow change the definition of #JUSTICE along the way?? cause..... Something is horribly wrong when the system enables these rapists and the victim is thrown away for life! To each of you responsible for this child's sentence I hope to God you don't have children, because this could be your daughter being punished for punishing already!#FREECYNTOIABROWN#HowManyMore," wrote Rihanna.

At the age of 16, Brown was thrown in prison for life because she killed a child predator who bought her for sex and who she thought may try to kill her. The man she killed was a Nashville, Tennessee, real estate agent Johnny Mitchell Allen. As the Associated Press reports:
He drove her back to his house where his strange behavior frightened her and made her want to escape. When she couldn't sneak away, she said she wanted to nap. He lay down with her but didn't fall asleep. He kept getting up and standing over her. She became more panicked, convinced something was going to happen to her. Finally, she shrugged off his advances and, as he rolled over, she took a gun from her purse and shot him once in the head.
Because of Tennessee law in 2004, Brown was tried for murder for acting as a 'child prostitute.' This injustice was pointed out in a 2011 documentary by Filmmaker Dan Birman, who spent seven years documenting Brown's case and noted how a child can not be a prostitute.
In the film, Brown explains her abuse and how it made her paranoid.
"She was picked up by a 43-year-old man." Birman said. "Cyntoia was 16 years old."
"We started the conversation," Birman said. "This is a young girl who's at the tail end of three generations of violence against women."
"She had no chance," Birman said.
In her 2004 trial, Brown explained how there was always a gun being pointed at her. She was being hit, choked and dragged. Derri Smith, the Founder of End Slavery TN, shared the perspective with FOX 17.
"She did kill someone," Smith said. "She deeply regrets it, but she was a child and she was being exploited."
Briman's film exposed the horrid injustice that is charging a child with prostitution. It helped to change the law for children like her and now no one younger than 18 can be charged with prostitution.
"[There's] no such thing as a child prostitute or a teen prostitute," Smith said. "I think we've had to have a cultural mind shift."
However, it is too late for Brown. If Brown's case were tried today, the court would not have presented her to the jury as a child prostitute. Instead, she'd be treated as a child human trafficking victim—thus the reason for the newly coined hashtag #FreeCyntoiaBrown.
There is now a dedicated group of people who are working to free Brown. According to FOX 17, these people want the Governor and the Parole Board to really look at the unique factors of her case. Unique factors like the work she's done behind bars for years, long before anyone floated the idea of clemency.
Brown's pro bono attorney said Brown is shocked about the outpouring of national support for her.
"I talked to Cyntoia about noon today," attorney Charles Bone said. "She's very shocked and surprised and thankful as we all are for the interest of these celebrities. In today's world, we never know…when you're going to do a story that lights a fire."
"Just to see all the people and all the different organizations who believe in me and who want to stand up for me, it's humbling and mind-blowing," Brown said.
The prosecutor responsible for getting Brown sentenced to life in prison feels differently, however. Prosecutor Jeff Burke says her supporters have it all wrong and that she was a vile prostitute who deserves to be in prison.
"There has been a group of people who have wanted to make Ms. Brown a victim and a celebrity since this happened," Burke said. "She was not 'trafficked' nor was she a 'sex slave.' It's not fair to the victim and his family that the other side of this case is so seldom heard."
Burke noted during the trial that Brown killed Allen so she could steal from him as after she killed him, she took his pants which contained his wallet. Newsweek also agrees with Burke, running the story on Wednesday titled, CYNTOIA BROWN WASN'T A VICTIM, STOLE MONEY AFTER KILLING JOHNNY ALLEN: PROSECUTORS.
However, the prosecutors completely glossed over the fact that this was a child who'd been held captive by a man named Kutthroat who forced her to have sex with adults and physically and emotionally abused her. He also regularly choked, beat and raped her.
"He would explain to me that some people were born whores, and that I was one, and I was a slut, and nobody'd want me but him, and the best thing I could do was just learn to be a good whore," Brown told a judge in 2012 during an appeal hearing.
According to Burke, paying a slave trader to have sex with a child—who's been enslaved her entire life—makes one a victim and the psychologically damaged child who kills a man she thought was going to kill her is the aggressor. We disagree.
If you also disagree with the prosecution, please share this article with the hashtag #FreeCyntoiaBrown so her story can be told and so that she may one day be free again.