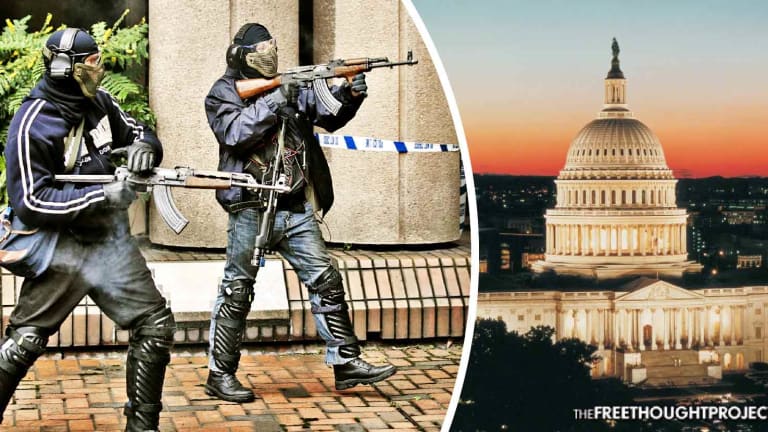 DC to Hold 'Full Scale' Terror Attack Drill Amid North Korea Standoff — This Wednesday
A full-scale mock terror attack — complete with crisis actors — will take place in the Washington, D.C., area on Wednesday.
With belligerent posturing between Pyongyang and Washington soaring to nuclear levels in mere weeks — and admonishments from world leaders to employ restraint seemingly gone unnoticed — disaster preparedness training demands an urgency not seen since the end of the Cold War.
Operation Gotham Shield, an interagency exercise to prepare officials and emergency personnel for the unlikely event an enemy State detonates a nuclear bomb in the skies over New York City, is slated to conclude Wednesday.
That same day, President Trump has called a meeting with top military and defense officials, and, 'unusually', the entire Senate over North Korea.
Wednesday also kicks off a full-scale preparedness drill of a different sort — one, strangely, not focused on the growing potentiality the U.S. may be forced to cope with nuclear war inside its borders; but, instead, addresses a familiar, if nebulous, adversary. Terrorism.
"Law enforcement officials and other first responders will participate in a full-scale exercise on April 26 designed to prepare for the possibility of a complex coordinated terror attack in the National Capital Region," announced the Washington Metropolitan Council of Governments (COG) in a press statement yesterday.
Together with appropriate emergency managers, COG "planned the exercise to help protect residents by preparing for an attack involving multiple target locations and teams of perpetrators.
"The regional exercise will be staged at six sites in the District of Columbia, suburban Maryland and Northern Virginia, and will involve hundreds of police, fire, and emergency medical service personnel and volunteer actors. The locations include neighborhoods in the northeast and southeast quadrants of the District of Columbia, Prince George's County, and Arlington and Fairfax Counties. Residents in those neighborhoods will be notified ahead of time to expect the exercise."
Apparently, residents weren't even given the courtesy of a week's notification their neighborhoods would soon be teeming with emergency and law enforcement personnel — much less, an untold number of realistically bloodied and battered crisis actors roaming the streets. Nevertheless, routine testing of agencies' abilities to handle catastrophic incidents ensures the 'real thing' won't blindside personnel.
"Law enforcement officials practice and exercise their skills on their own regularly because that's the best way to ensure we are always ready to respond quickly and professionally," Scott Boggs, Managing Director of Homeland Security and Public Safety at COG, added in the statement. "On April 26, we'll go one step further and stage a very realistic emergency event involving multiple sites and actors posing as the casualties. However, there is no reason for residents to be alarmed because the exercise will occur in a controlled environment."
Few could argue the benefits of readiness in the face of calamity, thus tests of preparedness — be it for war, natural disasters, terror attacks, or any cataclysmic occurrence — aren't perhaps as unusual as scant publicity surrounding them would indicate.
However, cooperative disaster exercises as involved as that planned by COG have an eerie penchant for prognostication — multiple terror attacks, from 9/11 to the harrowing bloodshed in Paris, were narrowly preceded by or coincided with mock drills to train responders.
To wit, The Free Thought Projectreported on November 18, 2015, shortly after the coordinated terror attack in Paris, France, "In what can be described as an extremely strange 'coincidence,' Paris-area emergency personnel and ambulance crews were taking part in a simulated emergency exercise on the very same day the Paris terrorist attacks took place."
And, as Bloombergreported at the time, "During Friday's exercise, trauma specialists used a centralized dispatch system to set priorities and direct victims to the ER best equipped to treat their injuries. Ambulance services made sure they were ready to roll, and hospitals verified that surgeons and staff could be quickly summoned to treat arriving victims."
This example isn't a foray into the realm of outright prognostication; rather, it implores vigilance and caginess at present, and a reminder not to be spoon fed information without questioning its source.
Wednesday's list of events will be no exception to this rule — Trump's scheduled meeting with the full Senate and top military brass on North Korea; the conclusion of Gotham Shield; full-scale mock terror attack in the greater metropolitan area of Washington, D.C.; the arrival to waters off the northern Korean peninsula of both the U.S.S. Vinson carrier group and the U.S.S. Michigan.
Then again, the more distinct possibility exists that the Council of Governments' planned, mock terror attack on U.S. soil will simply provide first responders the necessary refresher course — end of story.