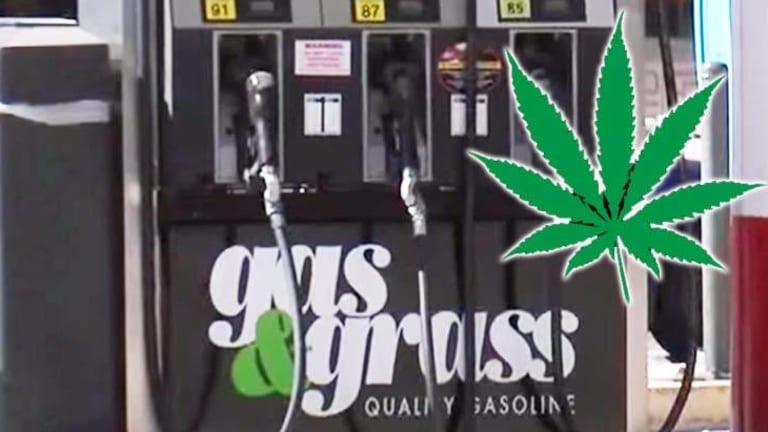 Gas and Grass -- First Marijuana Gas Stations in the U.S. to Open in Colorado but Not Without Protest
Controversy swarms as Colorado gets the first gas station that is also a pot dispensary.
Colorado Springs, CO – In the rapidly growing field of Colorado legal cannabis, a new business model will be unveiled next month; the Gas and Grass.
The idea behind the store is to combine a traditional gas station/convenience store with a marijuana dispensary.
"It's really just kind of pairing the convenience in one specific stop," company spokesperson Tia Mattson told NBC-5.
The dispensary portion of the store will have a separate entrance, and will follow all of the same restrictions and rules as other stores that sell cannabis-based products, with the gas station being open to the general public at large.
"I believe we'll have lottery tickets, beverages, cigarettes and similar things that you would pick up in a convenience store," Mattson said.
The company behind the project is Native Roots, a Denver-based dispensary, which operates eleven dispensaries across Colorado. The company intends to continue using a very standardized branding presence at all of their store locations, including the Gas and Grass.
"We definitely are leaders and we're visionaries," Mattson said. "It's just one more thing for us to pair up the shopping and convenience of gas with a stop for somebody who is a patient, to knock off both errands at one time."
The company plans on offering loyalty gas discounts to their marijuana customers, similar to how a grocery store operates.
Of course, there are those who are conditioned to the state telling them what they can and can't put into their bodies, so they oppose it. As if selling beer and cigarettes, which kill tens of thousands a year, at every gas station across the state is acceptable only because the state says it is.
With the advent of the Gas and Grass, the ever-expanding field of cannabis related goods and services continues its march and evolution into the accepted mainstream of American society.
Jay Syrmopoulos is an investigative journalist, free thinker, researcher, and ardent opponent of authoritarianism. He is currently a graduate student at University of Denver pursuing a masters in Global Affairs. Jay's work has been published on Ben Swann's Truth in Media, Truth-Out, AlterNet, InfoWars, MintPressNews and many other sites. You can follow him on Twitter @sirmetropolis, on Facebook at Sir Metropolis and now on tsu.